Alexis Mac Allister's next move couldn't be more obvious amid Liverpool, Newcastle and Man City interest
Alexis Mac Allister is set to be in demand this summer amid interest from a number of high-profile Premier League clubs.
Watch more of our videos on Shots!
and live on Freeview channel 276
Visit Shots! now
A Scottish-Argentine population has existed since at least as early as 1825. On August 8th of that year, a ship named Symmetry made land on the coast of Buenos Aires, bringing with it the first colonists from Leith. More would follow thereafter.
Interestingly, it is a Scot who is often regarded as the father of Argentine football too. Alexander Watson Hutton was a Glaswegian schoolteacher who first taught the game at St. Andrew's Scots School in Buenos Aires in the early 1880s. A decade later, Hutton established the Association Argentine Football League, the first such division outside of the British Isles.
In short, Scotland, Argentina, and football have always been a closely-entangled trifecta, and there is nobody more successful who sits squarely in the middle of that particular Venn diagram than Alexis Mac Allister. The Brighton midfielder is a World Cup winner, a Premier League disruptor, and a very, very sought after asset.
If various jottings from those who claim to know these things are to be believed, then the 24-year-old is a man in demand this summer. There is barely an ambitious, cash-rich club in the country who haven't been touted as doe-eyed suitors for the South American, and as the transfer window looms large over us like the sole of a Doc Marten coming down on an ant colony, be prepared to bear witness to an almighty scramble for his signature.
But where should Mac Allister set his proverbial coordinates for next? Well, get yourself all cosy-like and we'll have a little gander, together.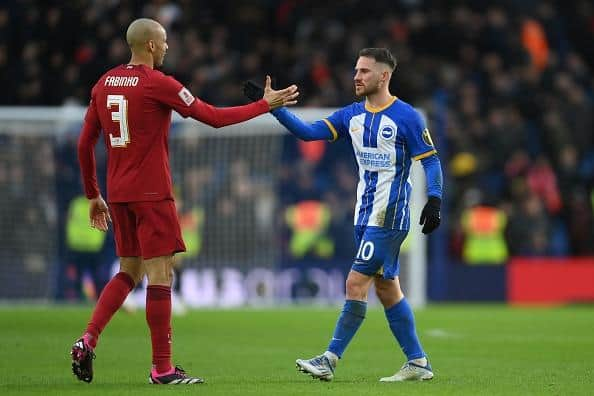 Manchester City
What do Pep Guardiola and the tourist restaurant industry of central Amsterdam both have in common? (I don't know, Jason, what do Pep Guardiola and the tourist restaurant industry of central Amsterdam both have in common?) They both absolutely love a little Argentine.
On paper, Mac Allister is a quintessential Guardiola darling; his footballing intelligence is off the spectrum and his ability to run defences ragged with his movement and distribution is effortlessly sublime. What then, I hear you cry, would prevent this from being a harmonious marriage of club and player? Well, to put it simply, minutes.
Like the Coronation in the eyes of an Express reader, the main bugbear would be a ginger fella of princely renown. Nobody is displacing Kevin De Bruyne as the creative guru of City's midfield, and even beyond him, the likes of Ilkay Gundogan and Bernardo Silva - assuming they stick around in Manchester this summer - would be hard to shift. Mac Allister would get opportunities, make no mistake, but maybe not as many as he would elsewhere.
Newcastle United
What do Eddie Howe and the tourist restaurant industry of central Amsterdam both have in common? (I don't know, Jason, what do Eddie Howe and the tourist restaurant industry of central Amsterdam both have in common?) I dunno, nothing probably.
It is testament to the progress that Newcastle have made this season that, even dismissing their absurd wealth for the moment, they feel like genuine contenders for Mac Allister's signature. The Magpies are on the brink of Champions League qualification, and there is an anticipatory murmur echoing around Tyneside as the big time beckons.
In terms of adoration and, to be fair, financial incentive, Mac Allister could do far, far worse than Newcastle. But whether this has the feel of a career-defining, all-conquering transfer that he so thoroughly deserves? I'm not so sure. The Toon Army are on the march, sure, but it could still be a good couple of seasons before they arrive at the outer walls of Trophy Town, and another couple more before their siege machines breach the citadel itself.
Maybe the prospect of a long-term project appeals to Mac Allister, but if it doesn't, perhaps he should look elsewhere.
Manchester United
If I had a pound for every time that I wrote a transfer-related piece that involved Manchester United, I'd have enough money to challenge them in various races for a number of their reported targets - Mac Allister included. The Red Devils are like the hyenas of the rumour mill, never too far away from a fresh, hunk of speculation, feasting on the scraps of the last few paragraphs and the belatedly mentioned.
Again, you would fancy that Mac Allister could make a go of things at Old Trafford - although at this point it's probably worth acknowledging the he himself is the common denominator, and that he could likely succeed anywhere. In that sense, United wouldn't necessarily be a bad move for him, but it's hard to shake the feeling that there would be better elsewhere, like...
Liverpool
Look, let's keep this simple and brief. Liverpool are in desperate need of a midfield overhaul, and the Reds have a proven track record of taking mid-table Premier League players and allowing them to access the absolute extremities of their potential.
Mac Allister, of course, has done pretty okay as it is, but the gut tells you that Liverpool won't have two dreadful seasons on the spin, and the he would thrive at Anfield in the same way that a Gini Wijnaldum or a Sadio Mane have in the recent past. The only sticking point could be a possible lack of Champions League football next term, but if the Argentine is willing to be patient in the regard for just a little longer, then he could establish as a vital presence at one of the biggest clubs in world football.