Chelsea's Eurovision entry and Manchester United's striker spending spree
Watch more of our videos on Shots!
and live on Freeview channel 276
Visit Shots! now
We're big fans of Eurovision here at 3 Added Minutes, to the extent where we were at least as absorbed in the first semi-final of the hypercamp pop fever dream as we were in the Champions League last night. Yes, Vinícius Junior versus Kyle Walker was good, but as good as the Finnish entry's dance routines? Doubtful.
Watching some of the barking madness on stage in Liverpool got us thinking, naturally, about the perpetual cycle of mediocrity endured by British fans of the annual song contest – and about how supporting one particular football club might start to mirror the experience of watching yet another pitifully bland pop act getting nul points because we, as a nation, somehow allowed Andrew Lloyd Webber to choose our entry each year. Actually, is he still involved? We don't know, we just know that he is to good music what Sweeney Todd was to the hair styling industry. Anyway, we digress…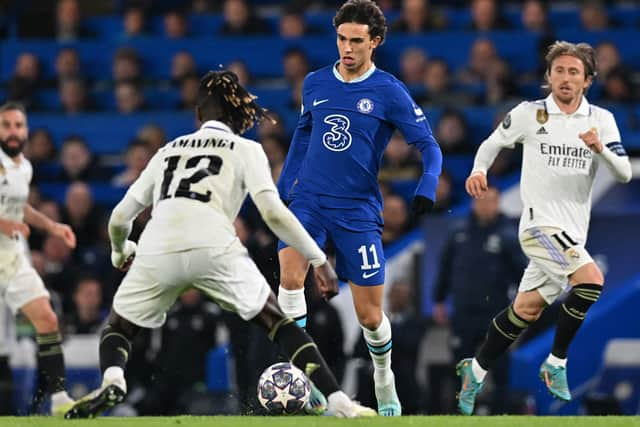 João long can this go on?
The club we were thinking of is, of course, poor old Chelsea. Todd Boehly seems determined to do his best Lloyd Webber impression and is carefully curating the most underwhelming squad possible ahead of next season, ignoring the despairing cries of supporters to offer them something they definitely didn't ask for. In this case, a permanent deal for João Félix.
Granted, that's a bit harsh on the forward, who may not exactly have shone at Stamford Bridge thus far but as it least more fun to watch than this year's Portuguese entry. Still, if fans were allowed to vote on the proposed deal to bring him in long-term – which, according to The Evening Standard, would include sending Pierre-Emerick Aubemeyang and Marc Cucurella the other way – it probably wouldn't do much better than Jemini.
The 3AM Verdict: Félix remains hugely talented, and remains unable to unleash that talent of anything approaching a consistent basis. Given that Chelsea already have several dozen supporting forwards on the books, an expensive permanent deal for someone who hasn't cut the mustard is the sort of thing that only a money-crazed American with a god complex would consider. So, it's pretty much nailed on. If I was Cucurella, I'd be thrilled.
United's striker spending spree
One of the main lessons that Eurovision teaches us every year is that less is not more. More is more. Why does Switzerland never win with their succession of stripped-back, soul-searching ballads? Because we want to watch maniacs with dancing troupes and pyrotechnics. More is more. So we have full respect for Manchester United, who have apparently decided that one £100m striker simply isn't enough – they need to buy two.
The Mirror report that not only are United working to bring in Harry Kane, but they also want to spend a similarly colossal amount on Benfica's 21-year-old wonderkid Gonçalo Ramos to play alongside him. Never mind that Erik Ten Hag plays three up-front, they're going to play two wildly expensive central strikers anyway. Last week we suggested a few budget options they could look into for their striking vacancy, but we can only say that throwing the kitchen sink at it, plumbing still attached, is definitely more fun. That's proper heavy metal football – Lordi never rocked as hard.
The 3AM Verdict: Far be it from us to suggest that The Mirror don't have a great track record when it comes to accurate reporting of transfer rumours, but we suspect that United will probably make do with one expensive striker, not two, especially given this thing called 'tactics'. Ramos has had an impressive breakthrough season in Portugal and has many more years ahead of him, but certainly isn't as much of a sure-fire thing as Kane – so let's guess that this is the Plan B. Not a bad one, though.
It's Harder to say goodbye
The national press don't often bother with transfer rumours in the women's game, so it's somewhat refreshing to find reports from the Women's Super League for us to cover for once. The Evening Standard suggest that Chelsea fans' misery won't be confined to the men's team this summer, with Bayern Munich prepping a double swoop for Pernille Harder and Magdalena Eriksson.
We want your feedback on 3 Added Minutes - details here
The couple – who want to move as a pair for the sake of their relationship – would be available on a free, and their departure would be something of a blow to the team which has won the last three editions of the WSL (and are slight favourites to make it four on the bounce). Chelsea have been in contract negotiations with both of them, but are "increasingly resigned" to losing them.
The 3AM Verdict: Bayern Munich's men have made a habit of irritating domestic rivals by "cultivating" relationships with talented players on other teams before signing them on a free at the end of their contracts, so at least their transfer strategy is consistent across genders. They're doing a pretty good job of rivalling Wolfsburg in the Frauen-Bundesliga these days, and Harder and Eriksson would be tremendous signings for them – and leave a massive hole for Emma Hayes to fill.