The Rebound: the bad decisions haunting Man Utd, Everton's Oregon Trail ordeal and Brighton's next big thing
All of the reaction to this weekend's Premier League fixtures, including Manchester United, Everton, and Brighton
Watch more of our videos on Shots!
and live on Freeview channel 276
Visit Shots! now
Bad decisions - in many respects, they make the world go around. In their absence, whatever would we talk about? However could we replace the propulsive, kinetic energy generated by the fume that courses through society like jets of steam in a great seething engine? We would, after all, be nowt without our bitterness. Certainly, if nothing else, this column would be a damn sight more humdrum without them.
Manchester United's was a weekend pockmarked by lapses in judgement, the costs of which were felt both in the immediacy, and in the vague, misty promises of looming future fallouts. On Sunday, the Red Devils travelled to north London for a dust-up with their old grizzled nemeses, Arsenal. As you are probably aware, they lost 3-1, thanks in large part to a stoppage time suckerpunch one-two combo from Declan Rice and Gabriel Jesus. But were it not for some suspect officiating, things might have been quite different.
First there was the penalty shout - a hastily dismissed incident in which lively debutant Rasmus Hojlund was felled by a Gabriel Magalhaes tackle, the likes of which is usually reserved for games of British Bulldog. Perhaps there is an argument to be made for the young Dane going to ground a touch too easily, but the Arsenal defender is undeniably draped across him like a weighted blanket, and you suspect that anywhere else on the pitch, it is a definite foul.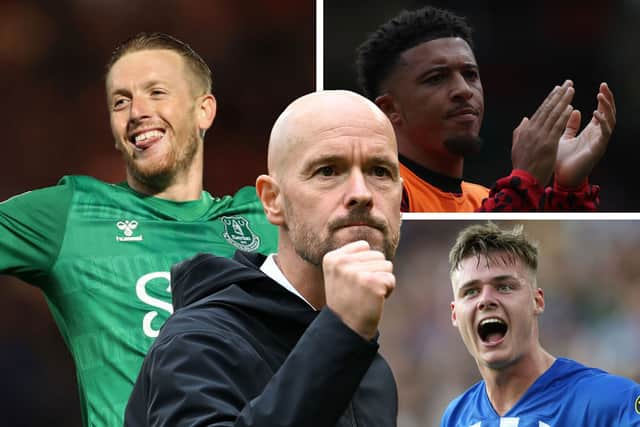 Then there was the offside call. In the 88th minute, Alejandro Garnacho scampered through the heart of the Gunners' defence before calmly slotting home an apparent winner. Several elongated moments later, the goal was ruled out at the behest of VAR, and even by the wooly standards of the video assistant, this was a debatable one. Lines were painted on with a Cubist flair that would have made Braque proud, certain angles seemed to dispute the veracity of the officials' decision entirely, and social media - typically such a well-spring of measured and reasoned discourse - went up in flames like a wicker chimney stack. Again, maybe the square-eyed meddlers of Stockley Park did get this one right, but Erik ten Hag, and a legion of disgruntled onlookers besides, were not too sure.
Arguably though, the worst decision of the weekend came from Jadon Sancho, who, in classic United fashion, fired up the ol' Notes app to issue an indignant retort against his manager following public suggestions that he has been dropped as a consequence of poor training habits.
"Please don't believe everything you read!", the winger wrote. "I will not allow people saying things that is [sic] completely untrue, I have conducted myself in training very well this week.
"I believe there are other reasons for this matter that I won't go into, l've been a scapegoat for a long time which isn't fair! All I want to do is play football with a smile on my face and contribute to my team. I respect all decisions that are made by the coaching staff, I play with fantastic players and [am] grateful to do so which I know every week is a challenge. I will continue to fight for this badge no matter what!"
Had this happened last week, you might have argued that it greatly increased the likelihood of Sancho earning himself a move away from Old Trafford in the dying embers of the transfer window. Instead, you suspect that it might instead earn him an appearance on The Diary of a CEO podcast.
Elsewhere, on a weekend in which Burning Man descended into a waterlogged battle for survival more akin to the Oregon Trail, how grimly fitting it was to see Sean Dyche's Everton side once again get marooned in the mud. To suggest that the Toffees have endured a sluggish start to the campaign would do a disservice to the reaction times of gastropod molluscs the world over.
On Saturday, against a similarly lethargic Sheffield United, the Blues did at least manage to salvage a first point of the season, but Dyche will know that were it not for the heroics of goalkeeper Jordan Pickford, his side would have sunk without a trace. There's something about the England number one that rubs people up the wrong way. Certainly, there is an unorthodox streak to his game - a kind of untamed, instinctive penchant for the absurdly peacockish - that sits at odds with his peers.
Few others would have the gall to finish a match in which they had scored an own goal by lying prone in their six-yard box smirking cartoonishly while giving it the big'un with a pinecone hand like a Mackem Paulie Walnuts. But then again, so wondrous was the nature of Pickford's remarkable double save to deny Oli McBurnie at the death that it deserved celebration. Some have criticised the Everton stopper for his antics, but had he just scored an equaliser at the other end, nobody would have said a word - and if ever a goalkeeping intervention was as good as a goal, it was this one.
And finally, Evan Ferguson. The Brighton teenager was so good on Saturday evening that even Newcastle United's travelling support were left dancing on the terraces at full-time. A little while ago, I wrote a semi-cautious article in which I suggested that the Irishman could be Albion's next big money transfer market darling, and potentially even the long term plug for Tottenham Hotspur's Harry Kane vacuum. At the time, I hit 'publish' and ducked for cover fearing a blowback of retaliatory ridicule.
Now, however, after a first career hat-trick for the young man, I'll say it again with conviction; Ferguson is a special, special talent, and he has what it takes to become a genuinely world class centre forward. And if you don't believe me, just ask his driving instructor.