The worst Manchester United XI of the 21st century - including former Arsenal and Brazil legends
From forgettable flops to strange signings - these are the worst players to play for Manchester United this century
Watch more of our videos on Shots! 
and live on Freeview channel 276
Visit Shots! now
Right now certainly isn't the best time to be a Manchester United fan, but it's not all that long since they were crushing English football beneath Sir Alex Ferguson's hobnailed boot. All told, it's been a pretty successful century so far - but not necessarily for everyone who's pulled the famous red shirt over their heads over the past 23 years.
Before we get into what we reckon would be the worst starting eleven's worth of United players that played for the Red Devils since the turn of the millennium, let's lead with a caveat - these guys were still pretty damned good players. One or two of them were even great. These are the genuinely gifted youngsters who didn't quite work out, the first-class footballers who simply didn't fit in, the unfortunate injury cases, most of whom were loved and valued somewhere else, even if they were enthusiastically waved out of the door at Old Trafford. We don't want this to be a cruel list. There's enough of that sort of thing in the world already.
But not every transfer works out, and not every player can make the grade at every club, and these are the guys who fall into those categories. But one of them won a World Cup, one is considered the greatest player in his country's history, and another went on to be the top goalscorer in the whole of Europe twice, so even making it into this team still qualifies as keeping pretty exalted company.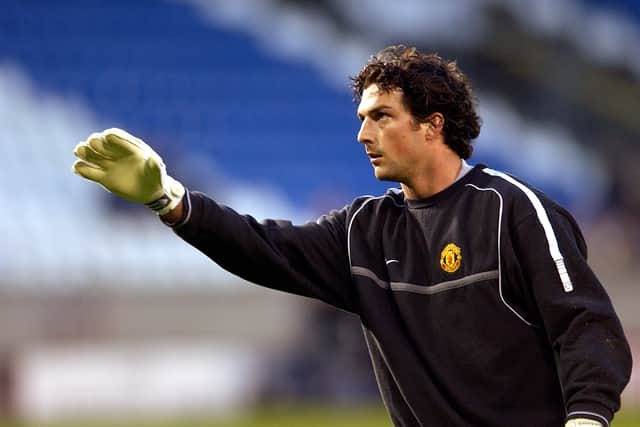 Ricardo
Signed in 2002 at the age of 31 after just 69 senior career league appearances, Spanish stopper Ricardo was meant to provide cover for the injured Fabien Barthez and the then-inexperienced Roy Carroll, but never really looked to be at the level required.
He's mostly remembered for conceding a penalty with his first touch in the Premier League, scything down former United striker Andrew Cole in a game against Blackburn Rovers. It's rather unfair that people remember that clanger more than the fact that he actually saved David Dunn's spot-kick and helped his side to a 3-1 victory. It proved to be his only league appearance for United, however, but he went on to play over 200 times for Osasuna, helping them to reach the semi-finals of the UEFA Cup in 2006.
Fábio da Silva
It can't be easy being the slightly less successful twin, but while Fábio's brother Rafael enjoyed a pretty decent career at Old Trafford, the fractionally older sibling struggled to live up to the early hype he enjoyed. To be fair, they both fared rather better than their other brother, Luiz Henrique, who briefly turned out for Radcliffe Boro at the same time the twins were playing for United.
He made just 22 league appearances for the Red Devils in the six years he was on the playing staff before being sold on to Cardiff City. Still playing after a solid career at Championship level and in France with Nantes, Fábio is now back in Brazil with Grêmio. 
Phil Jones
One of the crueller stories in recent English footballing history, the unfortunate Jones spent more time on the treatment table and in memes making fun of his habit of gurning every time he touched the ball than he did on the pitch. Hopefully all those silly faces won't stop people forgetting what a stellar talent he was when he first arrived.
Now out of contract, Jones isn't officially retired but is without a club, and has been helping out with coaching the age group sides at United. File the poor man alongside Jack Wilshere as a case of what could have been.
Marcos Rojo
A £16m signing and a brilliant player for Argentina at the 2014 World Cup, Rojo was simply too inconsistent to be trusted at United, especially given his penchant for picking up cards of all available colours on a regular basis - he ended up making just 76 league appearances for United over the course of six years on the books.
United probably hadn't done their due diligence on this one - he was signed as a centre-back after playing well there in Germany, but was more used to playing at left-back for former club Sporting Lisbon because of issues with his positioning, a problem that United fans quickly came to appreciate.
Guillermo Varela
The first signing of the David Moyes era, which arguably set the tone somewhat - Varela was a young Uruguayan right-back signed as a future prospect who never really made the grade and spent more time out on loan than he did actually at the club over the course of his four-year stay.
He did end up with 14 caps for his national side, so he probably wasn't all that bad, but future spells at FC København and Dynamo Moscow were probably more his speed. Notable for being excluded from Eintracht Frankfurt's DFB Pokal final squad while he was there on loan, after defying the orders of a club doctor by getting a tattoo. It became infected and inflamed and the club decided to send him back to United. Maybe not very bright.
Alexis Sánchez
Brilliant at Barcelona, superb at Arsenal and a legend in Chile, the finest pianist ever to lace up a pair of boots was a stone cold flop at Old Trafford despite all he had achieved before he made the move to the North West.
Arsenal knew that the player they'd moved on had a busted engine, and United clearly didn't bother to give him a quick MOT - and so we had to endure the sad spectacle of the shadow of Sánchez haunting the field of play for one very laboured season before he joined Inter Milan on loan. A great player, but a rubbish signing.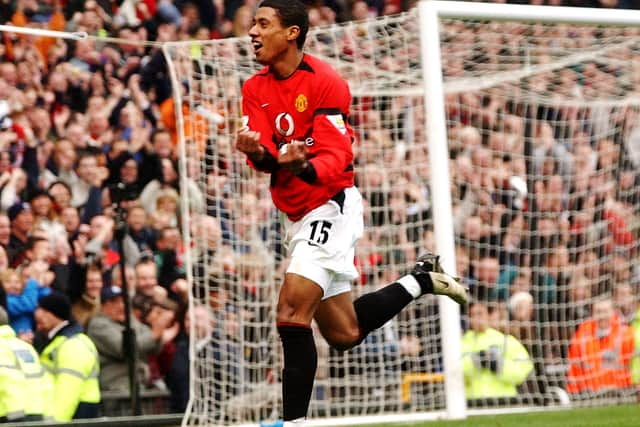 Kléberson
The Brazilian midfielder had scored for Brazil in the 2002 World Cup final just a few months before arriving at Old Trafford and had been excellent in the quarter-final defeat of England, so expectations were pretty high when he showed up in Salford for his first move overseas. Those expectations were not met.
He was originally slated to sign for Leeds United, but decided against it as his girlfriend couldn't yet leave Brazil to join him in the UK because they weren't married. They weren't married because she wasn't yet 16. He was 23. They met when she was 14. And now you have to go through the rest of your life knowing this information, too. Suddenly, we don't feel too bad putting him in this team.
Eric Djemba-Djemba
Nobody could accuse the Cameroonian defensive midfielder of having a bad attitude - he earned a reputation as a fierce tackler with an unstinting work ethic in France with Nantes, and Ferguson signed him in 2003 in the hope that they had the new Roy Keane on their hands. Sadly, they did not.
Never really able to go 90 minutes without making a mistake and lacking the technical skill to stand out in the Premier League, Djemba-Djemba fared little better in later spells with Aston Villa or Burnley. Eventually went on to have a peripatetic career which sent him to Qatar, Denmark, Israel, Serbia, Scotland, India, Indonesia and, finally, back to France. To make matters worse, he was also declared bankrupt while at Villa Park.
Bebé
Once homeless after being abandoned by his parents at the age of 12, Bebé's story is a genuinely remarkable one, and his transfer to United is one of the most startling chapters in it. Just a few weeks after signing for Portuguese side Vitória de Guimarães on a free in 2010, United paid €9m (£7.8m) to bring him to Old Trafford, a towering fee for an unknown youngster that in hindsight only set him up to fail.
He never managed to impress as a player once he was in England, playing just two league games. A police investigation into his transfer back in Portugal only heightened the sense that the entire deal was distinctly weird - but he eventually found his feet in Spain and has proven that he certainly was a talented footballer with spells at Eibar and Rayo Vallecano before joining current club Real Zaragoza. Still, not a great deal for United when all's said and done.
Dong Fangzhuo
Signed as a teenager for a fee of £500,000 which could rise by up to £3m more if he played enough games, Dong eventually cost United £500,000. So not that bad of a loss on the balance sheet, perhaps, but his performances, mostly on loan in Belgium, didn't really manage to dispel the idea that he'd been signed and hyped up as an investment in the Chinese market rather than as an actual player.
It didn't help matters that United signed him despite his being unable to get a work permit - which is why he spent three years off at Royal Antwerp. United took just one season and one game to decide that he wasn't worth the add-ons, and he ended up going straight back to Dalian Shide. Went on to make 13 appearances for his national side and have spells in Armenia, Poland and Portugal. An odd career, to say the least.
Diego Forlán
A giant of the Uruguayan game, one of the most successful strikers in the history of Atlético Madrid, and twice winner of the European Golden Shoe, Forlán was an elegant and effective goalscorer everywhere he went across a long and illustrious career. Except for Manchester United, where he was inexplicably awful.
Given how well he played everywhere else, one can forgive Ferguson for thinking he was buying a quality player, but the striker failed to score a single goal for the club in his first season and needed a late sympathy penalty in a routine Champions League win over Maccabi Haifa to finally score for the club - though he did get a few more that season, memorably scoring a winner against Southampton the aftermath of which saw him rip his shirt off, only to be unable to get it back on again - he ended up running around making tackles shirtless. Wound up with 10 goals in 63 league games for United, and did a heck of a lot better everywhere else.