Fantasy Premier League Gameweek 11: tips and wildcard advice as Newcastle United face Arsenal
Hints, tips, captain picks and injury updates ahead of FPL Gameweek 11 as Newcastle prepare to welcome Arsenal.
Watch more of our videos on Shots! 
and live on Freeview channel 276
Visit Shots! now
Welcome once more to our weekly strategy guide for the Fantasy Premier League – and as Gameweek 11 hoves into view along with a mouthwatering match between Arsenal and Newcastle United, we've pulled together hints, transfer tips and captaincy picks, all from a player who's hovering around the top 5,000 in the world. We'll gloat more about that later.
Before we get to blowing our own trumpet, a quick reminder that this week's deadline is on Saturday at 11:00 BST – no Friday fixture this time around, so Fulham's probable victory over Manchester United will kick us off. Make sure you've got all your business done by the end of the morning.
Why selling Spurs could make sense
Several big teams have either very difficult or very easy runs of fixtures coming up, which means a number of important decisions have to be made over whether to keep hold of their assets or sell them on. Tottenham Hotspur, for instance, play Chelsea, Aston Villa, Manchester City, West Ham United and Newcastle United in their next six games – but should you sell Son Heung-Min or James Maddison? We're going to explain how whether you've used your wildcard makes the difference.
If you've already used your first wildcard, then you need to think long-term. It's two months and ten games before you get your second, so your team has to work week to week with not much more than one transfer per week. When that's the case, you shouldn't sell premium assets if you can avoid it.
It's true that Spurs will, on balance of probability, score fewer goals over the next six weeks than normal, and keep fewer clean sheets – but they're still a pretty great side right now and they'll likely win at least a few of those tougher matches. Will Son bang in a brace every week? Unlikely – but he'll bag a few, and when the fixtures soften up in December, you'll be glad you kept him.
On the other hand, if you do still have your wildcard handy, we're getting pretty close to the point we're going to want to use it – typically it's smart to pull it out somewhere in December as the packed Christmas fixture list comes into play. But because we're going to be using it at some stage soon, we can afford to think medium-term – the next four to six gameweeks or so.
If we're thinking like that, Spurs players look a lot less exciting – so selling Son to bring in, for instance, Bukayo Saka looks like a pretty reasonable move given that Arsenal follow their game against Newcastle with a run of Burnley, Brentford, Wolves and Luton Town. In the case of that specific transfer we'd wait a week – we'll back Son at home to a struggling Chelsea side – but you get the gist. You need to work out whether you're worried only about the next few weeks of football, or whether you need to think beyond that too.
If you are waiting to use your wildcard and are happy enough with the state of your team as it stands, then our advice is broadly to avoid Spurs players and those from Manchester City (except Erling Haaland, of course) and Chelsea (who have an utterly grim run of games – sell, sell, sell). By the same token, we're more interested than usual in players from Brighton & Hove Albion, West Ham, Arsenal and perhaps Crystal Palace.
Technically, Manchester United have some good games coming up too, but… well, let's be honest here, they're really quite bad right now. Don't be tempted by the promise of a Bruno Fernandes or Marcus Rashford, because as long as United continue to play like a mid-table club, then their players are worth the same as those from a mid-table club. Maybe this is the run where they turn things around – but there's a pretty decent chance that it isn't.
Everton and Sheffield United technically have decent fixtures, too, but the same caveats apply – while Aston Villa are somewhere in between, with three "easy" games and three much tougher games in their current run. We're looking to hold on to Villa assets for four more gameweeks before we likely jettison them ahead of back-to-back matches against City and Arsenal.
If you've used your wildcard and need to think long term – just try to be patient, and stick to a sensible core of players who have proven themselves to be capable of registering week in, week out, and worry more about how well individual players are going than their fixtures. But still sell any Chelsea players you may have left, because they're in for a rough ride over the course of November…
Injury updates and captain picks
There are a fair few popular players who will be missing in action this week, with Pedro Neto's hamstring injury liable to keep him out for a little while and Alexander Isak out for a few weeks for Newcastle being the headlines.
Gabriel Jesus, Joe Murphy and Solly March are also definitely out for at least one game, while Destiny Udogie, Lyle Foster and Mykhaylo Mudryk are doubts. Not too many people have West Ham's all-action midfielder Lucas Paquetá, but he's suspended for those who do.
We'll also give you a quick update on impending price changes, although it's pretty quiet on that front just now – Mohamed Salah will likely be going up again soon, to £12.9m, and the unfortunate Neto is close to falling, but that's about it for players anyone reading this is remotely likely to have.
As for your captain this week? It's an interesting one – normally the advice is simple, in that if Erling Haaland is playing at home to relegation-threatened team, you just pick him, but Salah is away to Luton and there's every argument for taking the midfielder over the striker given the chance of extra points for goals or a clean sheet. We're leaning ever so slightly towards Haaland, but either is defensible. If you have either player and pick anyone else, don't look to use to give you excuses. Nobody needs differentials this early…
3 Added Minutes FC
Finally this week, a bit of promised gloating – another good week, in which our example team racked up 82 points, places us 5,400th in the world right now, or roughly the top 0.0005% of the game's players. Yes, we're a bit smug, although frankly we're more relieved that our decision to write an FPL advice column is being vindicated and we aren't being made to look too silly. So far, anyway – although we did manage to leave quite a few points on the bench on this occasion. It happens.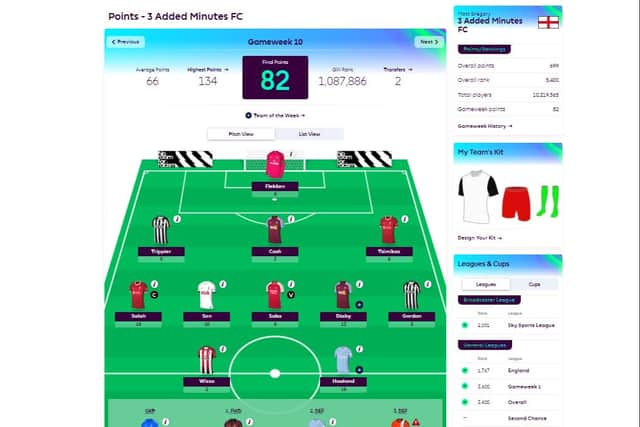 Anyway, no changes for us this week barring bad news from the press conferences – we'll probably be benching Kieran Trippier given that he's up against Bukayo Saka, but that's about the only note we have to offer.
That's it for this week – best of luck to all of you, and may you remember to get rid of your Chelsea players before they make the trip to the Tottenham Hotspur Stadium.