Whisper it... but Tottenham's Ange Postecoglou might be making 'Spursy' a thing of the past
Tottenham Hotspur are second in the table and playing some very good football - has Ange Postecoglou finally stopped his side from being 'Spursy'?
Watch more of our videos on Shots! 
and live on Freeview channel 276
Visit Shots! now
Any discussion of the footballing merits of Tottenham Hotspur's 2-1 win over Liverpool on Saturday has, inevitably, been completely obliterated by the catastrophic VAR failure that wiped out Luis Díaz's opening goal – and even if that weren't hard enough to look past, they were helped along by two red cards and a Joël Matip own goal. If you wish to dismiss their achievement, it isn't hard.
But the win – which comes off the back of a hard-fought draw at the Emirates – sees Spurs sitting second in the table, just a point behind Manchester City. In picking up four points against Arsenal and Liverpool, potential title contenders in their own right, they have passed their first serious test of Ange Postecoglou's reign with honours. They have also played some extremely good football.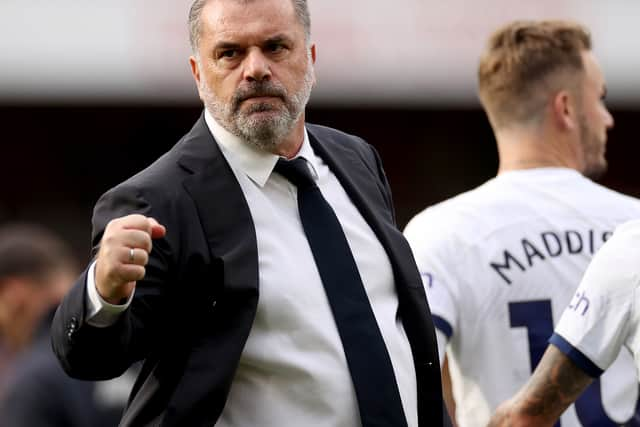 Granted, Liverpool were playing shorthanded after Curtis Jones' studs-up lunge over the ball and Diogo Jota's two yellow cards in the second half, but Spurs enjoyed two-thirds of the possession, racked up double Liverpool's efforts on goal and double their shots on target, too. For all the luck they enjoyed between VAR and Matip's flailing boot, they deserved their win – and lest we forget, they hit the post through Richarlison in the first half after some beautiful interchanges in the opposing box and forced two stunning saves from Alisson in the second period through Son Heung-Min and James Maddison. They could very easily have had the game wrapped up long before the own goal.
Of course, the assumption remains that they will collapse at some point or another. It's Spurs. They always do. The emptiness of their title cabinet is the club's defining characteristic. And while a new manager can breathe a temporary breath of fresh air, it's asking a lot of any new coach to completely reset the psychology of a team which has become used to failure. This is a squad that typically expects to lose, at least eventually.
But then again, Postecoglou's Spurs showed considerable mental fortitude in coming back from behind to level twice away to Arsenal. Against Liverpool they scored mere minutes after Díaz's goal was chalked off, a point in the game at which previous Spurs sides could easily have been rattled – and then showed impressive patience in the build-up to their late, late winner, even if the means by which it was scored owed more to good fortune than anything else.
And they look tough in defence and midfield, too. They're getting the nitty-gritty right in a way that they so seldom did under Antonio Conte or José Mourinho, supposedly sterner and more defensively-minded managers. Pedro Porro and Destiny Udogie have been excellent at full-back, while Micky van de Ven looks like he's known his team-mates for years. Dropping the experienced and reliable Pierre-Emile Højbjerg looked like a strange decision until Pape Matar Sarr took his place and began playing imperious football that belies his years.
It's even more impressive, of course, that all of this comes off the back of the loss of their most important and influential player. The end of the Harry Kane era should, by all logical assessment, have seen Spurs drift off into mid-table anonymity. Instead they look like they're set in the top four for the foreseeable future.
Postecoglou's ability to quickly inculcate aggressive, attractive but disciplined football among a new team should be given immense credit, but it's the arrival of Maddison that has made the most difference. Where once everything went through Kane, now it goes through the former Leicester City midfielder, a more mobile option who can drop deep to collect the ball in front of his own box when required – as it was against Arsenal – and seems able to find enormous amounts of space either in front of the opposing area or down the channels. Like Kane, he offers an attacking and creative threat on multiple axes, and while he'll never score goals in droves the way Kane can, Son has taken up enough of the slack that it hasn't mattered so far.
Spurs, then, are playing elegant, attacking and substantive football which is getting them results, and showing the kind of dogged determination and ability to gut results out that is normally discussed as being the mark of potential champions. Can it really last? Or is it too good to be true? Surely they won't actually win the league?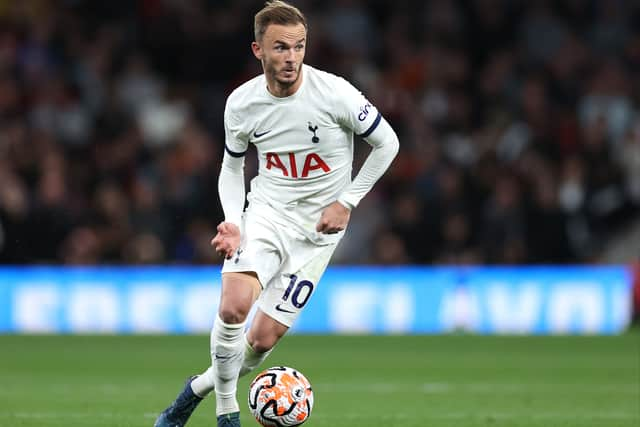 Probably not – although that has more to do with the excellence of Manchester City (which is only very slightly dimmed by one bad day in the Black Country) than it does with any failings of their own. But in the quest to sweep out the old defeatist mentality, Postecoglou has shoved them through two very difficult games with four points to show for it. It won't be as easy as all that, but it's a good way to truly convince the players, and even the fans, that this time might just be different.
There will be sterner tests. If they maintain this form for long enough to find themselves playing must-win games at the business end of the season with silverware on the line, the ghost of disappointments past will inevitably haunt some of the players who have been there before – but you get the feeling that if anyone can bang this Spurs outfit into a stronger mental shape, it's the avuncular, bear-like Australian with his calm intelligence, paternal charm and posters of the Fonz. He seems like the kind of guy who you'd run through a brick wall for, whereas Mourinho and Conte seem like men you'd rather throw the bricks at instead.
It's hard to imagine Postecoglou chucking an underperforming player under the bus, or losing his rag when results start to turn against him, although there is still time for the wheels to come off – but then again, Spurs have what look on paper to be fairly favourable fixtures between now and what could be a very important visit to the Etihad at the start of December. You wouldn't bet against them being within an Australian stubble hair's breadth of the top of the table by then.