Sportswashing? Never heard of it, marra - Newcastle United fans taking anti-protest stance are embarrassing
The Magpies' Saudi owners have once again come under scrutiny this weekend following protests at St. James' Park.
Watch more of our videos on Shots!
and live on Freeview channel 276
Visit Shots! now
I want to start this piece by stating, overtly and on the record, that I feel sorry for a lot of Newcastle United fans. I'm talking about the ones that gaze at their beloved club in its current Saudi-owned guise and feel a centrefugal pull in their rib cage - who are at once enlivened by the sudden prosperity, and entirely uneasy as to the manner in which it is being brought about. Through no fault of their own, they are being shunted and buffeted around, pawns in a grubby discourse, forced to choose between a lifelong devotion and the morally dubious despots who have hijacked it. These are the supporters who understand that there are shades of grey to the coming black and white revolution.
Then there are the other fans, the sportswasher's dream. These are the ones who, like the Magpies with which they share a moniker, have been blinded by the promise of shiny things. They will wear their uncannily Saudi Arabian away kits to watch the Saudi Arabian national team at St. James' Park and then crow about the whole thing from a social media account with a Saudi Arabian flag in the bio, never once bothering to think about the ethical implications of such an affiliation. They are like human green screens - whack just the right shade on them, then use them as a canvas for whatever nonsensically dim agenda you want to project at any given time. Hell, buy them a Harvey Barnes and it turns out they'll even start dishing out street justice to elderly peaceful protestors on your behalf.
On Friday night, Saudi Arabia played Costa Rica in an international friendly on Tyneside. Quite the trek for the home fans. The match ended in a 3-1 defeat for the Middle Eastern kingdom, but that's not important. Instead, the biggest fallout from the fixture has been ignited by a video, posted by YouTuber Adam Pearson, in which a number of Newcastle United loyalists vocally disagree with the presence of a local protest group, NUFC Fans Against Sportswashing, outside the stadium. It is, in the bluntest terms, an embarrassment.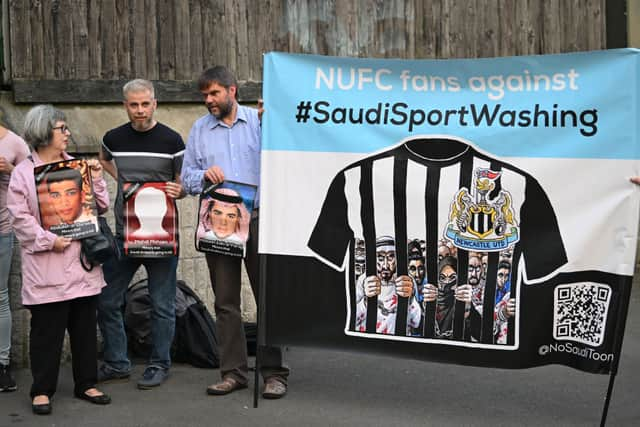 One lad, who sort of looks like if Claire Balding was a Geordie Shore cast member, insists that the dissent is wrong because, quote, 'we're all here to enjoy the Saudis play'. I defy the average Newcastle supporter to name one or more Saudi Arabian footballers. Al-An Shearer doesn't count.
Others seems to think that because the United Kingdom is fundamentally rotten, it is okay to turn a wilfully ignorant eye to a foreign regime who also commit atrocities. One even goes as far as to suggest that the rise in food banks in this country is proof enough that everybody should leave his poor, innocent Toon alone and start pointing their pitchforks at matters closer to home. Lots to unpack there, but we'll give it a go.
For one, if you're using the British government as any kind of justification in a moral argument, you've gone awry somewhere. As the old adage states, 'Two (or indeed 2,000) wrongs divvn't make a right'. This country has overseen, enabled, and in some cases, directly caused countless horrific acts - both in the Middle East and beyond. But on what celestial plain does that make it okay for the Saudi government to have already executed 100 people this year, or 196 people in the 12 months prior? I'll give you a clue, there isn't one.
Then there is this incredible phenomenon that certain Newcastle fans are seemingly unfamiliar with known as, 'Being angry about more than one thing at the same time'. Let me tell you, folks, it's an absolute game-changer. You can be severely indignant about a cherished football club - one with a proud history that is instrinsically tied to the identity of a wonderful, under-appreciated city - being used as a propaganda tool while also believing that the invasion of Afghanistan was wrong, or that people in the sixth largest economy in the world shouldn't have to resort to charity just to feed their families. Rage is not a mutually exclusive emotion.
And actually, while we're on the topic of food banks - seeing as its one that rankles so gravely - how about a quick word on Toon co-owner Jamie Reuben? During the three years that Boris Johnson held the office of Prime Minister, the total number of emergency food parcels handed out annually by the Trussell Trust rose from 1,909,388 to 2,986,203, and over the course of the entirety of this Conservative government the number of banks run by the Trust has risen from 35 to 1,646. It would almost be impressive, were it not so bloody grim.
You see, the whole thing stinks whichever way you look at it. If the Mike Ashley years taught us anything, it's that Newcastle fans aren't ideologically opposed to protest by any means - it would just appear that for some, erecting a Sports Direct advertising hoarding is a greater crime against humanity than allegedly murdering a journalist.
And you can feel the clutching of the straws, hear the scrabbling for some kind of meaningful riposte that allows them to reap the benefits of their newfound wealth without having to face up to the aching reality of where it is coming from. 'Bit rich of you to criticise the Saudis, marra', they bellow in their treacle thick drawls, 'when you didn't speak out against the heinous machinations of Genghis Khan! Didn't see you taking the streets with a banner lambasting Ivan the Terrible, did I, bonny lad? Conveniently schtum when Tiberius retreated to Capri in a state of intense paranoia and revived the ancient accusation of maiestas, weren't you, pet?' Whataboutism is never a good look.
Now again, to reiterate, this is not a hit piece on the Toon Army writ large. For those who are enthralled in a complex moral plight beyond their control, I have earnest sympathy. I know that I personally, as a football fan, would resent being casually tossed into the middle of such a baleful quandary.
But to the rest - the ones who are willing to use their own intellect and dignity like a human shield against any kind of anti-Saudi sentiment, purely because it might bring them a Carabao Cup in the next three to five years - I say this: grow up and learn the meaning of the word 'accountability'.
Whether their fans care to admit it or not - whether they embrace it, reject it, or convince themselves that it is a perfectly natural manifestation of the global sporting economy in action - Friday's fixture, and the vehement defence of it by certain supporters, was a textbook case study in sportswashing. It was also a crying shame.