Newcastle United are on the march, and I'm stuck behind enemy lines
Newcastle United continue to thrive in both the Premier League and the Carabao Cup.
Watch more of our videos on Shots!
and live on Freeview channel 276
Visit Shots! now
No matter where you are in Newcastle, the great iron keep of St. James' Park towers and glowers over you. From the narrow streets of Chinatown to the treb-slinging watering holes of the Bigg Market, from the fickle storefronts of Northumberland Street to the brutalist gauntlet of the Redheugh Bridge, it can be peaked at over rooftops and glanced at from the ends of snug cobblestone alleyways in all of its jutting, imposing angularity. Even down on the Quayside, where the Baltic loafs like a squat matchbox and the frigid Tyne air whips in kindred bitter squalls, the stadium - obscured as it is by a brickwork veil of ornate Gothic architecture and the natural steepness of the surrounding thoroughfares - never feels too far away. It is omnipresent, consciously or otherwise.
On a matchday, that sense of ubiquity is stronger still. Pubs and bars are crammed and cramped with loyal punters in monochrome stripes, and those going about their everyday business outside have little need for furtive glances at score updates as the rowdy elation of those with a ticket drifts down from on high into the city centre. Upon the final whistle, the masses spill out from the terraces into rows of terraced houses and trickle towards the Toon like a black and white lava flow spewing forth from a looming metal volcano.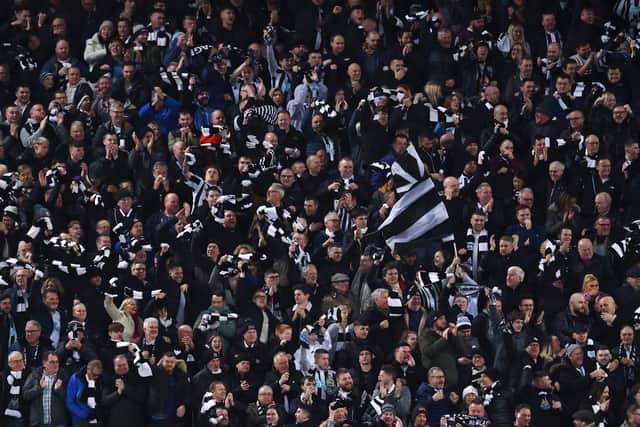 But omnipresence does not always equate omnibenevolence. For years, St. James' Park - unmissable and so very grey - served as a constant reminder of the thick gloom that had descended over Newcastle United during Mike Ashley's tenure in the boardroom, like a gaudy monument to the ego of an inept dictator, always watching, always waiting to ruin the mood of an entire city with some violent outburst of barbarism or other. The club under the massive mug mogul (read that as you will) fell somewhere between George Orwell's Big Brother and Godzilla - a monstrous buzzkill always lurking on the periphery with grumbling intent.
Now, of course, things could hardly be more different. The Magpies are one of the richest outfits in world football thanks to the ownership of Saudi Arabia and its sovereign wealth fund, and while the moral and ethical implications of such investment have been justifiably criticised, there's no denying that matters on the field have already improved notably. At the time of writing, United are third in the Premier League, and with the exception of a shock FA Cup exit at the hands of Sheffield Wednesday earlier this month, haven't lost a match since the last day of August.
Eddie Howe, a man whose brightest career prospect just 18 months ago was 'low budget private hire Gary Barlow lookalike', has performed a remarkable transformation on Tyneside. His defence is, by some distance, the meanest in the division, and his attack, whisper it, is almost joyful at times. At the back, Nick Pope gives away less than a muted radio, Dan Burn continues to endear with his mountainous displays and wacky-waving-inflatable-tube-guy choreography, and Sven Botman is, as his name suggests, pretty damn close to being the Toon's sole caped crusader. Further forward, Bruno Guimaraes delights in making a mockery of every Premier League scout who hesitated on recommending him to their employers, Joelinton has enjoyed the biggest redemption arc since Ebenezer Scrooge (vehicular discrepancies aside), and at one point prior to the World Cup, Miggy Almiron genuinely looked as if he could be the man to end the Pele/Maradona/Messi debate once and for all.
We want your feedback on 3 Added Minutes - details here.
Many have pointed to the Magpies' newfound wealth as the main reason for their sudden advent, and to some extent that is certainly a contributing factor. Honestly though, there's an argument to be made for it still not having a hugely drastic impact as yet. Pope, Burn, and maybe even Kieran Trippier represent a calibre of signing that Newcastle might well have made anyways, and while Bruno and Botman have undoubtedly changed things for the better, injuries have curtailed record acquisition Alexander Isak to just five Premier League outings thus far. Granted, he's scored in three of them, but still.
And so it is, with just four months of the campaign remaining, that Howe's side find themselves properly challenging for Champions League qualification, and on the brink of a Wembley final in the Carabao Cup. But let me tell you something, dear reader, I don't really care for it.
At this point, allow me to make a quick confession; I am a Sunderland fan - a cruel cosmic penance handed down to me on both sides of the family, presumably in retaliation for some unspeakable atrocity committed in a past life. I also happen to live in Gateshead on the banks of the Tyne, which, although very much its own separate entity from Newcastle, is still irrefutably Geordie turf. In the winter months, when the leaves have fallen from the trees just beyond my garden, I can see St. James' Park from the back window. In fact, I'm looking at it right now. I should also point out that I'm not a particularly biased or resentful supporter. For one thing, endulging any kind of pettiness would make me pretty lousy at my job. For another, I have no vested interest towards frothing in apoplexy every time Newcastle win a match, which at the moment is a near-weekly occurrence. Football is, after all, just a game.
But nonetheless, this past year has been... uncomfortable. Presently, the mood on Tyneside is one of unbridled buoyancy and rampant optimism. Anybody with even a passing affection for their local club will understand why. I can't excuse the moral bankruptcy that underpins the Saudi regime, and I sympathise with any Newcastle fan who has been forced into an ethical quandary by matters beyond their control, but from a footballing perspective and a footballing perspective alone, it must be a magnificent time to be a lifelong Mag.
And yet, for all of the felicity and simmering anticipation sweeping through the Toon, for all of the brown ale bucket hats and the cheap Hawaiian shirts bearing Joelinton's grinning likeness, I just feel nothing, nor do I want to. For obvious reasons. To walk around Newcastle as a Sunderland fan in the aftermath of yet another United conquest is to feel a bit like you're watching a raucous house party thrown by your childhood nemesis from the other side of a double glazed window.
Please don't misconstrue what I'm saying here; this is not envy, nor is it indignation. I hand on heart wouldn't swap any of Tony Mowbray's ragtag crew of adolescent Jaffa Cake-eating wizards for the world, and in a weird sense, I'm not even bothered if Newcastle start winning silverware in the immediate future. It's going to happen sooner or later, that much is clear. Would I prefer it to be later? Yeah, of course, but at the same time, there is a small part of me that thinks, 'Live and let live'. (Perhaps that's a motto football club owners should take to heart too.) As long as us Mackems are steadily progressing, and still batter them whenever a derby day rolls around, I'll be okay.
Really though, if these past few months have taught me anything, it's that much like how the opposite of love is not hate but indifference, the opposite of optimism is not really pessimism, but rather a dulled, creeping apathy. And that, in its own way, is really quite sad. Of course, I don't expect too many Newcastle fans will be remotely bothered by the disconnect on my doorstep. After all, they have trophy cabinets to assemble and expectations to inflate. And you know what? That's fair enough. But still the fact remains, the Toon Army is on the march, and I'm not too thrilled about being stuck behind enemy lines.