Jude Bellingham and the third coming of the Galácticos at Real Madrid
Jude Bellingham's arrival at Real Madrid signals a new era at the Bernabeu - and suggests a regime that has learned from its past mistakes.
Watch more of our videos on Shots!
and live on Freeview channel 276
Visit Shots! now
Stourbridge boy, teenager, world traveller, international, galáctico – at 19 years of age, Jude Bellingham has done more, been more and achieved more than most of us can ever dream of. His transfer to Real Madrid – confirmation of which is imminent – will now make him one of the biggest stars on the starriest team on the planet.
If every add-on is triggered, Bellingham will become the most expensive player in Real's history at around €133m – not a small statistic for a club that has spent lavishly during long-serving club president Florentino Pérez's two terms. For as long as Pérez has been in power, Real have defined themselves as the club who buy the biggest players for the most money – a marketing juggernaut as much as a footballing one, a team bludgeoning their way towards trophies by force of spending and personality.
But this is a new era at the Bernabeu. Where once Real bought the world's most famous players at the peak of their powers, now they are investing heavily in youth, and in a team of the future. This is a managed transition from the last remnants of the second wave of Galácticos towards a team that will learn and grow together. It just so happens to be constructed from the most talented and wildly expensive young players in the world – and Bellingham will become the new poster boy.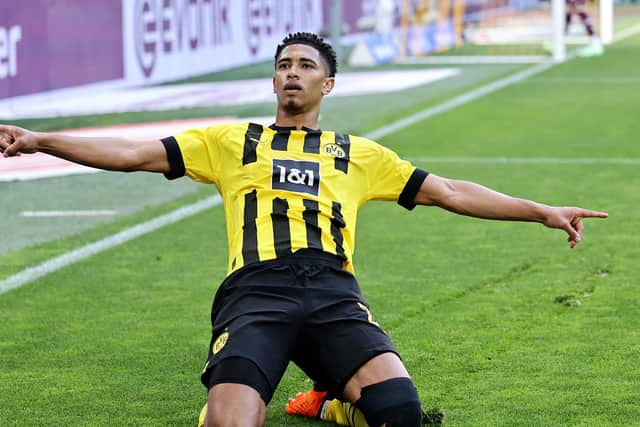 In changing the way the clubs spends its cash reserves, Pérez is learning from past mistakes – and there were many. In the first Galáctico era, Zinedine Zidane's stunning volley may have won them the Champions League, but it also fell apart after funds were put towards David Beckham instead of a new contract for Claudu Makélélé. The infamous policy of "Zidanes y Pavones" – glamorous attacking players supported by relatively workmanlike defenders in the mould of Francisco Pavón – worked for a limited time but ended up handing the initiative in La Liga to Barcelona in the long run.
When Pérez returned as president in 2009, the same strategy was put back in place – and hugely expensive superstars were once again the order of the day at the same time as Pep Guardiola's Barcelona dominated the domestic scene with a team based around academy products. Kaká arrived for around £60m but left with just one league title and one Copa del Rey to his name. Eventually, it panned out – with four Champions League wins in five years, and six overall since the spending started back up representing a more than ample return for the enormous outlay, but that is a testament to the longevity of some of the signings rather than the tactic that brought them together, and now the team that put together that extraordinary run of European domination is decaying.
Cristiano Ronaldo and Karim Benzema are gone. Gareth Bale has retired. Luka Modrić is 35 and being targeted by the Saudi Pro League's sudden money machine. The Croatian may sign on for one more year yet – many in Spain expect him to – but he only started half of his side's La Liga matches this season as his fitness declines and his minutes have to be managed.
Toni Kroos, 32, has signed on for another year but was also rested for more than a third of the league campaign. The creative nexus which finally sparked Real into life after years living in the shadow of their Catalan rivals is crumbling – but this time, Real are not banking on getting lucky enough to buy players who happen to stand the test of time. They are constructing a team designed to last a decade in its own right – and just about everyone else should be rather scared.
Bellingham, who will be 20 by the time his first La Liga season starts, was one of the best players in Germany last season – 12 goal contributions, the best dribbling statistics in the league, exceptional numbers in defence and one of the best in the Bundesliga at kick-starting attacks from midfield. He is already close to the complete package, but will get the chance to round off those last few rough edges under the watchful eye of at least one, and perhaps two, of the best creative midfielders on the planet. Three, if you count the coach and recall his days as a player at Roma and AC Milan.
Behind him, Aurélien Tchouaméni (23 and signed for €100m including add-ons) and Eduardo Camavinga (20 and signed for €31m as a teenager) have been busy learning their roles as well, guided by Casemiro before finally supplanting him. Their double pivot, with Bellingham as the new spearhead – all ably supported by 25-year-old Fede Valverde, and potentially by Gabri Veiga, a 21-year-old from Celta Vigo currently being courted by the Bernabeu brass - offers a clear blueprint for the midfield for the next ten years. Kroos' game-time will be slowly wound down as the newcomers find their feet, and Modrić will start even less should he decide to stay. The guard is changing.
Perhaps ironically, there are some comparisons with the way Barcelona built the all-conquering team that controlled the Spanish game in between Real's winning years. In the same way that Andrés Iniesta, Xavi and Sergio Busquets were able to perfect their partnership at La Masia, these three astonishingly gifted players will now have the chance to gel over a long period and develop the kind of understanding that was impossible to nurture between Beckham, Zidane, Luís Figo and every other sunglasses-clad superego that arrived in Madrid in the past. Of course, there is a key difference between this new midfield triumvirate and Barcelona's – they cost a small fortune to put together. Young and fresh they may be, but they are still galácticos. This is still a Pérez team, and the apple has not been allowed to roll too far from the tree.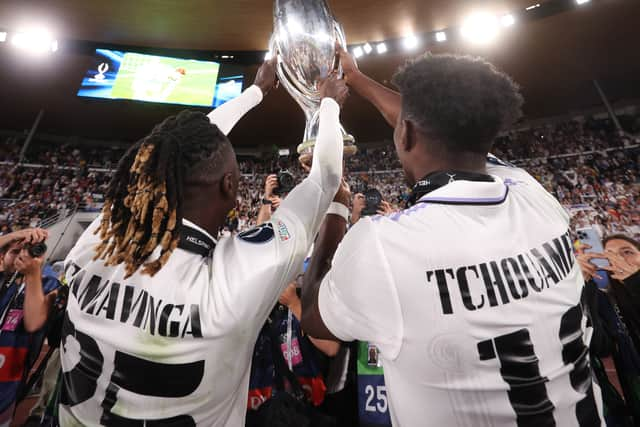 Ahead of them, Vinícius Junior and Rodrygo – again signed young and expensively and slowly absorbed into the squad, allowed to grow into their roles – will offer one of the strongest wide forward pairings in the world for many more years. The central striker role may not have been handled as well – the departure of Benzema will require some serious cash to be splashed to maintain standards, whether it's on Harry Kane or someone else – but the core of the team adheres to this new version of an old philosophy.
There are still some of the old galáctico fingerprints visible, of course. The defence has not received quite the same attention and while it is has several high-level pros present, not least the excellent David Alaba, there are gaps – Sergio Ramos has not yet been adequately replaced and both Valverde and Camavinga have been pressed into service as emergency full-backs over the past two seasons, square pegs hammered hard into round holes due to a lack of meaningful depth. If the same thought and attention is lavished on the backline as it has been on the midfield and forwards, then Real could build one of the best teams in the world – and have it stay together for years to come. Real have just announced the €5m re-signing of 23-year-old left-back Fran García from Rayo Vallecano, a solid but unspectacular player, albeit one with time ahead of him - whether he represents the kind of due diligence that needs to be assigned to the defensive line or another Pavón remains to be seen.
Even if the project fails to bear fruit – and it should, with Barcelona this year's champions but floundering their way through financial turmoil in truth – then Bellingham should prosper. Perhaps the defence is left unattended and the striker situation remains unsolved. Perhaps there will be injuries or simply some of the misfortune that befalls even the best-regulated clubs. But Bellingham will thrive.
We want your feedback on 3 Added Minutes - details here
He is already an extraordinarily classy player. His ball-carrying is devastating, his first touch immaculate, and he reads the game like a high-concept novel. He is increasingly dangerous in front of goal, defends from the front and was perhaps the only player in Borussia Dortmund's ultimately failed campaign to become German champions who never let his performance levels drop at any stage. He plays like a great of the game and carries himself like a man twenty years his senior. Behind him, two players good enough to carry France to the World Cup final. Ahead of him, two Brazilians who offer an immense attacking threat, one of whom is probably the best player in Spain as it stands.
This is a new era for Real Madrid, and a next step for Bellingham. The destination will likely be the stars.