Why Man City were so good against Real Madrid - and where Liverpool and Chelsea went wrong
A tactical breakdown of Manchester City's win over Real Madrid - and what the likes of Liverpool and Chelsea could learn from Pep Guardiola's masterclass.
Watch more of our videos on Shots!
and live on Freeview channel 276
Visit Shots! now
To describe Manchester City's performance against Real Madrid last night in full would require a thesaurus – superlative upon superlative (thesaurus needed right there) would have to flow from the keyboard to properly encapsulate their dominance in every department, their ruthlessness, their energy and tactical intelligence. It was a complete game, a breathless spectacle of unceasing brilliance, an utter detonation of a superb team who have made the Champions League their own in recent years.
The 4-0 win may be the best of Pep Guardiola's storied reign in Manchester – but why were Manchester City able to brush aside a formidable team, managed by the Champions League's most successful coach, where others, including themselves, have failed in recent years? Where did Liverpool and Chelsea go wrong, and why were City able to comprehensively achieve what they marginally failed to do just last year?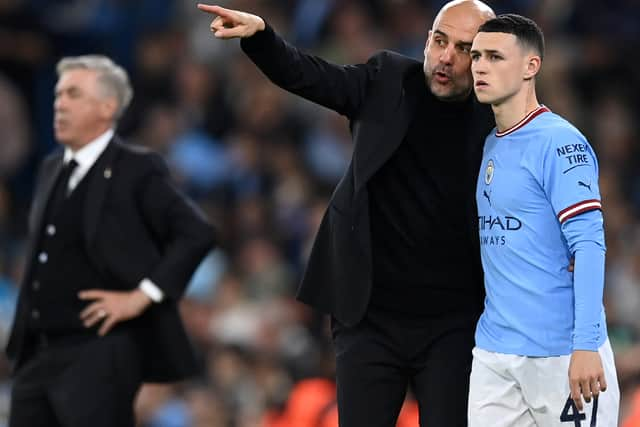 The key is in not just in the quality of the players – although clearly the City of this season are better than both Liverpool and Chelsea, which helps – but in Guardiola's tactical vision and the way he managed to stifle Real while instigating wave after wave of his own attacks. The Spaniard figured out how to win every battle in every part of the pitch, his team fluidly moving between formations in attack and defence like an octopus squeezing improbably through a series of obstacles. He figured out ways to take control in areas where Jürgen Klopp and Frank Lampard allowed Real leeway. So where did Guardiola get it right, and what can the other English teams learn from a magnificent display?
Liverpool
Anfield was rocking when Liverpool went 2-0 up inside ten minutes thanks to Darwin Nuñez's effortless backheeled flick and Thibault Courtois' catastrophic error in front of Mohamed Salah – but Madrid rapidly took complete control of the match and spent most of the remaining time battering Liverpool's defence, running out deserved 5-2 winners.
Klopp is not a tactically versatile coach – he prefers his team to set up in much the same way every game, perfecting one style and set-up rather than adapting to the opponent. It's clearly a very successful approach – the current season notwithstanding – but the way Liverpool play offered too many opportunities to Real Madrid in the round of 16 match earlier in the campaign.
Real's attacking output is primarily focused on two key areas – down the left through the magnificent Vinícius Júnior, and in front of the penalty area through the interchanges and intelligent movement of Luka Modrić, Toni Kross and Karim Benzema. Vinícius, in particular, was allowed far too much space to attack Trent Alexander-Arnold, and the right-back's aggressive positioning meant that the Brazilian was often able to get in behind, pulling Joe Gomez across and creating space for Benzema in the middle – space that was ruthlessly utilised.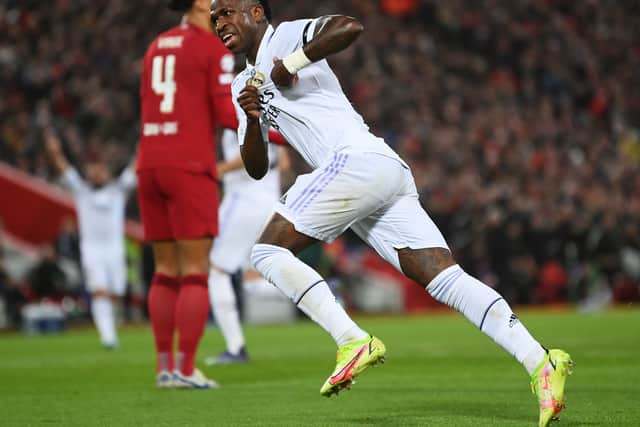 Compare that to Manchester City, who gave Kyle Walker a much more defensive brief than they usually would, using his pace and experience in one-on-one situations to neutralise the winger. Had Walker had an off day in either leg, it might have been a problem, but instead Walker demonstrated why he's trusted so often by Gareth Southgate in a way Alexander-Arnold isn't, snuffing Vinícius out and recovering brilliantly whenever the first touch took it past him. Out of possession, City essentially only had one defender back fully covering Benzema, Rúben Dias, but he was seldom called upon, such was Walker's efficiency. Guardiola sacrificed Walker's attacking output to single-handedly deal with one of Real's biggest threats, and it worked superbly.
In the centre of the park, the off-ball formation, which was loosely a 3-2-4-1, put John Stones and Rodri directly up against Modrić and Kroos, and was able to keep them quiet simply by denying possession and space – Liverpool, by contrast, went with their usual staggered midfield three and as such the two Real playmakers were able to find space to play the ball in front of the penalty box. The speed and incisiveness of their interchanges with Benzema and Rodrygo when offered that opportunity was typically devastating, but City snuffed the problem out at the source, and as such Benzema and Rodrygo barely touched the ball all night. Guardiola gambled on allowing one-on-ones at the back knowing that if Real's creative nexus was shut down, opportunities for the forward line would be scant. It was a masterclass in identifying the opponent's strengths and how to combat them. Liverpool trusted their system and were ruthlessly exposed when it didn't line up in the right ways.
Chelsea
It would be harsh to criticise Chelsea's defensive set-up too much – they conceded two goals in both legs, but Enzo Fernández, N'Golo Kanté and Mateo Kovačić largely did a decent job of replicating City's success at tamping down the Madrid midfield, while Reece James and the covering Wesley Fofana handled Vinícius for large portions of the two games.
Where Frank Lampard failed was in pushing too far in the direction of defensive stoutness and neglecting to find ways of moving the ball forward and creating chances of their own. By running a back three with wing-backs, Chelsea had at least one man too many in defence, denying them opportunities to build quick counter-attacks and leaving them short-handed going forward, especially in the first leg when they managed seven shots on goal to Real's 18. Their front two were isolated and ineffective, and they found much more success in the second leg when they pushed Kanté into a more aggressive role, with him and Conor Gallagher supporting Kai Havertz, allowing them more possession in front of the Real defence and thus creating more shooting chances than Madrid managed.
They may have lost 2-0 again anyway but it shouldn't be forgotten that the showing at Stamford Bridge was substantially improved. The old adage of offence as the best form of defence was proven true once more – and was doubly proven by Guardiola last night. The 3-2 defensive formation meant that when they won possession, City had five men ahead of the ball to spread the play, and the use of one lone attacker, occupying two defenders in Real's flat back four, gave them an overload against Fede Valverde once they'd got past Real's two more advanced midfielders. They were able to get the ball down and play with overlaps and two-on-ones across the field because, with Haaland taking two men out of the game by himself, they had a natural double-up in midfield, and any attempts by Real to cover that weakness simply created a similar situation to the left or right.
City also spotted a weakness that Chelsea failed to take advantage of – Eduardo Camavinga at left-back. Regular readers of the Wonderkid Power Rankings will know that the Frenchman has been playing out of position at full-back for some time now in the absence of Ferland Mendy, and while he's done a mostly competent job, he's still a square peg in a round hole. Bernardo Silva had plenty of success against him in the Bernabeu – and City repeatedly used their midfield advantage to force Bernardo into one or two-on-one situations against Camavinga, who simply hasn't spent enough time in his unfavoured second role to have the nous to deal with everything thrown at him. Camavinga was battered and bruised all match until Carlo Ancelotti finally pushed him up into midfield – where he immediately had far more influence. By the time the Italian had figured it out, it was too little, too late.
Chelsea, by contrast, had the same opportunity but didn't have the forward numbers to make it count. They used James as their primary attacking outlet down the right, but he was coming from much deeper due to his double duty working on keeping Vinícius quiet, and didn't have as much help given that Chelsea couldn't get another man upfield quickly or often enough. Chelsea simply gave Real that extra bit of respect, and stymied themselves as a result.
Manchester City 2022
What did Guardiola get right this year that he didn't last time out? City beat Real 4-3 at the Etihad in the 2022 semi-finals, and were 1-0 up in the 90th minute before that stunning last-gasp brace from Rodrygo set up extra-time – during which Benzema's penalty sealed Real's place in Paris and sent City home in heart-breaking fashion.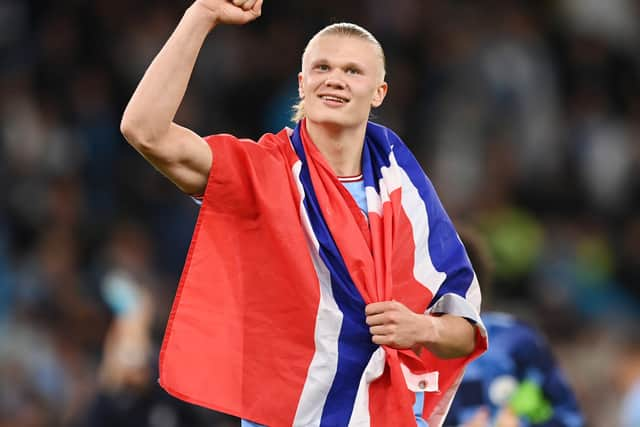 So what changed? What did Guardiola do differently this time around that not only denied Real any chance at a comeback, but kept them at arm's length even when the tie remained in the balance?
Some of the difference has been covered already – last season, City set up with a more rigid defensive structure, focusing on protecting zones in the final third rather than pitting themselves man-for-man and leaving extra men in positions where they could get forward quickly. That allowed Real more space to operate and weave their attacking ideas together, and both Rodrygo's leveller and the penalty incident stemmed from deliveries from wide areas – balls that Real simply didn't have the chance to play last night.
But another key difference was Erling Haaland. Haaland may have been kept largely quiet – although he did force two magnificent saves from Courtois in the first half – but he demanded the attention of both David Alaba and Éder Militão throughout, and that double-teaming situation allowed City's midfield extra room to dominate possession. By comparison, Gabriel Jesus last season – in fine form at the time – was dropping deeper and giving Real's defence more options to press up and deny space to Kevin de Bruyne and Phil Foden. Haaland's mere presence changed the shape and flow of the game, and put Real in an impossible position – allow a defender to press up and give one of the world's best goalscorers extra space to operate, or keep two men close to Haaland and allow City's midfield room to breathe. It's debatable which is the better course to choose, but either way it handed the home side a substantial inherent advantage.
We want your feedback on 3 Added Minutes - details here
Of course, the last piece of the puzzle is simply that City's men were brilliant on the night. For all of Guardiola's intelligent tactical methodology – and a distinct lack of that alleged 'overthinking' – you can only beat Real Madrid 4-0 in the Champions League if every player pulls their role off with perfection. They did just that – every man was magnificent, everyone stuck to their task, and nobody left anything out on the field. It was a sublime performance, and will be remembered by the blue half of Manchester for many years to come.