Tribalism is fine, but Newcastle United fans should leave the Sunderland flags at home
The Magpies have taken great delight in mocking their bitterest rivals during their recent European exploits.
Watch more of our videos on Shots! 
and live on Freeview channel 276
Visit Shots! now
To answer the question scrawled across a thousand bedsheets, yes, I have seen a Mackem in Milan. Jordan Henderson lifted a Champions League trophy there. I've also seen a Mackem in Dortmund, for what it's worth. Claudio Reyna's son, Giovanni, was born on Wearside in the midst of his father's two-year stint in the red and white of Sunderland and now plays his own football in the famous yellow of Borussia. Paris, I'm not so sure about off the top of my head, but give me a moment and I'll get back to you.
Once upon a time, tribalism was a worthwhile thing. It stopped us from being eaten by cannibals and having our subsequent cadavers picked clean by carrion birds. Now, however, it does little more than generate the kind of pixelated fume that lines the yawning pockets of emerald mine trust fund billionaires who rarely see their children. And nowhere is the performative dance of verbal shadowboxing more acute than in the barbed trenches of football fandom.
And like, I get it. I'm not some born again hemp-sandalled pacifist who believes that the only good feeling is a spared one and that participation medals should be hoisted aloft exactly as high as those given to the winners. I want to see my club do better than everybody else, and I find it contentedly satisfying when our bitterest rivals are hamstrung by even the most minor of setbacks. But I simply cannot imagine the concentration of pettiness that you have to have coursing through your veins to spend your most august days cackling at those beneath you.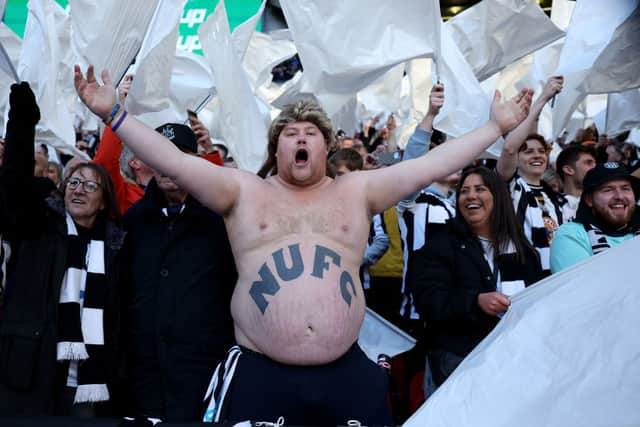 Which brings us neatly back to Newcastle United and those Champions League flags. To me, travelling to the San Siro with a bundle of cloth emblazoned with the slogan, 'Have you ever seen a Mackem in Milan?' is a bit like standing up on your wedding day and dedicating your speech not to the bride or to those loved ones beaming back at you, but rather to your secondary school woodwork teacher who once said you'd never amount to anything. 'Look at me now, Mr. Adkins, I'm off on honeymoon to the Seychelles and you've been dead twelve years!'
More than anything though, I cannot fathom the effort. Maybe I'm just lazy, but in my eyes, commissioning somebody to make a flag, then stuffing said flag into your hand luggage so that you can cart it halfway across Europe (and back again), only to unfurl it proudly in a country where English isn't even the native tongue feels like... a lot. And probably more expensive than any joke that bad should be.
It cuts both ways too. When you have Sunderland fans openly mocking, say, the felling of the tree at Sycamore Gap by some idiot with a chainsaw and an unhinged streak, you find yourself wondering where - or indeed whether - the line between good-natured ripostes and obsessive spite exists. Some would do well to remember that the word 'Mackem' is a 20th-century construct. Before then, everybody upwards of Teesside was a Geordie.
The point being that in the North East, a land crippled by coal mine closures and the uncaring rigidity of neo-liberalism, there is far more that binds than divides. I'm not advocating for the joint populaces of the Tyne and Wear valleys to clasp hands in one long human daisy chain, singing 'I'd Like to Teach the World to Sing' whilst visible from space, but I am suggesting that a fixation on their own fortunes, rather than rubbernecking constantly at their foes, might cultivate a general air of mutual levity. This preoccupation with malice does little but make everybody involved looked foolish.
So, next time Newcastle are on the continent - shortly after Bonfire Night - how about, instead of scheming over ways in which they can land tiresome low blows to the crotches of their red and white neighbours, they leave the flags at home and actually take the time to bask in the glow of their rapid progress? It would make a substantial change from spending their Wednesday nights calling Steve Bruce a cabbage-headed oaf on local radio phone-ins like they were this time a couple of years ago. Ah, the unwieldy hubris of the goldfish-memoried!