Phil Foden is rightly admired for his composure in pressure situations. How we have all marvelled at the Manchester City star as he glides his way out of trouble and produces moments of magic. Yet, on Sunday night, in the glorious aftermath of England's 3-0 win against Senegal, there was a moment when Foden could have been accused of getting carried away.
When asked about just how good Three Lions team-mate Jude Bellingham could be, Foden immediately answered saying he would not 'big up' the youngster too much given his tender years - before going on to add: 'He will be the best midfielder in the world'. So much for not bigging him up, Phil!
Yet once we strip away the warm glow of England's progression into the last eight at the World Cup Finals, and adopt a cold, methodical approach in our assessment, there is a question to be asked of just how good Bellingham could become and there is an argument to agree with Foden's view of the midfielder. Born in Stourbridge, developed at Birmingham City, and realising his potential at German giants Borussia Dortmund, Bellingham looks on his way to becoming a complete midfielder and one that completely suits the modern game.
He showed his qualities in abundance during an awkward opening half-hour against Senegal. There was the balance and poise of a ballerina, the power and aggression of a heavyweight boxer and plenty of the work-rate and determination that has taken him to the very top of the game despite not yet reaching his 20th birthday.
As England were put under pressure, it was Bellingham - and the impressive Jordan Henderson - that hauled them up the pitch by harrying and pressing their opposition to force mistakes and, slowly but surely, the tide started to turn in England's favour.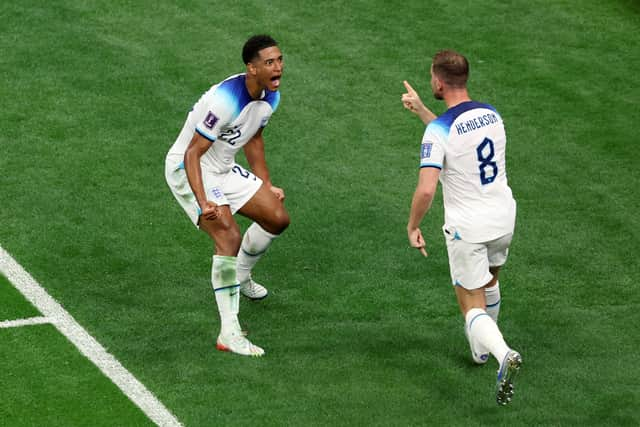 It seemed fitting that it was Bellingham and Henderson that combined for the opening goal of the game, as the youngster burst into the Senegal box before producing a clever pass that allowed the Liverpool midfielder to tap home with ease. The celebrations between the duo showed a mutual admiration and appreciation, as they both urged the England supporters to give recognition to the other.
Throughout the remainder of his 76-minute performance, Bellingham was tireless in his pressing, giving his side energy and enthusiasm as they seized control of the game, making what was meant to be a severe test looking extremely routine.
But that is what Bellingham is becoming right in front of our eyes. He makes the awkward and difficult tasks look simple and straightforward. There is nothing mundane about that process, there is a buzz of excitement every time he receives the ball or aggressively presses an opponent. He makes things happen, with or without the ball, under pressure or on the front foot, something that would make him a manager's dream.
Since making the surprise move from Championship relegation battlers to Champions League regulars, Bellingham has been pressured with comparisons to many of the fine midfielders England have possessed in the past - Steven Gerrard, Frank Lampard, Paul Gascoigne and more. His birthplace even brought some comparisons with former Manchester United star Duncan Edwards, who arguably would have gone on to be England's greatest ever player, had it not been for his tragic passing in the Munich air disaster.
The beauty of Bellingham is not in comparing him to the greats of the past, it is assessing a bright future where he could become the standard bearer for generations to come. These are early days, and perhaps the excitement of England's progression is putting us at risk of edging into the realms of hyperbole. But Bellingham feels like he is the real deal.
He is not yet the best midfielder in the world, but, just as Foden suggested, we could be witnessing the next steps to Bellingham having that tag bestowed upon him in the not-too-distant future.