There was more than a sense of mystery and bewilderment when Arsene Wenger was named as Arsenal manager way back in August 1996.This was before the days of social media, dedicated sports news channels and wall-to-wall coverage. Speculation and rumour were consigned to printed newspapers and premium rate telephone lines that were advertised in the back of football magazines and on Teletext and Ceefax. British live broadcasting of European leagues largely revolved around La Liga and Channel Four's excellent coverage of Serie A as the likes of Gabriel Batistuta, George Weah and Roberto Baggio became legendary figures for those of a certain age.
Knowledge of French football was limited at best, any insight into the Japanese game was focused on Gary Lineker's brief spell with Nagoya Grampus Eight and other veterans that were seeing out their careers in the Far East. That meant the appointment of Wenger was a leap into the unknown for Arsenal supporters and followers of other clubs around the Premier League. There were many a question asked - but it's safe to say Wenger answered them in grand style.Out of a club well known for its drinking culture, Wenger moulded a team of machines that thrust the Gunners into contention for major honours. New techniques, fitness regimes, nutritional advice and a different style of play painted the Frenchman as a visionary and his methods brought success beyond recognition.
The famed back-four and veteran goalkeeper David Seaman were rejuvenated, their shelf-life extended and further silverware and success was added to an already impressive career. Emmanuel Petit and Patrick Vieira become one of the most dominant midfield partnerships in the first decade of the new-look Premier League and there was creativity and skill in abundance with the like of Nicolas Anelka, Ian Wright and Dennis Bergkamp.
There was a league and FA Cup double in 1998, an achievement repeated in 2002 and the FA Cup was then retained 12 months later as a new Arsenal emerged with Gilberto Silva, Thierry Henry and Ashley Cole giving a fresh feel to a new generation. But the greatest achievement of all came in 2004 when Wenger's side became Premier League champions for a third time by going an entire league season unbeaten.
The Invincibles were born.By the time Wenger's 22-year reign came to an end at the Emirates Stadium in 2018, the former Monaco manager had claimed ten major honours and had sealed his place as a genuine club and Premier League legend. Yet in recent days, the former Gunners manager has caused controversy with comments made over the performances of a number of countries at the World Cup Finals.
Wenger suggested countries that had protested against a number of issues in Qatar had underperformed, whilst those that allowed themselves to 'focus on the competition' had been mentally ready to progress.For clarity, his full comment was: "The teams (who performed well) were mentally ready. They had focus on the competition and not on political demonstrations."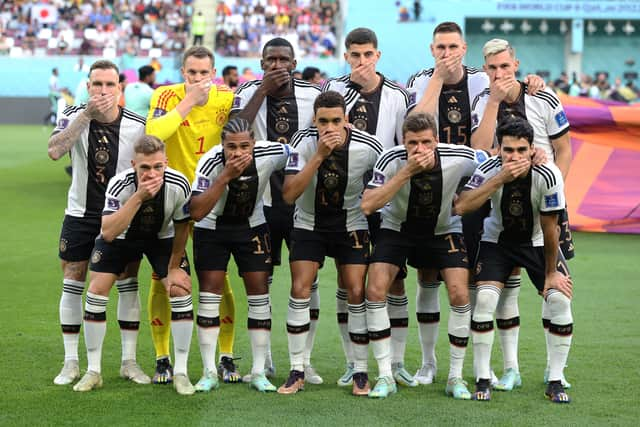 This is an unique World Cup that has provoked numerous debates over a whole host of issues surrounding the tournament. Qatar's stance on the LGBTQ+ community, the deaths of migrant workers during the construction of stadiums around the country and breaches of human rights have given this World Cup an awkward feel rarely experienced during the 92-year history of the tournament.
They say football and politics should not mix, yet the ones that suggest this are the politicians that would find any conversations awkward as it would shine a light on their own shortcomings. Over the last three years, footballers have routinely shown up those in power by showing a willingness to front up to issues that have provoked anger in society.
They have power and popularity, combined qualities that governments rarely possess and that has led to suspicion and finger pointing towards players that are willing to take a stand for what they believe in and voice their opinions. This England side can certainly take great pride in opening up on those issues during a turbulent time for our country.
The latest example came when Harry Kane was not allowed to wear a 'One Love' captain's armband in support of the LGBTQ+ community ahead of the opening game against Iran. There was initial criticism of Kane, before it became clear he and his team-mates wanted to go ahead and show their support, but were left without support by the governing bodies.
Looking elsewhere in the tournament, Denmark's stance on Qatar was clear as kit manufacturers Hummel were denied an opportunity to provide training kit displaying support for human rights. Germany protested during a pre-match team photo with players holding a hand over their mouths to show they had been silenced from having a say. To suggest both countries have struggled because of their determination to show their support and be vocal on issues that will always be a stain on this tournament is disrespectful and narrow-minded.
Far from the visionary that once graced the Premier League with a managerial ability rarely seen, Wenger's comments are incredibly short-sighted and show little care for issues that are impacting on people around the world. Wenger's legacy in the Premier League should live on for generations - but his latest comments and his willingness to toe the FIFA party line tarnish his reputation as one of the greatest managers of his generation.