We made it. Here we are. 370 games played, 10 to go, a yawning abyss of summer nothingness beckoning us on with the curl of a crooked finger. The 2022/23 Premier League campaign will come to an end on Sunday afternoon and then we will all be left standing there in the aftermath, bemused and blinking, like stragglers on the dancefloor as the nightclub lights come up.
In a disappointing twist for neutrals everywhere, there is very little left to be decided. Manchester City are champions... again, the two Uniteds - Newcastle and Manchester - are set to wrap up Champions League qualification, although in the case of the latter, there is still the slightest, improbable modicum of a doubt, and a little further back, Liverpool and Brighton are guaranteed Europa League football.
In fact, the only real point of melodrama left is the battle for survival. Two of three will be relegated alongside Southampton, with Everton, Leicester City, and Leeds United all sweating profusely and gnawing their fingernails down to a bloody pulp. But how will they fare, and who will stay up?
Well, let us join hands, give each other a trepidatious smirk, and plunge into the bracing pool of clairvoyance one last time. Together. Shall we? We shall.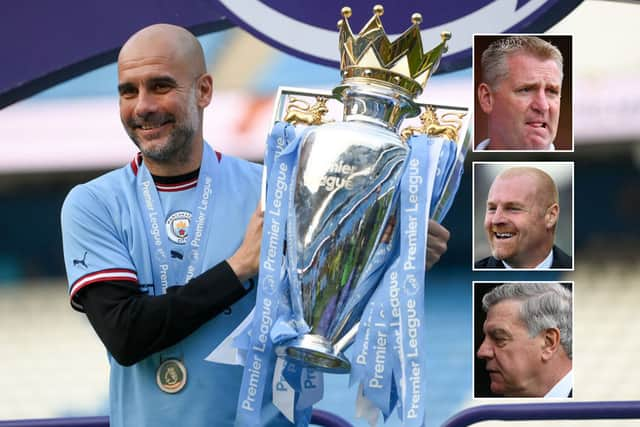 Aston Villa vs Brighton
Two of the stories of the season, and two clubs who will be desperately hoping to succeed in Europe next year. Brighton are already qualified, and will be playing in the Europa League in the coming months, but Villa ideally need a big result here to squeeze into the Conference League ahead of a faltering Tottenham.
Unai Emery will be praying that the Seagulls are, somewhat fittingly, already on the beach, but even if they're not, Villa should have enough to get something out of this if they really knuckle down. Whether it will be enough, only time will tell. Aston Villa 1-1 Brighton.
Everton vs Bournemouth
It's a pretty simple equation for Everton: win and stay up. Then again, these things are easier said than done. The Toffees do have it in their locker to pull out a big result. After all, it wasn't that long ago that they absolutely battered Brighton. The other thing they have on their side here is a Goodison crowd who will be willing them to a positive result with every shred of its collective being.
Bournemouth are no slouches, and they will put up a fight, but if one of the three dead clubs walking are to get the points they need to survive on Sunday, I reckon it's most likely to be Everton. A 2-1 home win, and a nervous wince.
Leeds United vs Tottenham
Championship candidate number two; Leeds United. The concern here is that Big Sam might have lost his touch. That being said, how much could he ever have reasonably been expected to do in just four matches?
At the very least, Leeds still have a chance. If they win here, and if results elsewhere go their way, then they can still avoid a return to the second tier. These are the dictionary definition of 'big ifs', though. Tottenham have been useless of late, but it would be incredibly typical of them to turn up and spoil the hosts survival aspirations, as well as pipping Aston Villa to that final European qualification spot. Leeds 2-4 Tottenham.
Brentford vs Manchester City
City have bigger fish to fry right now than a dead rubber away day at Brentford. Already crowned champions, Pep's boys now have their eyes firmly fixed on the finals of the FA Cup and Champions League - and indeed the treble they could bring with them.
Expect the champions to coast through this one, but even coasting they are a fearsome prospect. Brentford 0-2 City.
Manchester United vs Fulham
It's been an odd season for United. On the one hand, they have ended their silverware drought and all but secured Champions League football for next term, but on the other, it was the Carabao Cup and they will feel aggrieved to have fallen out of the title race so swiftly.
For their part, the comfort is midtable is probably more than Fulham could ever have hoped for at the beginning of the campaign, and they deserve to be congratulated on making their return to the top flight look so stress-free. Even taking that into account, however, I see them losing here. United 2-0 Fulham.
Chelsea vs Newcastle United
In many ways, these two sides have subverted expectations this season. In the case of Newcastle United, that's been a brilliant thing. As for Chelsea, not so much.
Neither team has anything at stake here, and I could see quite easily foresee it dawdling along in a sun-soaked Stamford Bridge. (I'm assuming it won't rain, by the way. This is a football predictions column, I don't deal with weather.) Anyways, Chelsea 0-0 Newcastle.
Leicester City vs West Ham
Leicester City need to win this if they are to have any hope of avoiding relegation. The sad reality is, I just don't see that happening. There is an apathy to the Foxes, a deep-set helplessness that has eaten away them like woodworm over the course of the campaign.
By contrast, West Ham are looking more like their old selves after making it to the final of the Europa Conference League, and I reckon they might doom Dean Smith's men here. Leicester 1-3 West Ham.
Arsenal vs Wolves
What might have been. In a parallel universe, this is the day that Arsenal, after years of waiting, were finally coronated as Premier League champions again. Instead, it promises to be little more than a glorified, bittersweet exhibition. There's not a great deal more to say really, other than that Wolves supporters will be hoping it is not a farewell outing for Julen Lopetegui too. Arsenal 3-1 Wolves
Southampton vs Liverpool
Southampton's final game of the campaign, and one that could mark their last top flight appearance for quite some time, depending on how the Championship treats them next season. You'd suggest them to drink it all in, but really, what is there to enjoy here?
As for Liverpool, they are showing signs of life after a campaign that has largely flatlined. Champions League football may be a step too far this term, but they'll be back next time around, and they should finish strong here. Saints 0-4 Liverpool.
Crystal Palace vs Nottingham Forest
And finally, my very last prediction of the 2022/23 Premier League campaign; a hallowed moment, indeed. Are you ready? You sure? Okay, here goes... Palace 2-2 Forest. Honestly, how do I do it?