Lock up your Old Trafford rejects, David Moyes is on the loose and he's got a pocket full of copper to spend.
The West Ham manager, according to The Guardian, will have the honour of being the West Ham manager next season, and honestly, who could have seen that coming at the turn of the year? What's more, it is understood that the Scot will be sent forth into the summer transfer window with a war chest at his disposal, although the exact size of said chest could depend heavily on whether or not Declan Rice is sold, and how much he fetches if he is. Could be a war chest, could be a war tupperware box.
Either way, targets are reportedly being identified, and there is a growing expectation that Davey Boy will be prowling the touchline at the London Stadium in his monogrammed Umbro shell suit by the time August rolls around. In terms of who might be joining him, if you're interested in such things, Leicester City's Harvey Barnes and Fulham's Joao Palhinha are both said to be on the Hammers' radar. They're not exactly the second coming of the Harlem Globetrotters, but they are absolutely the sort of players who can make a difference to a side like West Ham. Besides, the Harlem Globetrotters are probably crap at football anyways.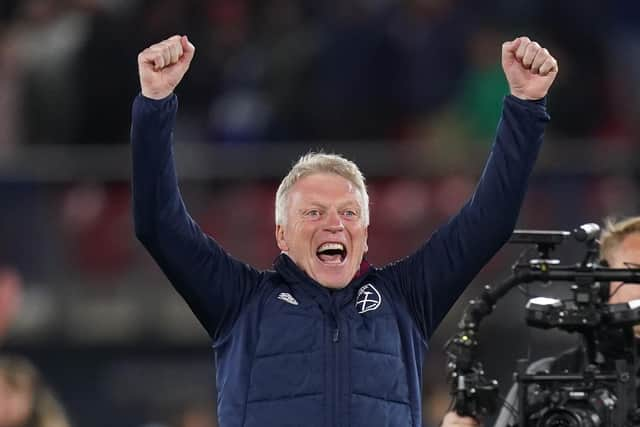 Really though, the headline here should be that Moyes is being given the chance to go again after a season that threatened for so long to end in disaster. The Irons have, in a blast of nominative determinism, spent large stints of the campaign plummeting like a cartoon anvil, and for the most precarious of moments, it looked as if relegation was a frighteningly realistic prospect.
It's not as if the board didn't have their wobbles either. At various points, names like Paulo Fonseca, Brendan Rodgers, Graham Potter, Marco Silva, and Ange Postecoglou have all been bandied about as potential replacements for Moyes, all been considered as his looming successor.
But West Ham have kept the faith, and they have already been rewarded for holding their nerve. The Hammers head into the final day of the domestic season assured of their Premier League status, and next month, the Hammers will have a chance to win their first European trophy since the 1965 UEFA Cup Winners' Cup. We don't respect or recognise the Intertoto Cup under this roof.
In short, Moyes has already started to turn things around, and taking his recent work in combination with the things he achieved last term, he has absolutely earned his second chance - not that it always matters in the modern game. Far too often we see knee jerk dismissals that feel as influenced by the whims of the mob as they do by any kind of footballing or organisational common sense.
Credit, then, to West Ham, not only for making a refreshing change by making no change at all, but also for taking the decision to back Moyes financially this summer. Here's hoping it pays off for them.