Premier League should take inspiration from La Liga's financial controls amid Man City scandal
The Premier League needs to consider altering financial controls in the wake of alleged breaches by Manchester City.
Watch more of our videos on Shots!
and live on Freeview channel 276
Visit Shots! now
Those bigger salaries could have put City in breach of the Premier League's Financial Fair Play rules, and that would mean they have financially cheated, if the allegations are true. It's not the first time allegations like these have arisen, with City requiring the Court of Arbitration for Sport to avoid UEFA punishments, but no such appeal would save them with the Premier League.
Investigations are still ongoing from the Premier League, which may find itself in a very uncomfortable position should City be found to be in breach. The league would likely have to choose between options such as stripping City of their titles, appealing to the EFL and relegating the Manchester giants, deducting points, handing out a huge fine, or indeed combining more than one of those punishments.
Premier League bosses may find themselves in an unenviable position should that circumstance arise, but it would be their own fault. Of course, it would be City who overstepped the boundaries, but Premier League rules mean punishments are only ever retrospective.
The English top flight puts far too much trust in the clubs to manage their own finances, and under this system, we are only ever going to find out later if a title-winning club has done so while breaking the rules. Premier League financial rules mean club accounts are submitted every March for financial review, and those are accounts for the previous financial year, meanwhile under the sustainability rules - what we refer to as the Premier League's Financial Fair Play rules - clubs report accounts from trimesters one and two in March.
That means the Premier League gets limited live data when it comes to club finances. With the overall management of club finances, the Premier League is always a year behind, while from a sustainability point of view, it only gets a snapshot of recent finances to decide which course a club needs to be on, and indeed whether that club has the competition's acceptable amount of loss.
Make no mistake, the allegations against City are so delayed because the Etihad Stadium club are accused of mistruths, but even if that wasn't the case, it's likely the Premier League would have found itself in a situation where it has to punish retrospectively anyway, even if not to this degree.
In La Liga, things are very different. The Spanish top-flight also has its own Financial Fair Play rules, but Spanish league bosses take a different approach. For starters, there is a salary cap in place for all clubs. That salary cap is different for each club, and it is set out at the start of each season after league bosses assess each club's financial situation based on submitted accounts.
La Liga then manage the salary caps in a live manner. As has been seen with Barcelona over recent times, when a club is over its salary cap, it can only spend 25% of any incoming profits on new signings or new contracts. Any new signing or new contract is denied registration by the league if this is not the case. Likewise, if a club want to make a signing or hand out a new contract that would put them over their salary cap, registration is denied.
Last season, Barcelona found themselves grossly over their salary cap due to their finances being so poor that La Liga slashed their cap from the previous season, meaning their existing squad put them in breach, limiting what they could do with new signings and contracts. So, in short, La Liga manages club finances on the go, and thus it is virtually impossible for clubs to be found cheating when it comes to salaries and signings a year, two or three later. And as Barcelona have found out, La Liga bosses don't skip over details and give the stamp of approval - they are particularly strict in their reviews.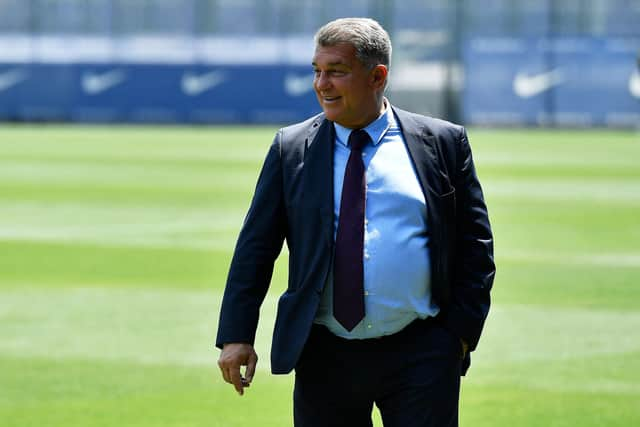 Nor does La Liga look the other way when it comes to big clubs. League chief Javier Tebas said this week: "Barcelona is very important for the league, but if we look the other way, it would be a serious mistake. Our competition would collapse. Maybe now their president will call me angry, but it's the truth. I feel proud, for Villarreal, for Sevilla, not just for the big teams. It shows that it's not just money that matters. Yes, money gives you a competitive advantage, but that's not all that matters.
"We may have less money, but we work better in training football, with our scouts.... There are many factors involved."
Will the Premier League go for a salary cap? Almost certainly not. While there are claims for one following Chelsea's dealings last summer and in January, the English top-flight's bosses are only interested in mechanisms that will protect exponential growth of the league. They want the biggest and best players in the world playing in England, and a salary cap will limit that.
But if the Premier League does not find a way to assess club finances on the go, it is always going to find itself in aisutations where bosses are having to punish breaching clubs retrospectively, opening up potential farcical circumstances where teams who finished in second place five years ago are crowned champions.
And it becomes even more pressing as the Premier League continue to lower the bar for ownership tests. State ownership can mean more owners who think they can have their way with rules, and now is the time for the league to address this issue. The question will be whether the Premier League is willing to sacrifice a part of the transfer market advantage it affords its clubs to avoid more financial scandals like the one currently dominating headlines.