Positivity will only ever get you so far. Throughout his tenure as Leeds United manager, nobody could question Jesse Marsch's passion, decency, or optimism. They could, and regularly did, however, question his aptitude and his suitability for such a high-profile role in a division as rigorous as the Premier League.
The Wisconsin-born coach, with his unwavering belief and his occasionally jarring Americanisms, was immediately dismissed by some as a naive appointment - a kind of real life Ted Lasso, brimming with platitudes and lacking in substance. To a certain extent, Marsch proved them wrong... for a time. Last season, he kept Leeds in the Premier League, and this term he built on that survivalist streak with impressive wins over the likes of Chelsea and Liverpool.
Still, it felt as if the writing was on the wall for quite some time before he was dismissed from his post earlier this week. Try as they might, the Whites just can't pull away from the relegation zone, and as those around them progress, there are fewer and fewer realistic candidates who look defunct enough to finish beneath them. Change was needed, but now Leeds stand on the brink of a crucial and daunting decision. Whoever comes in to replace Marsch has to be the perfect person for the role, or the consequences could be dire.
With that in mind, we've taken a look at a number of the touted options below...
Marcelo Bielsa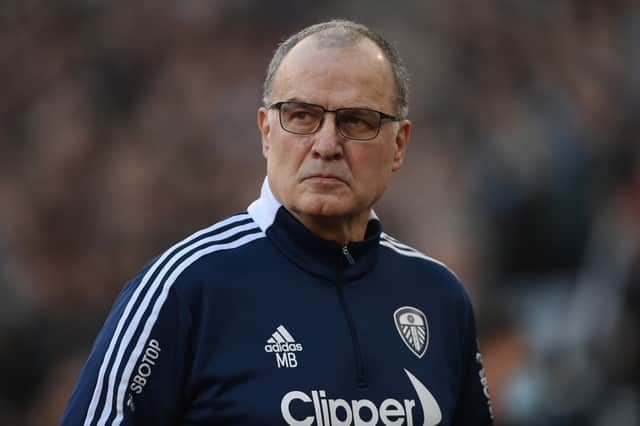 Let's address the elephant perched on top of a bucket in the corner of the room. Marcelo Bielsa is, and probably always will be, a Leeds United legend. He is the gentleman lunatic whose sheer force of will and meticulous obsession with detail provided the platform for the club's long overdue return to the Premier League. It was El Loco who transformed the Whites into the most ballistically entertaining whirlwind in English football, El Loco who rejuvenated the optimism of a despondent city.
When he left Elland Road last year, there was a sense of genuine sorrow, a creeping desire for there to be any other way. But as painful as Bielsa's departure was, it very probably the right thing to do at the time. United looked spent, as if their heart was willing but their legs were not. And while sentimentality makes the prospect of a romantic return very, very tempting, the truth is that the Whites need to move in a new direction.
In any other scenario, the mere suggestion of reappointing a manager who just 12 months ago looked set to be leading a side into the jaws of relegation would be soundly rejected - perhaps with a teasing snort of derision for good measure. Bielsa is a wonderful coach, and by all accounts, an even better person, but bringing him back is a risk that Leeds cannot afford to take.
Carlos Corberan
The apprentice to Bielsa's mastery, and many people's favourite to be anointed as his heir apparent. Corberan's renown has only grown during successful spells with both Huddersfield Town and West Brom, and he feels like the next Championship manager who could be deserving of a shot at the Premier League.
Would he come without risk? Of course not, but he could provide the ideal mix of familiarity and vibrancy that Leeds are crying out for. The Whites have a talented squad, there's no doubt about, but they need a coach who can help them to connect those disparate flashes of promise into something coherent - and in short order. Corberan could be the man.
Mauricio Pochettino
The Hollywood option. Poch has been out of a job since leaving PSG in July, and it's unclear as to where he perceives his level of ambition to be going forward. Is he waiting for another shot with one of Europe's elite clubs? Would the threat of a Premier League relegation battle be beneath him? Ordinarily, the answer to both questions would probably be a resounding 'yes', but there is perhaps a sliver of doubt cast by the Argentine's vocal admiration for the work of Marcelo Bielsa.
As ardent a disciple as he may be, however, it is hard to envisage Pochettino dropping everything and moving to Yorkshire on the basis of the fact that he quite likes some guy who used to work there 12 months ago. Stranger things have happened, but still...
Andoni Iraola
If Bielsa, Corberan, and to a certain extent, Pochettino, are well-recognised by Leeds fans, Iraola represents something of an exotic unknown. The Rayo Vallecano boss was a combative full-back in his own playing days, and he has instilled a similar grit into his current charges, who sit a lofty fifth in La Liga.
Much of Vallecano's success in recent times has been built on an energetic, high-pressing style of play - something that Leeds fans have grown accustomed to of late, and from a stylistic perspective it certainly feels like a fairly promising fit.
As for the man himself, he has, until now, done a pretty stellar job of sidestepping any direct answers on his growing links with Elland Road. Which, of course, means that the scarf pic will be released just before I hit publish on this article...
Ange Postecoglou
Cons of bringing in Ange Postecoglou as Leeds United manager: unproven in the Premier League, took a while to properly get going at Celtic, unlikely to leave Glasgow at this precise moment in time.
Pros of bringing in Ange Postecoglou as Leeds United: fanbase could use 'Angie' by The Rolling Stones as a chant.
Rafa Benitez
In many respects, Rafa Benitez is kind of like the anti-Bielsa. Cautious, pragmatic, and if we're being completely honest, a little dull on the eye, the Spaniard's style of play would be unlikely to enamour him with supporters in the same way that El Loco's did.
That's not to say, however, that it would necessarily be a disaster. Survival has to be paramount for Leeds this season, and the means are very much secondary to the ends. It's unlikely to happen, and it would probably be unpopular if it did, but there are worse appointments than Benitez out there.
Steven Gerrard
Speaking of which... Gerrard's time with Aston Villa sputtered and fizzled out earlier this season, and since then he has been linked with just about every vacancy imaginable. This will inevitably continue to be the case up until the point at which he is finally appointed to a new role, but Elland Road doesn't feel like the right fit for him.
Leeds need somebody with a clear tactical approach who can galvanise a dressing room. Whether Gerrard has either in his locker at the present moment is a matter of debate. The former England international is a rank outsider, as things stand, and United would do well to keep him on the periphery of their plans.