Ugly scenes at Ajax should serve as a wake-up call - ultra culture is damaging football
Yet again, an Ajax game has been suspended after crowd unrest and hooliganism is becoming a major issue in Dutch football. Who is to blame and what can be done?
Watch more of our videos on Shots! 
and live on Freeview channel 276
Visit Shots! now
It started with Ajax conceding three goals to a bitter rival and ended in tear gas and riot police. The Amsterdam side's game against Eredivisie champions Feyenoord on Sunday was abandoned after 55 minutes of play when home supporters repeatedly threw flares and fireworks onto the field in a show of frustration as their struggling side fell 3-0 behind.
Outside the stadium, things turned from ugly to hideous. Footage shows Ajax fans fighting riot police in the aftermath of the cancellation, and the crowd was only dispersed after gas was deployed. Feyenoord fans were already banned from attending the game, so there was no question over culpability.
It isn't the first time Ajax fans have forced a match to be postponed. In May a game was abandoned after ten minutes of play when supporters launched pyrotechnics onto the turf in a game against FC Groningen. As with that game, the match against Feyenoord will be completed behind closed doors, in this case on Wednesday.
Fan violence is in danger of reaching epidemic levels in the Netherlands, where the behaviour of supporters has deteriorated dramatically following the lifting of lockdown restrictions imposed due to the coronavirus pandemic. Ajax fans have perhaps hit the headlines more than most for their acts of aggression and stupidity, but the issue is not limited to Amsterdam. If that had been the case, Feyenoord fans would probably have been allowed to attend.
New rules were introduced by the KNVB earlier this year in an attempt to tackle the problems, particularly the issue of missiles being thrown onto the field of play, which have become a regular occurrence and resulted in another Ajax game being suspended when their forward, former Everton man Davy Klaassen, was left bleeding from the scalp after being hit by a cigarette lighter launched at him by a Feyenoord fan in a KNVB Cup game in April. There has been much discussion about turning to "The English Model" of policing and punishment which was credited with quashing hooliganism in the 1990s, after English football had descended into a state of semi-permanent anarchy.
Stadium bans are now a part of Dutch football's arsenal, as are games being suspended in the manner which Ajax fans have forced twice now – but there are concerns that fans, fully aware of the rules, are deliberately getting games postponed either as a form of protest - Ajax have been persistently below par since Erik ten Hag's departure to Manchester United and currently sit 14th in the 18-team table having missed out on Champions League qualification - or simply to try and get games that are going badly stopped. So far, the new rules are clearly not working.
The Netherlands isn't the only country where football violence has been a problem since the pandemic restrictions were lifted, of course. There was trouble in English grounds, culminating in the abhorrent scenes outside Wembley ahead of the Euro 2020 final against Italy, but that largely seems to have calmed down in the years since. In France, violence outside stadia has been a recurring issue, and fans have broken into team training facilities twice to threaten their own players. There have been recurring issues in Portugal, the Balkans and in some parts of Eastern Europe too.
One possible cause that has been cited is the replacement of older members of ultras groups by younger, brasher fans.
"A lot of people at the top, having had enough, have left, while a lot of young new supporters have been added at the bottom," said professor of law Jan Brouwer to Dutch public broadcaster NOS. "There now is a type of anarchy in place and after stadium access was prohibited, they are now hungry for a bit of resistance."
And while that lust for violence seems to have been quelled in some places, it plainly hasn't in the Netherlands, and the youthful make-up of the AZ Alkmaar fans who attempted to assault West Ham United supporters in their Europa Conference League match would seem to back Brouwer's theory up – as would the sight of a fresh-faced 20-year-old PSV Eindhoven ultra sprinting onto the field to punch Sevilla goalkeeper Marko Dmitrović in the face during a Europa League game.
But whether age is a factor or not, it underlines the sad fact that for all the elements of ultra culture that are so often lauded in Britain – the tifos, the flares, the walls of noise – a large part of that culture still consists of mindless thugs egging each other on to greater acts of violence and childish bravado. There is nothing to be applauded in the current behaviour of Dutch ultras.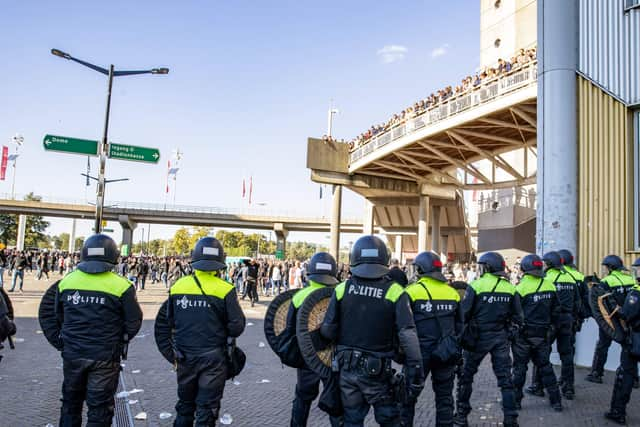 What, then, is the solution? Brouwer observed that for all the discussion of "The English Model" and the enthusiasm for stricter punishments, Dutch law already allows the authorities to hand severe punishments down for disorder. As he put it: "Our system is far more severe than the English system." Apparently severity is not enough.
It took years of hard work and patience for British and especially English hooliganism, which was itself utterly endemic to football culture in the '80s and early- to mid-'90s, to be stamped out. Stricter policing was part of the equation, but so was more enlightened policing – the banning of alcohol in the stands to reduce drunkenness, ensuring more volatile games were played earlier in the day, segregating fans on public transport, and so on. It took years but eventually all the measures took the edge off.
Right now, alcohol is freely available during professional Dutch matches, and restricting access might help, as would earlier games and better policing structures. Punishment after the fact plainly doesn't serve as a deterrent and nor does it quash problems before they begin. More thorough searches of fans entering the ground to remove pyrotechnics may also help.
But any such measures will act only as plasters over the cracks until the root problem can be addressed – the glamourisation of ultra culture and the encouragement of idiotic young men to commit acts of violence and disruption. It simply has to be possible to have an exciting stadium atmosphere without flares ending up on the field, and to have those immense walls of continental crowd noise without it being made by the worst of football fandom.