Arsenal want Moises Caicedo but Brighton are justified in standing their ground
Arsenal continue to pursue a deal for Brighton's Moises Caicedo.
Watch more of our videos on Shots! 
and live on Freeview channel 276
Visit Shots! now
It was the kind of status that your Aunt Jean might put on Facebook after a passive aggressive bust-up with one of her best frenemies at a weekly Slimming World meeting; just vague enough to avoid naming names, still telling enough to make its intention perfectly clear. And now, much like a gossipmongering neighbour ravenously truffling for any scraps of cheap scandal, we find ourselves responding to Moises Caicedo's recent bombshell Instagram post with one question and one question only: 'U ok, hun?'
For the sake of clarity, and not at all because it helps to bump up your humble writer's word count on a drab Monday, here is what the Ecuadorian wrote, quoted verbatim: "I am grateful to Mr. Bloom and Brighton for giving me the chance to come to the Premier League and I feel I have always done my best for them. I always play football with a smile and with heart", he said.
"I am the youngest of 10 siblings from a poor upbringing in Santa Domingo in Ecuador. My dream always to be the most decorated player in the history of Ecuador. I am proud to be able to bring in a record transfer fee for Brighton which would allow them to reinvest it and help the club continue to be successful. The fans have taken me into their hearts and they will always be in my heart so I hope they can understand why I want to take up this magnificent opportunity."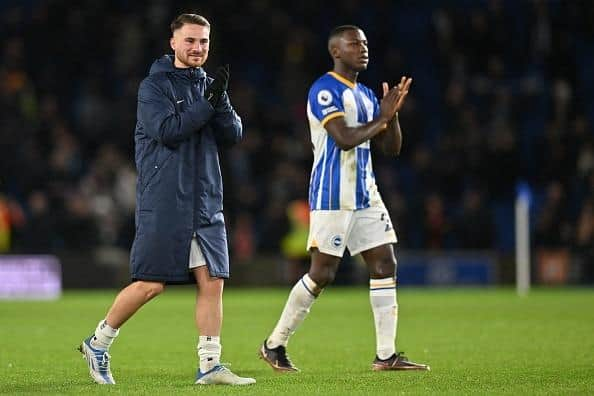 We want your feedback on 3 Added Minutes - details here.
The 'magnificent opportunity' he speaks of is, of course, a transfer to Premier League leaders Arsenal. The Gunners find themselves in an unexpectedly advantageous position at the halfway point of the campaign, and understandably have decided to double down in their January recruitment as a means of keeping the baying pack at a proverbial arm's length. Already Leandro Trossard has made the move from the south coast to north London, while Polish defender Jakub Kiwior has swapped La Spezia for Islington after a £22 million deal was struck last week.
The need for a new central midfielder, however, has been hastened by concurrent injuries to Thomas Partey and Mohamed Elneny. While the former is expected to return in the near future, the latter's rehabilitation timeframe is not as immediately clear. It is in this context that Arsenal have started batting their eyelids at Caicedo.
But Brighton are having none of it. According to a report from Sky Sports, the Seagulls have flatly snubbed two bids, the highest of which reached £70 million, for the South American over the weekend; the understanding is that they will persist with a mulish tenacity in their efforts to shackle him to the Amex until Tuesday's transfer deadline is a distant speck in the rearview mirror - much to the Gunners' frustration.
And so, we enter the dimming embers of the January window none the wiser. Perhaps a very expensive compromise will be found, perhaps it will not. The only thing that is certain, is that nobody here is truly in the wrong.
For their part, Arsenal are completely justified in bidding for a promising young international talent capable of amplifying their title credentials, not just this season, but in the future writ large. Likewise, while Caicedo's decision to take to social media might speak to some elements of naivety, you can't fault a 21-year-old with the world at his feet for expressing ambition.
Even Brighton, unfairly cast as miserly pantomime villains by many, are only acting within the bounds of self-preservation and pragmatism. This is a club who nurture aspirations of their own, who are in serious contention for European qualification this term, and who knocked out holders Liverpool to make it to the last 16 of the FA Cup on Sunday afternoon. Why would they sell one of their most overtly influential players at this juncture in the campaign with no real time to find a suitable replacement, regardless of the financial incentive? It's worth remembering too, Caicedo is under contract until 2025; Albion hold all the cards.
By no means is the Amex Stadium some sort of footballing supermax prison. In fact, it is quite literally the opposite. In recent seasons, the Seagulls have willingly parted company with the likes of Marc Cucurella, Yves Bissouma, Ben White, Neal Maupay, and the aforementioned Trossard. Brighton recruit cunningly - Japanese sensation Kaoru Mitoma for £2.6 million, need I say any more? - and sell for considerable profit. It is a blueprint that is both admirable and sustainable, and one that has provided the platform for the most successful stint in the club's entire history.
But that doesn't mean that they will be exploited. Albion are a selling club, yes, but they are only a selling club when they believe the time is right for them to do so. Right now, you have to ask yourself, would Tony Bloom and Roberto De Zerbi rather have tens of millions of pounds gathering dust in their coffers until the beginning of summer, or one single Moises Caicedo dominating their midfield - maybe even increasing his worth further still - until the end of the campaign? I think I know the answer, and I think in their heart of hearts, a lot of Arsenal fans will too.