Assessing the merits of a defeat is never easy. Assessing a cup final defeat that crushes hopes of ending a painfully long wait for silverware is near impossible.
Sitting here, in the midst of a recovery process currently residing in the post-whisky, pre-caffeinated recovery stage, one thing shines through the haze on a crisp Monday morning on the South Bank of the Thames - sadly it is not the glittering prize of elusive silverware, it is the fact Newcastle United were just not quite good enough.
That is not to suggest the events of the last year at St James' Park have been anything other than remarkable. Twelve months prior to the day of the Magpies' Carabao Cup Final defeat came a 2-0 win at Brentford that seemed to mark the start of true belief an inevitable relegation was no longer lying in wait.
Since those worrying days, there has been a see-change in the landscape for those of a black and white persuasion. Thoughts of the Championship have been replaced by the hope of one finish push for an unexpectedly wonderful challenge for a place in the Champions League.
Slowly but surely, the chains of a lack of ambition and drive that weighed the club down under the former owner have been cast away and replaced with genuine hope and belief that something better, something tangible lies beyond the years that lie ahead. Yet on Sunday afternoon, facing a Manchester United side that are showing clear progress in their own rejuvenation under Erik ten Hag, there was a short and sharp indication of precisely where Newcastle lie in the rebuilding process.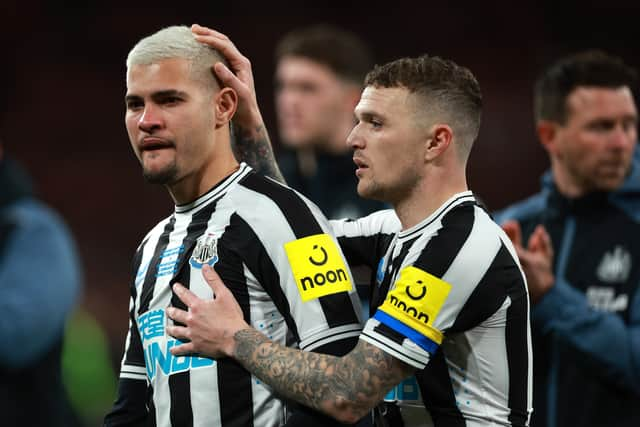 Whereas their opponents were able to fall back upon the top-level experience of Champions League winners like Casemiro and Raphael Varane, the Magpies, despite their buoyant enthusiasm, were found wanting and looked naive in key moments over the 90 minutes. There were some promising signs and the usual pangs of 'what if', but the Red Devils simply managed the pivotal moments in a manner that has led many of their players to routinely claim silverware on the biggest stages in world football.
When changes were needed to revitalise and re-enthuse a Newcastle side that were desperately looking for a route back into the game, once club record signing Alexander Isak had been introduced, Eddie Howe could only consider four players that took part in the club's first season back in the Premier League following promotion under Rafa Benitez six years ago.
Other options included promising young midfielder Elliot Anderson and the only partially fit Joe Willock, Matt Targett and fifth choice goalkeeper Mark Gillespie. Surely the Magpies must have looked on with envy as his opposite number brought on the likes of £73m winger Jadon Sancho, England regular Harry Maguire and the on-loan Marcel Sabitzer, who has made over 70 appearances in European football's premier cup competitions.
Again, that is not a criticism of any of the individuals involved, but it does show that Newcastle are at a pivotal stage in their redevelopment and there is a lot of work to be done to get the club's owners to where they believe they can be.
One thing that stood out at Wembley is that Sunday may well mark the beginning of the end for several long-standing members of the Magpies squad and some tough decisions lie in wait for Howe on some players that were viewed as essential in the not-so-distant past.
Behind the scenes activities will dictate on-pitch progress with a number of sponsor deals believed to be in the works that could unlock the potential transfer spending that can boost Howe's ranks, in terms of depth and quality, and enable the Magpies boss to compete for major honours on a more regular basis.
After running with a skeletal staff at all areas of the club under Ashley, the club's new owners have made several key appointments and more will follow over the coming months. The Magpies academy, Newcastle United Women, recruitment staff and, perhaps most importantly, the commercial side of the club are being strengthened to bring them in line with and surpass where many of their Premier League rivals currently sit.
Indeed, seeing Magpies CEO Darren Eales happily drinking and singing alongside supporters in the Green Man pub prior to the game may well have brought eerie echos of Ashley's haphazard attempts at mixing life as a high-ranking official and a 'supporter' - but in reality, there is more substance in the current powerbrokers within St James Park and certainly more belief and confidence in the direction they are taking the club.
Transfer activity, whether that be tentative approaches or merely assessing the values of potential targets is, as we are told by sources at the club, an ongoing process and one that is consistently evolving. A need for more game-changers in the manner of the excellent Bruno Guimaraes, who tugged on the heartstrings with his emotional response to the defeat, the exceptional Kieran Trippier and the power and poise provided by Sven Botman are needed to carry United forwards.
At this point in time, although almost unrecognisable from the doom and gloom of not 18 months ago, Newcastle United are not quite good enough.
But unlike FA Cup final defeats in 1998 and 1999, when there was a feeling something special had well and truly ended as the Entertainers that offered so much under Kevin Keegan slowly slid away, there is now a sense that this really is just the beginning of something.