Even in moments of historical significance, England can't seem to resist flirting with the odd dash of autocannibalisitic panic. On a lurching night in Naples, where the Three Lions won on Italian soil for the first time since 1961 and crowned a new record goalscorer in the process, there was a certain numerical neatness to their tumult; fifty-four international strikes for Harry Kane, the most prolific to ever don the famous jersey, fifty-four seconds between the two yellow cards that led to Luke Shaw's dismissal and a frantic climax in which Gareth Southgate's men were forced to cling on, white-knuckled and obstinate, for grim death.
From the first strains of the national anthem, it was apparent that England were likely to be up against it. While God Save the King was caterwauled out of key and out of time by some operatic sacrifice or other, its Italian counterpart came crashing through the thick Neopolitan air like a silverback operating a jackhammer, all big beats and bouncing terraces, delivered with earnestness and passion by a low budget Joe Pasquale lookalike and a man who appeared to be the missing link between Pitbull and The Edge. Orthodox, it was not. Seemed to work, though.
In the cagey early knockings, with Roberto Mancini prowling his technical area like a suave Richard Madeley and Gareth Southgate occasionally poking his head out from his subterranean dugout like a meerkat tentatively peering forth from a burrow, England looked entirely shaken. Passes went astray, momentum remained ungathered. And then they scored.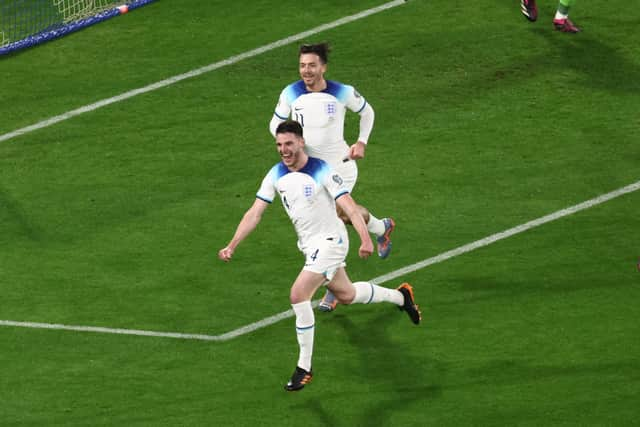 Declan Rice, making his 40th international appearance - or 43rd if you include the ones he played in a green shirt - pounced on a ricocheting corner to rifle spitefully past a powerless Gianluigi Donnarumma. It took 13 laborious minutes, but England were off.
Much has been made in recent - and not so recent - times of Southgate's proclivity for employing Rice alongside Kalvin Phillips, another predominantly defensive midfielder. Many argue that it represents a kind of anchoring conservatism that kneecaps England's true attacking potential - a sort of self-imposed birdcage, if you will. But on the evidence of Thursday's display, the duo continue to prove that they can work effectively as a central unit. Granted, they are deep-lying, but they also have the capability to be sufficiently forward-thinking too. Rice, let's not forget, has made more progressive passes than any other player outside of the Premier League's traditional top six this season.
Really though, this night was to be about Harry Edward Kane. For a long while now, it has been a case of when, not if, he would break Wayne Rooney's record as the country's all-time leading goalscorer. In another life, he might have done so in Qatar, and it was certainly a bold directorial choice from Channel 4 to have him rewatch his second, skied penalty against France in a pre-match coverage segment, like some torturous indoctrination scene from A Clockwork Orange.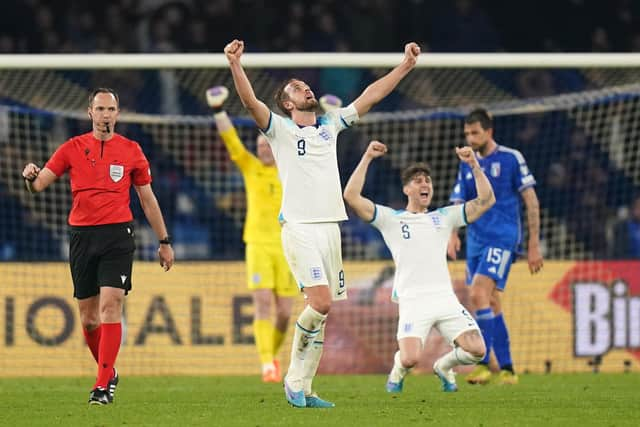 One of the most impressive things about Kane, however, is his ability to repurpose adversity into inspiration. At the age of 29, his sole career honour - aside from a cavalcade of personal achievements - is a 2019 preseason Audi Cup medal with Tottenham. It takes a winning mindset to lose so often, to weather such relentless dross and upset, and to still come out the other side with your enthusiasm intact.
But that is Kane, and there's a reason why he is not only so admired, but so beloved too. It was Dion Dublin on commentary - having made his way from the stairs going up to the gantry, presumably - who pointed out not just how much his goal last night (a penalty to double England's lead on the stroke of half-time) meant to him, but to his teammates too. This wasn't performative support or hollow pageantry, but rather genuine, heartfelt delight for their captain. You can tell a lot about a person by how those around them react to their successes.
Kane's record will likely stand for a long time. Even aside from the lack of natural heir apparents in the current England setup, there is a strong possibility that he continues for another half decade at this level, at least. By the time he's finished those beneath him could be chasing a truly staggering tally. And if he is the player to shoulder that honour for the foreseeable, then who better? The man will be remembered as a great, and rightfully so.
In the second half, things began to unravel a tad for England. A debut goal from Argentine adoptee Mateo Retegui cranked up the palpability of the tension by a notch or two, and then Shaw's aforementioned minute of mild madness, more naive and rash than truly malicious, left the Three Lions with their backs firmly pressed against the wall. Fortunately for them, Italy must have left their ammunition in their other trousers.
Upon the final whistle, English reactions, you suspect, were brimming with relief as much as joy. This was, on paper, by far the sternest task that they will face in their Euro 2024 qualification campaign, and they passed it - not necessarily with flying colours, but certainly with colours that were hovering at the very least.