Euro 2024 qualifying predictions: England's Neopolitan clash, Scotland's all-inclusive, Sam Ryder's justice
All of the predictions for the latest round of Euro 2024 qualifiers, including England vs Italy, Scotland vs Spain, and Wales vs Croatia.
Watch more of our videos on Shots! 
and live on Freeview channel 276
Visit Shots! now
La trêve internationale. Die Länderspielpause. The international break. Whatever you want to call it, it's here, and it ain't going anywhere. For the next fortnight, Euro 2024 qualification will be taking centre stage all across the continent, lounging around in your subconscious like an unwelcome lodger, using up all your hot water and leaving nothing but the crusts in your loaf of Hovis.
Now, in truth, la pausa internazionale isn't all bad. At it's best, it is a rare opportunity to see some of the most esteemed talents in world football slog it out in circumstances that would otherwise be unfeasible. International football is still, to a certain extent, the footballing equivalent of a Wrestlemania dream match. But, and I don't say this lightly, at its worst, the break can feel like an abject waste of time. There is little pleasure to be derived from watching England pestle the likes of Malta or San Marino into a fine dust, and with the home straight of the domestic campaign beckoning, the timing of this particular interruption comes with an air of reserved irritation.
Players are dropping out left, right, and centre as they bid to avoid needless injuries that could sideline them for the rest of the season, and while there are juicy contests aplenty on the horizon, they very much represent the water jump hurdle in various continental title steeplechases.
With that in mind, I have decided to holster my crystal ball in protest this week. Why should I exert myself, and the spirits, when, say, Nick Pope can't even be bothered to go and make up the numbers in Naples tonight? I mean, 'minor injury' - what does that even mean? He doesn't even have to do anything! Just sit there and make sure Jack Grealish has something shiny to play with until his inevitable cameo in the 70th minute. Nicholas clearly just didn't fancy the hassle of having to find a baby sitter for Sean Longstaff or something. I'm onto you, Pope. You can't kid a kidder.
I will, however, still be pulling together my usual mystic forecast using that most noble and proven gambling instrument, the common dice. So buckle up, because everybody's scoring (up to and including the value of six), and nobody's playing out a goalless bore draw. Not on my watch, anyways. Shall we?
England
England's international double header begins with a fiendishly tricky clash against Italy in Naples on Thursday evening. The recent history between these two nations has been painful for the Three Lions, with the heartache of Euro 2020's Wembley final still smarting somewhat for Gareth Southgate's men and a 1-0 defeat in last year's UEFA Nations League washout undoubtedly prickling away at the psyche.
I actually think England could pick up a handy win here though. After all, there is a lot on the line; not only do the winners get their qualification off to a roaring start, but the loser has to keep Gino D'Acampo. The dice agree with me too, 3-1 to England.
It's then back to Wembley for Southgate's side as they look to take three points from Andriy Shevchenko's Ukraine. Should they need any additional motivation for a fixture that will almost certainly represent a tough task, the Three Lions need only think back as far as last year's Eurovision Song Contest. Justice for Sam Ryder, and another win, if you don't mind. The dice have other ideas, however. 5-5 draw, apparently.
Scotland
Scotland's first couple of qualifiers roll of the tongue like a travel agent's all-inclusive range. First up, they'll be jetting off to Cyprus on Saturday, before locking horns with Spain on Tuesday. (Admittedly, the latter will be taking place at the Costa del Hampden, but let's not ruin it.)
The Tartan Army will be hoping to secure their place at a second consecutive European Championships, and on paper, they have every chance of doing so. Norway and Georgia make up the rest of their qualifying group, and neither are dauntingly insurmountable. The Norwegians, of course, have Erling Haaland, but then again, Scotland have their very own Erling Highland in the form of Ross Stewart. Take it from me, an entirely biased Mackem, when he's back to full fitness, Steve Clarke needs to build a team around him and then book the open top double decker parade for Monday, July 15th 2024.
Back to more immediate matters, however. I reckon Scotland should give Cyprus a decent scudding, and then come unstuck against Spain. The dice are entirely more pessimistic, though. 6-2 defeats in both, I'm afraid.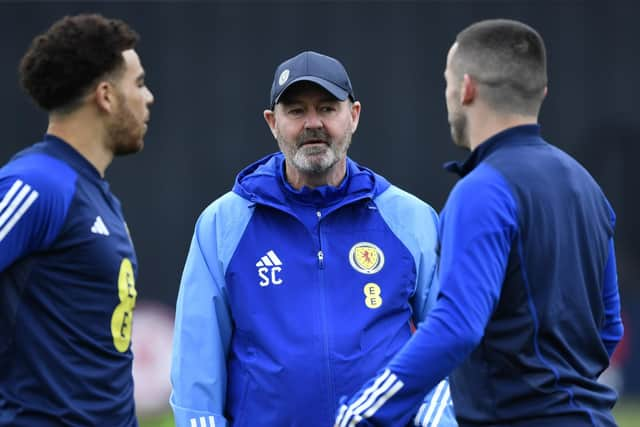 Wales
Wales enter a brave new era this week, at once both wholly baleful and completely Bale-less. Gareth is gone, and for a nation who have so often been accused of resting their entire catalogue of hopes and dreams on his shoulders, that could be problematic.
A meeting with Croatia on Saturday threatens to pile on the misery, although the dice are insistent on a 4-4 draw, while Tuesday's showdown with Latvia feels much more winnable. Naturally, then, our six-sided friend has opted for a 4-3 Welsh loss. Imagine the turmoil if these results actually come off, by the way.
Northern Ireland
Would it really be an international break without one of the home nations kicking the living daylights out of San Marino? Northern Ireland travel to everyone's favourite mountainous microstate on Thursday evening, and for a more accurate representation of how things are likely to play out, I went all Dungeons and Dragons and busted out the old twenty-sided dice. 19-1 to the visitors apparently, which would still represent something of a success for San Marino, who haven't scored a competitive goal since last March.
On Sunday, Northern Ireland host Finland, the nation who gave the world Nokia, Lordi (not to be confused with Lorde), and Moomins. Some debts can never be repaid. A 4-2 win over Michael O'Neill's men would be a good start though. The dice have spoken!
Republic of Ireland
Republic of Ireland have already played once during this international break, seeing off Latvia in a thrilling 3-2 friendly win on Wednesday evening. Next up, however, is a much meatier challenge against World Cup finalists France. Ever since Thierry Henry's infamous sleight of hand trick back in 2009, this has been one of those international fixtures that simmers with an unexpected animosity, kind of similar to how Uruguay and Australia still beef over an exhibition match double header from the mid '70s. Although, to be fair, the Socceroos' star player, Ray Baartz, was left in a coma for two days after receiving a karate chop to the neck in that one, and he never played football again. Beef justified, as far as we're concerned.
Back to the business of the present day, however, and France should win Monday night's meeting at a canter. A 4-1 Irish defeat is on the cards, according to the dice.
Best of the Rest
Elsewhere, France will play Netherlands in a fascinating showdown on Friday evening, with the dice settling on a 3-2 Dutch win, while Sweden vs Belgium also makes for an intriguing affair. The Belgians have a new boss in the form of Domenico Tedesco, and are predicted to win this one 3-1.
Portugal also have a new manager, and he just so happens to be Belgium's old manager. Roberto Martinez continues to inexplicably fall upwards, and will test his mettle against minnows Liechtenstein and Luxembourg in the coming days. Forget the dice, I'm telling you that his team will paste both of them.
And finally, it's the big one, the Euro 2024 qualification matchday one predicition that you've all been waiting for ever so eagerly... Moldova 3-3 Faroe Islands!!! You heard it here first.