Gareth Southgate & Roberto Mancini have similar complaints but different solutions ahead of Italy v England
As Italy welcome England for a key European Championship qualifier, we look at the selection conundrums frustrating the managers.
Watch more of our videos on Shots! 
and live on Freeview channel 276
Visit Shots! now
Two nations, both alike in footballing dignity, in fair Naples where we lay our scene. And two managers, both alike in complaints as they contemplate a key game in European Championship qualifying.
Much muttering has been directed at Gareth Southgate for his allegedly unimaginative selection ahead of England's first matches after the World Cup – and Roberto Mancini has drawn his fair share of scepticism after a radical tactical shift following Italy's unexpected failure to qualify for Qatar. This is a tale of teams at different places along a developmental curve – England choosing continuation and consistency, Italy seeking a fresh identity. But both Southgate and Mancini point the finger for the more controversial elements of their squad selections at the same problem – a diminishing talent pool.
For Southgate, the supposedly thin list of options is behind the lack of new caps in defence and at holding midfield. For Mancini and Italy, the problem is most keenly felt up front. With Napoli's Giacomo Raspadori – who scored in both of Italy's previous two matches – and Juventus' Federico Chiesa both unavailable through injury, the only recognised central striker to have scored for the Azzurri in the last year is Leeds United's Willy Gnonto.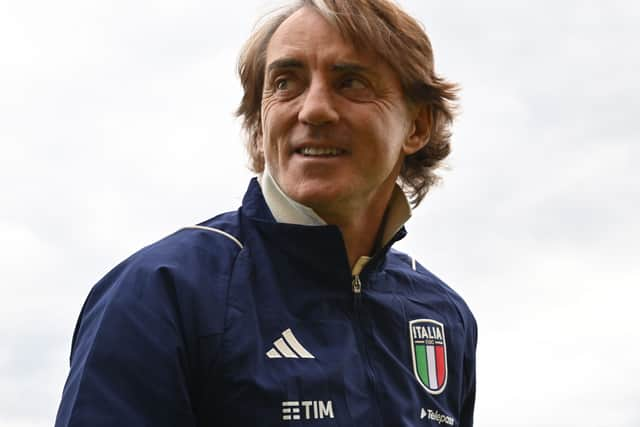 Mancini seemed to set fairly little stock by Southgate's complaints when he spoke to the media ahead of the match on Thursday evening.
"We are worse off than Southgate," he said. "There are so few strikers, we are very limited going forwards… We have three teams in the quarter-finals of the Champions League, but out of the three teams there are seven or eight Italians at most. This is the reality."
Mancini switched from the 4-3-3 formation that won him the Euros to a 3-5-2 following the failure to reach the World Cup finals. The results have largely improved – they made the final four of the Nations League – but there have been blips along the way, not least a humbling 5-2 defeat in Moenchengladbach. They also took four points off England in the same Nations League group, with a 1-0 win at home complementing a goalless draw at Wembley.
The 'goalless' part of the story is what currently keeps Mancini awake at night. Strikers called up for the matches against England and Malta include Gianluca Scamacca, who has largely lost his place at West Ham and Simone Pafundi, a 17-year old Udinese forward who was capped in a friendly against Albania last year but has made just three senior appearances at club level. With Chiesa and Raspadori out, the cupboard does indeed look bare.
Another gamble has been taken on Mateo Retegui, a 23 year-old Argentine with an Italian grandmother who has been on fine goalscoring form in South America. His 29 goals in 50 league games for Atletico Tigre – when he is on loan from Boca Juniors – is undeniably impressive, but he is untested at the level of the major European leagues.
There is just one Italian in the top ten goalscorers in Serie A – Ciro Immobile, who is also injured. And Mancini lays part of the blame at the door of Italian clubs being unwilling to give young players a chance in their home nation.
"Why did nobody in Italy take Gnonto?", he asked the press. "He could have been playing for a club like Fiorentina, but instead he is starting in the Premier League… If people would only give them a chance. If a young player is trusted, he will repay it."
Some clubs in Italy would argue that part of the problem is that, in recent years, they haven't, although you will go a long way to find agreement on the reasons why wonderkids such as Nicolo Zainolo and Moise Kean have struggled to fill their potential. Zainolo was painted as Roma's great white hope, but after clashes with Jose Mourinho and alleged problems with his ego, he finds himself trying to rebuild a flailing career in Turkey. Kean, meanwhile, shone initially at Juventus before being shunted around Europe and has had a number of alleged disciplinary issues.
Why they have started travelling down the road taken years ago by Mario Balotelli and Antonio Cassano remains unclear, but the fact remains that Italian football does seem to struggle to develop its own talent in the long run, and may explain why so many players like Gnonto and Scamacca sought their fortune elsewhere. There are similar concerns in England.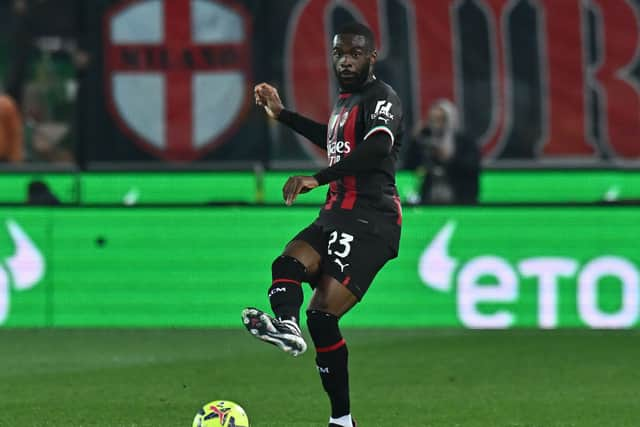 Southgate highlighted the falling rates of players in the Premier League who are eligible for the national side – which are similar to the numbers Mancini has complained about coping with in the past.
"The numbers are the numbers. They're not going up," said Southgate. "It has been around 32% but that's down from 35% when I took over and 38% in the years before so the graph is clear - there's no argument about that."
There is some irony that a few English players, struggling for the necessary minutes in England, have chosen to continue their career in Italy but still find international caps hard to come by. Fikayo Tomori has received just one call-up despite consistently impressing for AC Milan while Chris Smalling has been ignored for some time despite being one of Roma's key players for several seasons. Only Tammy Abraham has been in Southgate's plans with any regularity since moving to Italy, and he was dropped before the World Cup – albeit following a lean patch of form in the Italian capital.
None of these are new issues. England managers have been frustrated by the Premier League's preference for foreign talent for two decades. Italian clubs have preferred experience to youth for even longer. These are cultural concerns that complaints in a press conference cannot shift - a problem caused by managers averse to gambling on untested and inexperienced players in the hire 'em and fire 'em climate that exists in both leagues.
We want your feedback on 3 Added Minutes - details here
Some will feel that Southgate could take a leaf out of Mancini's book and make some bravura selections in the hope of unearthing talent in unlikely places – and Southgate will suggest that the players he has placed his faith in have consistently performed as England enjoy their best run of tournament results since the sixties. Italian critics might suggest that Mancini could take fewer running jumps on untested players, and he would understandably counter that his is a team in transition and in need of a new identity despite recent success.
Neither approach will be proven right or wrong in Naples – but this is an intriguing clash of the conservative desire for consistency against enforced forward-thinking. If nothing else, let's hope it's entertaining.