Ted Lasso is the only genuinely great football TV show - and it's back
The hit comedy returns to streaming services today - and we can't wait to head back to Nelson Road.
Watch more of our videos on Shots!
and live on Freeview channel 276
Visit Shots! now
It's Wednesday during a European week, and I'm all set to spend the evening with my capacious backside firmly glued to the sofa. Not to watch Liverpool attempt the seemingly impossible (again), not to watch a thrilling and dominant young Napoli side, not even to see Brighton and Crystal Palace renew their slightly-hotter-than-lukewarm hostilities. I'll be watching Ted Lasso.
Before Ted came along, there had never been any truly good football media outside of documentaries. No great TV shows, no amazing movies. I'm sorry, but Escape To Victory isn't really that enjoyable once you get past the novelty of seeing Pele and Sylvester Stallone in the same place at the same time.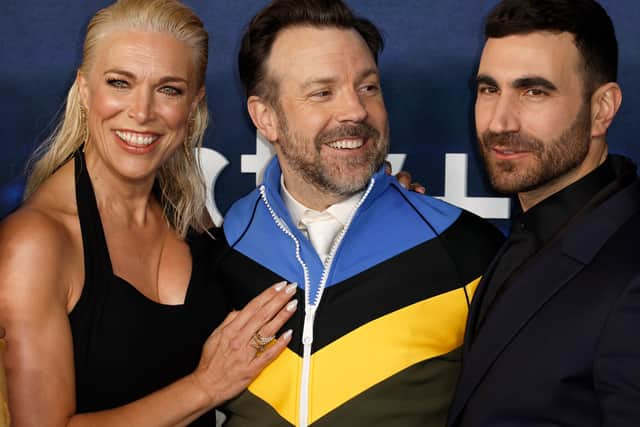 Now, Ted Lasso is arguably not a great football programme. It's a great comedy, with brilliant characters and sparkling writing, a heart-warming paean to the human condition littered with wonderful gags – all of which happens to be football-adjacent.
The sport is secondary, although it's fairly clear that the producers have made an effort to add some authenticity as the show has gone on – some of the more rudimentary stereotypes in the AFC Richmond dressing room have been fleshed out while the match sequences, which looked decidedly ropey in the first series - in part because they weren't allowed to film on the hallowed turf of Selhurst Park where the rest of the stadium scenes are filmed - have come on in leaps and bounds. It's a programme that cares about getting it right, much like its titular character, so even as a show which isn't truly about football, it still does football better than almost anyone else.
You can see that in the brilliant five-a-side scene from series two – away from the digitally-created crowds of Nelson Road and the Chris Powell cameos, it's just beautifully-shot footage of a man playing football for the sheer joy of the game. It helps that Kola Bokinni, who plays club captain Isaac McAdoo, can clearly play a bit, of course. I've seen worse touches on a few of my beloved Blackburn Rovers players down the years.
It also helps that it's so very far from the Hollywood vision of football. One problem football films and programmes always have is the need to follow the same script rules as, say, an action movie – the hero, having overcome their statutory period of adversity, must score with a stunning bicycle kick in the 90th minute, the referee instantly blowing his whistle as the crowd goes wild. But football doesn't really work like that, which is partly why the Goal movies are so terrible – and Ted Lasso gets it. Ted's optimism and resilience may enjoy ultimate victory over the worst parts of human nature, but that wouldn't stop Richmond from getting relegated in real life, and the show knows that.
Nor do the characters get neat little story arcs, all wrapped up with a bow by a season's end. Characters for whom things seem to be going well will struggle, or self-sabotage, and come through their problems at unpredictable times – probably helped along the way with a few folksy Kansas wisecracks from Ted, of course. It's a show that gets how people work, and those people happen to be involved in football. As a result it feels real and human even when it's being deliberately silly, which is quite often. So sure, it's not a great football show – but it is a great football show. And that's much better.
We want your feedback on 3 Added Minutes - details here
And besides all of the commentary on its soul and humanity and so on and so forth, it's just deeply funny. Even if you feel agnostic about its fundamentally cuddly nature, it's still the show that gave us Coach Beard's dark night of the soul, the NSYNC dance routines, Sam's dressing room haircut and Ted finding out what the word 'w**ker' meant ("Thank you, I am a visual learner").
And of course, it gave us the darts scene, with Anthony Head chewing scenery in the background while Ted gives a gently chastising but uplifting speech about the joys of curiosity as he goes for a three-dart finish. Like the show at large, Ted didn't miss. Barbecue sauce.