Five feet and one inch. That's like five Subway sandwiches. And one inch. Or five standard rulers. And then one inch of another standard ruler. What five feet and inch is most certainly not, however, is the height of a professional footballer. Or at least, that is what we have been traditionally led to believe.
There are many advantages to being an exceptionally short man; cheaper trousers, free meals in restaurants when accompanied by a paying adult, bountiful work in panto season. But generally speaking, one of the perks of limited verticality is not a viable career in the beautiful game.
Then again, Hiroto Nakagawa doesn't play by your, or anybody else's, rules. I first came across the pint-sized sensation during a particularly long and illustrious Career Mode as Carlisle United on FIFA 17. Treading water in the murky depths of League One, when I needed somebody with a blistering burst of pace and a deft sense of close control who could play on the shoulder of the last man or drop into the number ten role when required, I turned to the Japanese market. It was there that I found Hiroto; affordable, talented, and with enough potential to suggest that I could make a tidy profit when he inevitably became surplus to requirements upon promotion to the Premier League. Spoiler alert: he never did.
Now I should point out, before I signed him, I forgot to check how tall he was. When he walked out with the rest of lads to make his debut a few virtual days later, I thought the game was glitching. Here he was, Carlisle's brand new marquee signing, and he came strutting out at the end of the starting lineup like a lost mascot.
Any fears I may have had over his lack of physicality were soon laid to rest, however. It became apparent that Nakagawa's diminutive stature, superlative agility, and blinding acceleration (seriously, this boy put the rocket in pocket rocket) meant that he was simply too much for the cumbersome and dim-witted troglodytes of the EFL. It was like watching a herd of diplodocuses attempt catch a mosquito with a butterfly net. Hiroto scored on his debut, and if memory serves, he ended the campaign with something like a half century of goals in the league alone.
As soon as I could, I brought in the tallest striker my meagre budget would stretch to, 6'7" Henk Veerman, and between them, the pair would run roughshod over the Championship like Merry and Treebeard at the Battle of Isengard. To this day, I still think of them often and fondly.
It was during one of these recent reminiscent spells that I did a little digging into Hiroto Nakagawa's career and what happened to him since our fictional march through the English footballing pyramid together. Admittedly, things have not gone overly great for him since we parted ways. Currently on the books at Oita Trinita in the Japanese second tier, he has scored just five goals in the last three years, and has a dizzying career total of 14 strikes in 139 senior appearances. Pele, he is not.
But it did also get me wondering about the rest of the short kings plying a trade out there in the wilds of the professional game. And so, without further ado, here are ten of the best, and smallest, players to have ever crossed the fabled white line...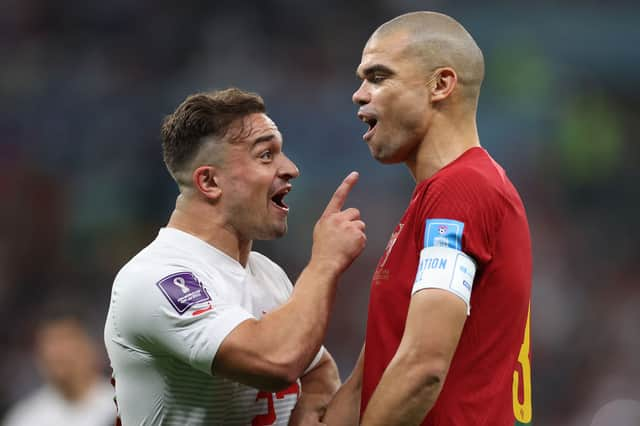 Jody Morris - 5'5"
They say that it's not about the size of the dog in the fight, but rather the size of the fight in the dog. I don't know anything about that, but I do know that Jody Morris is harder than most of the dogs I've met. Once a highly-touted prospect at Chelsea, his career fizzled a little, but by no means did he ever struggle on account of his size.
Xherdan Shaqiri - 5'5"
The Swiss magician was only 5'5", but his calves have a combined circumference of at least double that. Shaqiri's real strength has always been his low centre of gravity, a trait that makes him incredibly bothersome to dispossess, and it's hard to envisage him having even a fraction of the success he has without his signature squat stance.
Marco Verratti - 5'5"
Marco Verratti is the same height as Jennifer Aniston, but he has built a career on not making foes, not friends, in the centre of midfield. Sorry. The Italian international is widely regarded as one of the finest players in his position in world football, and uses every ounce of his wile and cunning to compensate for his lack of height.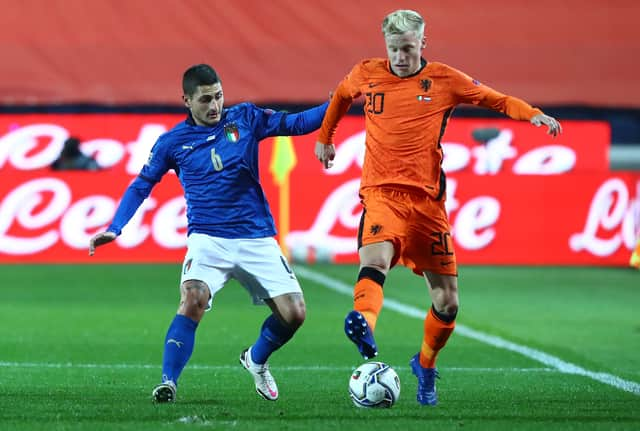 Madson Formagini Caridade - 5'3"
We turn to Wikipedia for this entry, who sum up Madson's allure better than we ever could: 'Madson Formagini Caridade, or simply Madson (born May 21, 1986 in Volta Redonda), is a Brazilian footballer who plays as an attacking midfielder. He is known for his small stature and his set pieces.' You can't buy that kind of renown.
Maximiliano Moralez - 5'2"
Maxi in name, mini by nature. 'Frasquito', or 'The Little Flask', as he is affectionately-known for some indecipherable reason, was an MLS stalwart with New York City before returning to his native Argentina last year. What he lacks in height, he makes up for in a silken fluidity.
Rui Gil Soares de Barros - 5'2"
A 36-cap Portuguese international who boasted the likes of Juventus, AS Monaco, and FC Porto on his CV. Now a manager in his own right, the former attacking midfielder has arguably the most illustrious honours list of all his diminutive brethren.
Jafal Rashed Al-Kuwari - 5'1"
A one-club legend with Qatari outfit Al Sadd, Al-Kuwari was also captain of Qatar's national side, and played his farewell match against a star-studded AC Milan team in 2009. One article I found on the internet described him as 'one of the greatest players the world has ever produced' which feels a tad hyperbolic, but all you really need to know is that he balanced his professional career with a regular berth in Qatar's beach football team. What a dude.
Marcin Garuch - 5'1"
Holding the title of the shortest professional footballer in Europe, Garuch is a Polish midfielder who has spent most of his career with Miedz Legnica. Maybe if he knicked someone else's legs, he wouldn't be on this list.
Daniel Alberto 'Keko' Villalva Barrios - 5'0"
A man whose name is nearly longer than he is. Keko, for the sake of brevity, is yet another South American attacker with plenty of skill and a tiny inside leg measurement. Noticing a pattern yet? Back in 2009, he became River Plate's youngest ever player when he made his debut at the tender age of 16. One can only imagine how small he must have seemed back then.
Elton Jose Xavier Gomes - 5'0"
Saudi football's very own tiny dancer. The mercurial Brazilian made such an impact in the Middle East that he is known to many as Elton Arabia. Surely there are fewer honours as great as moving to a new country and becoming so beloved, so synonymous with the place that it quite literally entwines itself with your own identity. I'm looking at you, Yvon of the Yukon. For his part, Elton is a veteran of 36 now, but he has delighted crowds across the globe with his dribbling ability and unmistakable curly hair for years and years.