Will Still: Football Manager fanatic turned Ligue 1 boss is living every gamer's dream
Stade Reims boss Will Still is living every Football Manager player's dream, going from the virtual to real-life dugout.
Watch more of our videos on Shots!
and live on Freeview channel 276
Visit Shots! now
Anyone that has ever spend two hours staring into a laptop screen, painstakingly organising a pre-season programme for their virtual stars, carefully setting up a transfer shortlist to improve their chances of success and expertly pruning the squad they have inherited has probably had the same feeling.
Anyone that has watched on as that 17-year-old wonderkid you snapped up from Colombia rendered as a beautiful mountain of pixels fires you into your first Champions League Final or watched in agony as the long-serving captain hands in a transfer request will have experienced the same nagging thoughts. If I can do it on Football Manager, surely I could do it in real life? It seems beautifully illogical and logical in similar measures. Yes, yes, it's just a game, we all know that, but Still…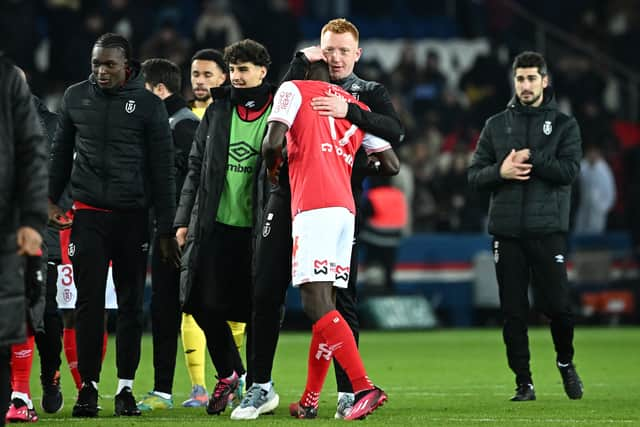 The name Will Still will have meant little to football supporters around the country until recently but the 30-year-old former Preston North End Under-14s coach has embarked on one of the more unique managerial careers in history - and it is in no small part down to Football Manager.
From his time working in the academy of the Championship club, Still has spent time as assistant manager at Belgian clubs Lierse, Beerschot and Standard Liege, as well as being appointed as number two at Ligue 1 outfit Reims.
But his career to a major leap forward when former Watford manager Oscar Garcia was sacked by the latter and Still stepped up as his replacement on a caretaker basis. From being in charge of a wily band of carefully selected numbers in a database to preparing a group of real-life players to face the likes of Lionel Messi, Neymar and Kylian Mbappe, all in the space of around 13 years.
Speaking to talkSPORT in an interview last month, the Reims boss revealed the role played by the popular managerial simulation in persuading him to swap the virtual dugout and training pitch for the real ones.
He said: "I went to college in England and studied a degree in football coaching and that's where I got the buzz for it. Football Manager was part of my daily routine. Obviously, I spent hours playing it because pretty much everyone has. You smash the space bar until about 3am until you realise it's 3am and you say 'Okay, I've got to go to bed!'. That's just the kid I was and the generation I've come from. Football Manager was just a part of what we do and what we did."
Yes Will! We've all been there. The escapism provided by the highs and lows of Football Manager can become completely engrossing and can lead to those moments at work where you gaze into space wondering if it's time to replace the 34-year-old left-back or whether to give him one more year and loan out that promising youngster that is set to take his place. That's not happening now, honest!
It's hard to explain just what impact Football Manager can make on you, especially when the person you're explaining it to is your partner who has no interest in the game, that's the virtual and the actual real-life version.
'Why are you getting so annoyed at a game?', is in all honesty, a perfectly reasonable question to ask a 40-year-old man and it is that I've been asked on many an occasion by my wife. Why am I on the verge of throwing my laptop across the room just because the bunch of pixelated idiots I've put together can't come through an easy Champions League tie despite having 22 shots on target and over three quarters of the possession. No, I need to let that one go.
The beauty of the game is that it allows those of us that have no hope of stepping into the dugout and guiding the fortunes of actual players to dream and experience those emotions. It is pure escapism, fantasy and challenge all rolled into one. It is immersing yourself into a completely fictional world in a way Harry Potter fans can when reading the JK Rowling books, or indeed playing the new Hogwarts: Legacy game.
At the risk of coming over all Sean Bean in that Sky Sports advert ahead of the 1997/98 season, yet shamefully quoting the very lines he utters, it's 'ecstasy, joy, anguish and despair' and, perhaps more succinctly, it's something 'we can't really explain, yet spend our lives explaining it'.
How many conversations have you had with friends, work colleagues or random people in the world of social media enthusing over your latest venture into the virtual dugout? Explaining it away with all of the enthusiasm and excitement in the world. Yes, we all know it's not real, it doesn't really impact anything, but Football Manager is an escape from the harsh reality of life and let's face it, life has been pretty difficult for us all in recent years. But now, there is proof, it could lead somewhere.
I mean, after all, Will Still did it, he showed the way, so surely there's at very least some hope. Right?