A tribute to Mesut Ozil: the genius playmaker whose assists off-the-pitch should be remembered too
A tribute to ex-Arsenal footballer Mesut Ozil, following the announcement of his retirement from football
Watch more of our videos on Shots!
and live on Freeview channel 276
Visit Shots! now
All good things come to an end. There will be many tributes to the former Germany international in the next few days. Former Arsenal manager Arsene Wenger summarised Mesut Ozil, as a player in his autobiography: "Ozil is an artist who feels football through all the pores of his skin and his soul."
At his peak, Mesut Ozil was the best playmaker in world football. Assisting was second nature to him, to the point that it became a punchline in commercial ads he appeared in. In the 2015/16 season, Ozil created 146 chances, the most in a single Premier League season. In 2017, he created 12 chances on his own, the most by any player in a single Premier League season. And while at Real Madrid, he created the most chances in a single game (12) against Tottenham in 2011.
He was the most followed footballer on social media in the Premier League. He became the face of Adidas football and had lucrative sponsorship deals with Mercedes Benz and Beats headphones. However, those sponsorship deals began to dry up towards the latter stages of Ozil's career, as he began to use his social media platforms to give the less fortunate a voice.
Ozil's criticism of China's treatment of ethnic Uighur Muslims in the western region of Xinjiang saw the midfielder removed from the country's 2020 version of Pro Evolution Soccer. Meanwhile, the Premier League cancelled their live coverage of Arsenal's game against Manchester City as a result. The club vehemently denied that Ozil's social media posts had anything to do with his exile from the Arsenal team in his final season in north London, but there are others who believe it did.
In addition to his comments on China's treatment of Uighur Muslims, Ozil's photo with Turkish President Recep Tayyip Erdogan also sparked controversy. The photo was taken in May 2018, prior to the FIFA World Cup in Russia, and Ozil was heavily criticised for appearing to endorse Erdogan, who has been accused of human rights violations and a crackdown on opposition.
The photo led to a debate in Germany over the loyalty of Ozil, who was born in Germany to Turkish parents, to the German national team. In the aftermath of the World Cup, where Germany crashed out in the group stages, Ozil announced his retirement from international football, citing racism and discrimination he had experienced due to his Turkish heritage.
The controversy surrounding Ozil's comments on China and his photo with Erdogan, combined with his declining form on the pitch, led to speculation that these issues contributed to his exclusion from the Arsenal team in his final season with the club. However, Arsenal denied any connection between his social media posts and his lack of playing time.
It is Ozil's legacy off the pitch where I will undoubtedly remember him most. It was the kind of meeting that any fan would dream of - an opportunity to work with and interview a football legend. And for me, that dream became a reality during a period between 2018 and 2019, when I had the privilege of meeting Ozil himself.
But what struck me most about this iconic footballer was his humility and generosity. While his on-pitch performances were impressive, it was his charitable endeavors off the field that truly set him apart from the average footballer. And what's more, many of these acts of kindness were never made public.
One of Ozil's most heartwarming gestures was his regular invitation of terminally ill children to his executive box at the Emirates Stadium. He maintained close relationships with many of these kids, and one such child was 12-year-old Charlie Middleton.
Charlie was battling cancer, with tumors on his brain and spine, when he first met Ozil and was invited to every home game - having the honour of being Ozil's guest at the 2017 FA Cup final. Ozil - working closely with the My Shining Star charity - also presented Charlie with his Player of the Match award after a Premier League fixture, a gesture that deeply touched the young boy and his family.
Sadly, Charlie's cancer returned, and he passed away in October 2018. But the joy that Ozil brought to his life through their special bond will never be forgotten.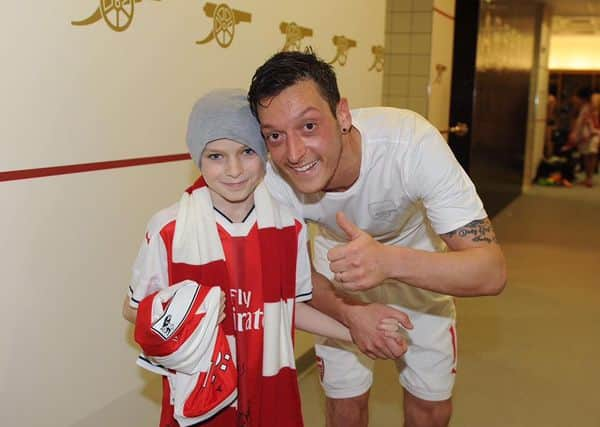 It's important to note that much of Ozil's off-field success can be attributed to his agent, Dr. Erkut Sogut. A highly-educated and principled man, Sogut prioritised looking after his clients and worked alongside their families. Ozil regarded Sogut as a brother-like figure, and his respect within the industry was immense. Sogut even established a company to educate the next generation of football agents, striving to improve the industry's reputation.
In addition to that, he advised Ozil on his business interests. They opened flagship coffee shops in London, launched a grooming line with former Arsenal midfielder Mathieu Flamini and purchased a stake in a Mexican football club, among many other things.
In the end, the success of an elite-level athlete often depends on the people in their inner circle. And for Ozil, that circle was small but mighty, consisting of his brother Mutlu, cousin Serdar, and later his wife, Amine Gulse. Together, they supported Ozil through his career.
Reflecting on our conversations, I recall Özil's unwavering commitment to being true to himself, when he told me, "Some people may not appreciate my body language or my style of play, but that's who I am. I won't drastically change who I am. Some people like me, some people don't. Some people look at my body language and think I don't care. But that's me. I won't change my body language or my style of play drastically anymore.
"Expectations on me were very high everywhere [I have been], because I am a player who can make the difference. You have to deal with that."
This unwavering commitment to authenticity is what made Ozil a legend on and off the pitch, and his contribution to the sport will never be forgotten. A remarkable career and an enigmatic character who will inspire generations of football players and supporters to stay true to ourselves.
Football fans around the world will remember him as the 'Assist King', but for me Mesut Ozil will down as one of the sport's philanthropic greats.