Arsenal's unfortunate son, Liverpool's hokey-cokey, Chelsea's Truman Show pipe dream
All the latest Premier League transfer rumours including Arsenal, Liverpool, and Chelsea
Watch more of our videos on Shots!
and live on Freeview channel 276
Visit Shots! now
Premier League transfer rumours! Come and get your Premier League transfer rumours! Hot and fresh and tasty! All the latest juiciest morsels of mouth-watering gossip wrapped up in a convenient bite-sized parcel and salted with the brine of my useless, unwarranted opinions!
We've got Arsenal! We've got Liverpool! We've sort of got Tottenham and Aston Villa! Hell, we've even got Chelsea! Step right up, gobble them down, then endure the figurative indigestion of the perpetual information age as it fries your eyeballs and hollows out your frontal lobe! Your brain is a finite space, why not waste some of it reading about people you don't know doing things that might never happen?! It's like Take a Break for the FPL generation!
Premier League transfer rumours! Come and get your Premier League transfer rumours...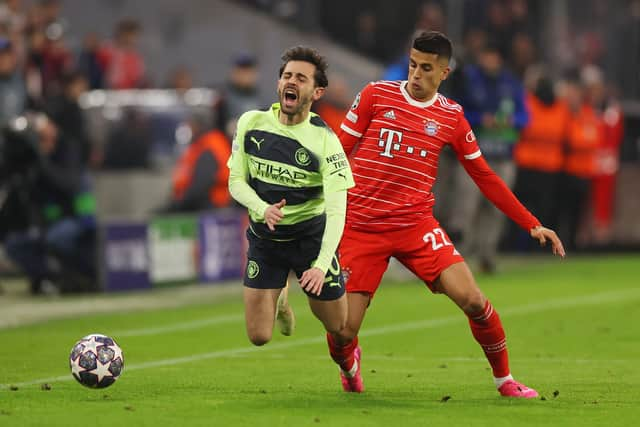 Arsenal eye Cancelo
It's Oleksandr Zinchenko I feel sorry for. The Ukrainian left Manchester City last summer to seek regular first team minutes with Arsenal, has enjoyed a largely successful debut campaign in north London, and is now facing the prospect if his new club signing the man who essentially forced him out at the Etihad. Some people just can't catch a break.
According to the Telegraph, the Gunners are considering a swoop for Joao Cancelo, who is currently out on loan from City at Bayern Munich. Despite impressing initially during his time in England, the Portugal international has fallen heavily out of favour in the north west, and with little indication that Bayern are going to make his transfer permanent, could be on the move in the coming months.
The 3AM Verdict: If Arsenal can sign Cancelo, and if they can coax out even half the player that he was during his initial stint with City, then this would be a wonderful signing. Whether or not the Premier League champions would be willing to sell yet another player to a club who have pushed them so hard in the title race this season, however, remains to be seen...
Liverpool out of Ugarte race
Liverpool will not be signing Sporting Lisbon midfielder Manuel Ugarte this summer, just in case you woke up this morning with a burning compulsion to have that particular transfer rumour substantiated one way or the other. According to Football Insider, the Reds were said to be in for the 22-year-old, but now they're out. It's like the hokey-cokey.
Their apathy could be to the gain of Tottenham and Aston Villa, who are both understood to be interested in signing a player who is looking increasingly certain to be on the move at the end of the campaign.
The 3AM Verdict: Liverpool are in need of midfield reinforcements this summer, that much is patently clear, and so if they have flatly rejected the idea of signing Ugarte, it likely means one of two things. Either they don't think he's good enough to cut it at Anfield, or they have other, more suitable options in the pipeline. Whichever it is, supporters just have to trust that Jurgen Klopp has got his calculations right.
Martinez wants Premier League move
And finally, Chelsea target Lautaro Martinez is open to the prospect of joining a Premier League club in the coming months, according to Football Insider. Fresh from ushering Inter Milan into a Champions League final this week, the Argentine striker is understood to be hungry for a new challenge.
That could be good news for the Blues, provided the 25-year-old lives in a Truman Show style synthetic reality in which every effort possible is made to ensure that he has no access to any news or broadcast organisation that could relay to him the details of what has been happening at Stamford Bridge in recent months. Maybe he does, who knows...
The 3AM Verdict: Chelsea need a lot of things this summer - a reset, a clear out, some sanity - and a striker is very much on that list somewhere. There's no doubting Martinez's pedigree, but Chelsea have been stung before by high-profile moves for centre-forwards that have gone south very, very rapidly. If they are to swoop, they need to be absolutely certain he is the right man for them.