The Rebound: Arsenal's jammed pistol, Crystal Palace's future England star, and behold the Allar-Dyche!
All of the reaction to this weekend's Premier League action, including Arsenal, Southampton, and Crystal Palace
Watch more of our videos on Shots! 
and live on Freeview channel 276
Visit Shots! now
Well, it was nice while it lasted. Arsenal have spent 248 days at the top of the Premier League this season, but we can now say with a good degree of certainty that they won't be there on the one date that truly matters: May 28th.
The Gunners, like the pistol of a hubristic villain in a Dolph Lundgren film, have jammed at the worst possible time, and now they find themselves at the mercy of a Manchester City side who have a black belt in schadenfreude. Pep Guardiola's men need just one win from their last three matches to ensure a fifth title in six years, and the only threat they still face is the possibility of cyber terrorists hacking into Erling Haaland's mainframe and corrupting his Artificial Intelligence programme to weaponise his powers for the purposes of self-sabotage in a manner that directly contravenes Isaac Asimov's Three Laws of Robotics. Will that happen? I, doubt it.
As for Arsenal, the post mortem begins in earnest. The dressing room at the Emirates is likely to resemble an AA meeting in the coming weeks insofar as there will be a lot of down on their luck characters sat in a circle looking for guidance from a leader who has a bulging handbook full of unorthodox motivational methods, and also in he sense that you will probably hear the word 'bottle' a lot.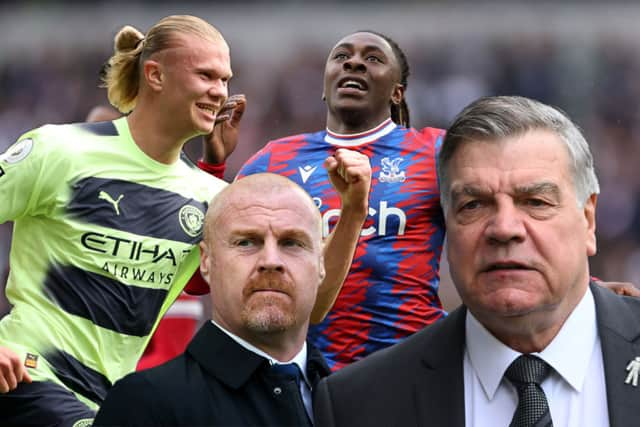 The extent to which Arsenal have blown this title challenge is a matter of personal perspective. City are likely to finish the season on 94 points, and for a team who didn't even qualify for the Champions League this season to have roughed them up for as long as they have is quite the feat in and of itself. But make no mistake, there will be regrets, and there will be nagging hypotheticals. What if the Gunners hadn't drawn those three successive matches back in April, two of them against sides scrapping for their lives in a relegation battle? What if they hadn't gone to the Etihad and rolled over in front of City like a wounded farmyard animal? What if they actually had some meaningful dash of hope left to play for against Brighton on Sunday and didn't disintegrate like a tissue paper cereal bowl? Alas, we will never know.
In the fullness of time, this will probably come to be seen as a significant campaign for Arsenal. They have reestablished themselves as a serious presence in the English game, and there is a feeling that this is the start of something, rather than a fortuitous sojourn into the limelight. But right now, there are no two ways about it. This will sting.
Elsewhere, Southampton are down. Not that anybody is surprised. It's been a bad few years for the Saints; first Matt Le Tissier besmirched his legacy as a YouTube compilation messiah with a side hustle in tinfoil hat sales, then insincere-shopping-mall-Santa's-grotto-elf-turned-absentee-Prime-Minister Rishi Sunak vocally proclaimed his adoration for the club to a chorus of groans (although to his credit, unlike predecessor David Cameron, he has since consistently remembered which team he is supposed to support), and now, to cap it all off, they have been relegated.
Joining them, on the evidence of last night's meek defeat to Liverpool, will be Leicester City. The Foxes could still drag themselves to safety, but will need to be infinitely better than they have been in recent performances if they are to harbour even the flaintest glimmer of a prayer. At least in the Championship certain sections of their fanbase should feel no need to chant about the Hillsborough Disaster.
Then, of course, jostling to avoid that final relegation spot, are Everton and Leeds United. In the future, scientists will find a way of splicing the DNA of Messrs Dyche and Allardyce to create a single genetic monstrosity - an Allar-Dyche, if you will - that possesses more natural survival instinct than a cockroach and a Twinkie combined.
Until that day, however, there can only be one... and things might still get rather gritty. Maybe we should just be done with it all and decide matters by the most logical and fair means at our disposal; a wrestling match in a paddling pool full of Bovril.
And finally, consider this the beginning of my official campaign to get Eberechi Eze in the England squad. Petitions, placards, and maybe even pin badges will follow in due course. The lad is absolute magic, as exemplified neatly by his stunning brace in Crystal Palace's 2-0 win over Bournemouth at the weekend.
Eze has now hit double figures of the season in the Premier League, and continues to dazzle at Selhurst Park. I sincerely hope that Gareth Southgate is taking note, and Ebere, if you're reading this, just know that I will not rest until justice is done.