We all know the scene – a talented Turkish footballer sits at the saloon bar, gently cupping his sippin' whiskey, listening respectfully to his Catalan companion as the piano plays in the background. Then, without warning, a man shoves the swinging half-moon doors aside, the piano player stops, and the whole bar turns to face the newcomer. It's Mikel Arteta, and the patrons begin to edge away nervously…
This protracted Western pastiche is brought to you by the fact that the Turkish footballer in question is, of course, İlkay Gündoğan and we couldn't come up with a better headline pun than "İlkay corral", leading to all this nonsense. You try coming up with this stuff at 8am every morning, and see how long the well takes to dry up, eh?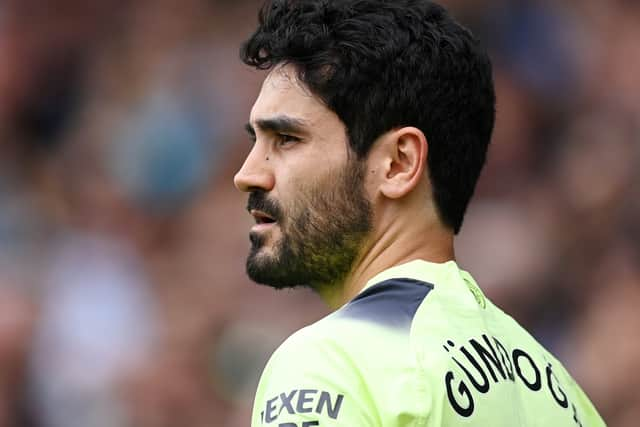 Anyway, Sport Bild have revealed that Arsenal are making a last-minute bid to get their hands on Gündoğan, who is available on a free transfer this summer. Barcelona are still oiling the wheels at their end and word is that Pep Guardiola wants him to stay at Manchester City, but apparently Arteta's plan has, for all this time, been simply to buy the existing City side one player at a time until Arsenal are better by default. If João Cancelo ends up at the Emirates this summer, our conspiracy theory will be proven true.
The 3AM Verdict: Gündoğan is a fabulous and perhaps rather under-rated player, and there aren't really any teams in world football who wouldn't be at least somewhat improved by his presence in their squad. Such players are rarely available for anything less than an eye-watering sum, so the only real surprise is that the queue of suitors isn't considerably longer.
Also in Arsenal transfer news, it was revealed last night that combustible captain Granit Xhaka has been in advanced negotiations over a move to Xabi Alonso's Bayer Leverkusen. Alonso, like Frank Lampard, has that "his name goes in front of the team for some reason" thing going on. Maybe it's a noughties Premier League midfielder thing.
The 30-year-old Switzerland international will apparently be off to Germany for around about £13m, having made just shy of 300 appearances for Arsenal. It's been a pretty good, if wildly inconsistent, spell at the Emirates, and there will be plenty sad to see him leave, especially because everyone's house keys are now just that little bit less safe.
The 3AM Verdict: The timing is, perhaps, a bit surprising – Xhaka has just enjoyed what was probably his best, and certainly his most consistent, season at Arsenal, and there's no reason to assume that a downturn was around the corner. But Arsenal are clearly a club keen to keep the age down, and this may be an extension of the old Wenger-era philosophy which saw them refusing to sign over-30s to extension of more than one year. Which wasn't a great policy then, and makes even less sense as sports science advances, but then old habits are hard to shake off.
Meanwhile, in Rome, a young man contemplates whether to give in to temptation. For the last two years he has subjected himself to endless pain and punishment in the name of self-improvement – but now he has a chance at an easier life and he doesn't know if he can resist. The young man is Tammy Abraham, the temptation is a return to the Premier League, and the self-inflicted punishment is being managed by José Mourinho.
We want your feedback on 3 Added Minutes - details here
Jesus may have been tempted in the desert by the devil, but Abraham is being tempted in his plush rented apartment by Reece James, who has been on the blower to suggest that the England striker returns to Chelsea – according to The Evening Standard, anyway. Apparently Newcastle United are interested too, as are Manchester United, whose striker shopping list appears to be a printout of everyone who came up on a Google search for "football forward good".
The 3AM Verdict: After an impressive first season at the Olimpico, Abraham has been a bit quieter this campaign, registering just 9 goals in 49 games. That isn't the kind of return that implies interest from the biggest and wealthiest teams in England, but there's clearly talent there – so if the price is right, he'd be a pretty solid squad addition for someone who desperately needs a few goals next season. Like Chelsea, if we're honest.