There will be no promotion this season - but I am proud to be Sunderland fan
Sunderland were knocked out of the Championship play-offs by Luton Town on Tuesday evening.
Watch more of our videos on Shots!
and live on Freeview channel 276
Visit Shots! now
Ernest Hemingway, according to wayward legend, once said that it is easy to write; you just have to sit in front of your typewriter and bleed. He said nothing about taking a syringe full of lemon juice and then applying it directly to the subsequent wound.
I don't want to write this article - in the first instance, because I don't want to acknowledge or believe that the subject matter is reality, and also because it feels like the emotional equivalent of removing my fingernails with a pair of rusty pliers and no anaesthetic. Nevertheless, here goes...
Sunderland were knocked out of the Championship play-offs by Luton Town on Tuesday evening. There'll be no promotion then. I'll tell the children. In fairness, as much as it pains this wholly biased Mackem to admit, it was a just outcome. While Tony Mowbray's child army, buoyed by a properly electrified crowd, were able to flutter and buzz their way to a narrow first leg win at the Stadium of Light on Saturday, there was to be no repeat here.
Cabined, cribbed, confined by the uniquely claustrophobic cauldron of Kenilworth Road - where the space is so uncomfortably tight that the television cameras are forced into giving a birdseye view of one wing and the rickety terraces sit just a couple of yards from the postage stamp pitch in some places - Sunderland suffocated.
This young team who - predominantly through catastrophic necessity - have cultivated a style of play to rival anybody in the Championship in terms of its aesthetic value, were reduced to panicked passages of unruly passes and tame, naive sighters from distance as Luton swaddled them with a wet blanket. The Hatters' press was ferociously ceaseless, like the final fraught stages of a round of Space Invaders. Try as they might, Sunderland just couldn't land a direct hit.
And then there was the almost comedic mismatch in physicality. All three of Luton's goals over the course of the tie came, directly or indirectly, from corners. With Sunderland missing the likes of Dan Ballard, Danny Batth, and Aji Alese, every prospective ball into the box was thirstily cheered by the home support like the march of a prisoner to the gallows in a public execution and treated by their towering squad like the thrusting swing of a mighty siege machine.
Upon the final whistle of Tuesday's contest, in silent, grief-stricken protest, I began flicking through the movie channels on Sky and came across a rerun of the second Lord of the Rings film just as Saruman's forces began to storm the walls of Helm's Deep. It damn near gave me post-traumatic flashbacks. I guess in this analogy Luke O'Nien might be Gimli.
In the end, it was little surprise that Mowbray turned to Alese - a man who hadn't featured since early March and who was barely deemed fit enough to take part in a pre-match walk with his teammates - in a desperate effort to quell the onslaught. Ultimately, it made little difference.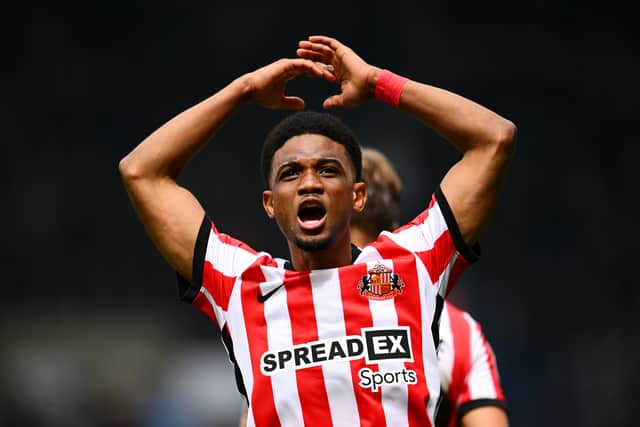 When people have spoken about Sunderland in recent weeks, and in particular the possibility of their improbable promotion, there has been a tendency to portray them as doe-eyed saplings wandering gullibly into the path of grave, certain danger; a lost field trip seeking refuge in the dry cave of a hibernating grizzly bear, or - as the erudite Jonathan Wilson tweeted - 'a gifted school choir who signed up together going over the top as one'.
The common consensus seems to be that a return to the Premier League would have come far too early, and would have resulted in scenes that fell somewhere on the spectrum between Lord of the Flies and the Dyatlov Pass Incident, or Anakin Skywalker putting a kindergarten to the lightsaber during Order 66. Of course, we will never know for definite, but I'm not entirely sure that things would have panned out so badly.
For one thing, Premier League status brings Premier League money, and Sunderland's recent recruitment has been nothing short of stellar. For another, this is a squad that has continuously shocked, delighted, and soundly rejected all humble expectations of them.
They were the youngest side in the most competitive division in Europe, promoted through the play-offs from League One last season, functioning - for the most part - without their top goalscorer (or any recognised centre forward, in truth), their midfield general captain, or any number of vital defensive presences. They entered the final stretch of the campaign held together by gaffer tape and wads of chewing gum and blind hope, and in spite of it all - in spite of the cruel conspiratorial musings of the gods that preside over such matters - they thrived.
This second leg against a merciless Luton side was one game too far, and the pain of it stings today like a welt from a nettle-laced whip. But even now, as the dust begins to settle a little and the reality sets in like woodworm of the heart, what I feel more than anything - more than upset, more than vexation - is pride.
I am proud of this patchwork quilt of juvenile wizards. I am proud of Anthony Patterson, that bashful, unassuming giant between the sticks. I am proud of Lynden Gooch, the Swiss Army Californian with his bizarre Mackem twang. I am proud of Trai Hume and his little moustache. I am proud of Luke O'Nien, that joyous, piggybacking, opponent-smooching lunatic. I am proud of both DBs, Danny Batth and Danny Ballard, and I am proud of Aji Alese, who threw himself into the fray on one leg and a whiff of adrenaline.
I am proud of Dennis Cirkin, a man who embraces goals and concussions with equal enthusiasm. I am proud of the lesser-spotted Niall Huggins and Joe Anderson, who I'm sure will come good very, very soon. I am proud of Alex Bass, the understudy stopper who scored a blatant handball against Newcastle United's youth team at St. James' Park and celebrated like he'd won the World Cup at Wembley.
I am proud of Pierre Ekwah, who transformed himself from maligned to magnificent in the span of a month. I am proud of the granite Corry Evans, and the local-boys-done-good Elliot Embleton and Dan Neil, through whom every Sunderland supporter live vicariously. I am proud of Alex Pritchard just for being Alex Pritchard.
I am proud of our French connection, Abdoullah Ba and Edouard Michut, the latter of which probably still needs a fake ID to buy a can of Monster. I am proud of the wiry, magical Jack Clarke, and thankful that both Leeds United and Tottenham Hotspur bungled him sufficiently to leave him marooned up in the North East. I am proud of the Nutmeg King of the Football League, Patrick Roberts, first of his name.
I am proud of Joe 'Joffy' Gelhardt for grafting away in a position that he was never meant to play, of Jewison Bennette for getting public transport to and from home matches when he could surely afford an Uber, and of Isaac Lihadji, who I'm told does actually exist, and isn't just a name we made up to pad the bench out a little in the midst of a perpetual injury crisis.
I am proud of Ross Stewart, the Loch Ness Drogba, for doing more in 14 games than most strikers have done all season. I am proud of Ellis Simms, and I miss him dearly. I am proud of Amad Diallo, a player who leaves me blissfully dumbfounded, who me and my mate insist on calling Adam Dial-up when we're drunk, and who has made me commit that daftest of sins, falling in love with a loanee. He will be world-beater, and he will forever have a home on Wearside.
I am proud of Tony Mowbray, this lovely, lovely chocoholic manager in his Hugo Boss gilet that few of us truly believed in or even wanted when he was parachuted in to replace the pantomime villain Alex Neil. I am proud of our enviable support that has endured the absolute worst and still sells out away allocations all across the country. I am proud of the Vaux Tap Room for that sour blue raspberry pint they sometimes sell on match days, and I am proud that our sticky Korean chicken and chips has dominated social media pages dedicated to footy scran for months on end.
I am proud of everything and everybody who has contributed in any way, no matter how small, to making this the most enjoyable and absurdly carefree season that this ridiculous, melodramatic club has seen in quite some time.
Because above all else, as the sun abruptly sets on a campaign that promised nothing and very nearly gave us everything, I am proud to be a Sunderland fan.