Multi-club ownership puts teams in danger - and Everton could be at risk
777 's proposed takeover of Everton would make them the latest team in multi-club ownership - can 777 be trusted, and how safe are teams in such groups?
Watch more of our videos on Shots!
and live on Freeview channel 276
Visit Shots! now
The prospective purchase of Everton by 777 Partners, a Miami-based company which owns interests in a number of different sports clubs as well as in other industries such as aviation, private finance and credit provision, has set many alarm bells ringing in England.
Serious allegations have been levelled against 777, including accusations of fraud uncovered by an investigation by Josimar Football, which 777 deny, while many of the other clubs they have added to their portfolio in the last couple of years are struggling on the pitch. Their takeover has the potential to be bad news for Everton, but also demonstrates how fragile the increasingly corporatised nature of football club ownership is, and how many dangers there are for the sport as a whole as well as for the teams who find themselves a part of these increasingly common stables of jointly-owned clubs.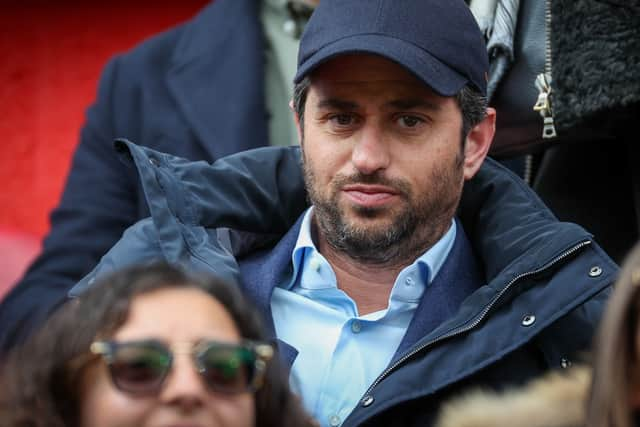 On Friday, Everton announced that their current chairman, Farhad Moshiri, had reached an agreement to sell his full stake in the club to 777, which amounts to a controlling 94.1% share. The deal is subject to league approval and presents a stern test for the Premier League's owners and directors test, which was theoretically strengthened in March.
The American company is being sued by a former employee for alleged fraud and breach of contract, which could scupper the deal, while they must also provide proof of funds, which could also be a challenge – the Guardian claims that Tifosy Capital & Advisory, who run a sports lending fund and who have been involved in assisting 777 with their acquisitions, failed earlier this year to raise $200m for the company, while there have been issues with payment elsewhere, including a late payment made to the British Basketball League of £900,000 relating to the group's purchase of the London Lions team.
So there remain many barriers to the deal, and there is every chance that it will collapse, likely to the relief of many Evertonians. But 777 have already sunk their teeth into a string of clubs around the world, with concerning early results.
In 2018 they bought Genoa, their first full acquisition of a club after becoming minority shareholders in Sevilla. The historic Italian outfit finished 17th in the first two seasons of 777's tenure, dodging relegation narrowly on both occasions, and while they reached mid-table in 2020/21, they were relegated the following season. They earned promotion back to the top flight this year, at least, but there have been concerns over the lack of investment made in the team – Genoa have made a net transfer profit of £14.2m since the takeover, according to estimates from Transfermarkt.
Since then, they have invested in a slew of clubs, with similarly worrying results. Hertha Berlin were already in danger of relegation when 777 bought a controlling stake in the club earlier this year, but having held a fire sale of players which has netted an estimated £23.2m, they sat bottom of 2.Bundesliga after the five matches that had been played at the time of writing. Brazilian outfit Vasco da Gama earned promotion back to Série A in 2022, their first season under 777, but now lie in the relegation zone and face an immediate return to the second tier.
Melbourne Victory, in Australia, finished 11th out of 12 in the A-League last season, while there have been fan protests over a lack of investment in Standard Liège after a dreadful start to the new season under the management of former West Bromwich Albion defender Carl Hoefkens. The only club that 777 have taken over which has enjoyed success so far is Red Star FC, a Parisian club which narrowly missed out on promotion from the French third tier last year and is top of the table at the time of writing.
The allegations in the article by Josimar include claims by an anonymous former employee that 777 use their companies to play a shell game – meaning that they move money between their various holdings in order to temporarily underwrite costs and make it appear that the overall financial position is stronger than it is:
"All these businesses are losing money. Sport? Losing money. Aviation? Losing money," the anonymous source claimed. "But who is going to take the loss? The joint venture partners. These guys play a shell game. They claim to be self-financed, to have put their own money into it. But they can't have as much money as they say they have. It's just not possible. But they don't need a lot of money. Because what they really do is shunt money around. It's a giant shell game. The same money is always out there doing something. And they are running it faster and faster."
Josimar also cites allegations concerning 777's holdings in the aviation industry, with aviation website One Flight At A Time expanding on them. Canadian low-cost carrier Flair had four Boeing 737 MAX airplanes repossessed after the company, owned by 777, missed lease payments. Meanwhile, Jocelyn Harris, the former VP of Finance for Flair, claimed that 777 had structured their ownership of the airline such that Flair owed 777 $129m, which was being paid back with an interest rate of 18%. Harris has since filed a lawsuit for wrongful dismissal and harassment.
Former Flair CCO Timothy O'Neil-Dunne, whose lawsuit could prevent the purchase of Everton under Premier League rules, also alleges the purchasing of planes by 777 which are then sold to Flair at a higher price. In other words, the allegations amount to 777 setting up Flair such that if it fails, the holding company have already made a profit. 777 deny all allegations and no court proceedings have yet found either the company or co-founders Josh Wander and Steven Pasko guilty of any related wrongdoing - Wander was placed on probation after being arrested for attempting to traffic cocaine in 2003, which is likely to qualify as a spent conviction and therefore not influence the purchase of Everton. It is also not alleged that similar practices apply to any of their shareholdings in football.
Wander stated in a recent interview with the Financial Times that the aim is for the sporting investments of 777 to become profitable by next year, which naturally implies that they are running at a loss at present. That may explain why 777 are reportedly attempting to raise money for a new training centre for Genoa via a supporter's bond rather than funding it directly. An open question is what would happen if 777's business model failed – rather than one historic club being at risk, it would be half a dozen and counting, all of whom could come down like a pack of cards, and 777 will surely not be the last group to attempt to corral such a large collection of sporting entities under one banner. So long as the model of multi-club ownership persists, more and more clubs will be placed at risk.
Of course, multi-club ownership is not a new concept. City Group, who own Manchester City, have clubs around the world including Girona, New York City and Mumbai City under their control. Red Bull have controlling stakes in teams in Germany, Austria, the United States and Brazil. These groups allow resources to be pooled for efficiency, as well as offering substantial advertising, PR and cross-selling opportunities to the companies that run them. As it stands, there is no suggestion that either is in any financial jeopardy and it is easy to see the sporting benefits that combined scouting and recruitment links provide. Many may dislike the model, or see it as immoral or running contrary to football's traditions, but in such instances it often benefits the clubs involved.
It's possible that 777 achieve the same with their teams, of course. In the FT interview, Wander stated that their strategy involves moving players between clubs, buying adjacent businesses such as ticketing, and cross-selling products between clubs and companies, all of which would make financial sense for the constituent parts of the enterprise, even if such ambitions come across as distinctly soulless.
"The vision for this football group is that one day we're not selling hot dogs and beers to our customers," Wander said. "We're selling insurance or financial services or whatever… [Fans] want to be monetised."
A somewhat dystopian and distasteful model seems to be the goal, but one that is, on paper, fiscally viable if done properly. The worry is what will happen if it is not done the right way, or if the money runs out. If 777 are losing money so far on the sporting arm and that were to continue, what protections exist for Everton, Genoa, Vasco da Gama or any of their other teams should that continue to be the case? A slew of companies could, in the worst case scenario, go under beneath a complex web of debts spanning several continents.
Even if 777 succeed admirably in the long run and the teams under their yoke benefit both financially and in sporting terms, the idea of clubs being used primarily as a vehicle to sell insurance and other unrelated products is depressing. The corporatisation of the sport is scarcely new, of course, but as financial interest in football has grown over the last 30 years, there had always been at least some pretence that the sport and the community institutions at the heart of it were important, and that the fans were prized rather than being seen as willing consumers to be gouged for a profit. That veneer is wearing thin. Perhaps it is almost refreshing that Wander is willing to be so honest about his vision for football and the people who love it.
FIFA has stood tacitly by while this new ownership model spreads, while UEFA recently relaxed their rules to allow jointly-owned clubs to compete in the same continental competitions – had they not done so then AC Milan and Toulouse, Brighton & Hove Albion and Union Saint-Gilloise and also Aston Villa and Vitória SC may all have faced expulsion from this season's continental competition. All three pairs of club share part-ownership, with UEFA research suggesting that more than 180 clubs around the globe are now part of a joint ownership arrangement.
UEFA president Aleksander Čeferin seems to be more than willing to accommodate this shift in the dynamic of global football, saying in March: "There is more and more interest for this multi-club ownership and we shouldn't just say no [to] the investments, and for multi-club ownership… But we have to see what kind of rules we set in that case, because the rules have to be strict."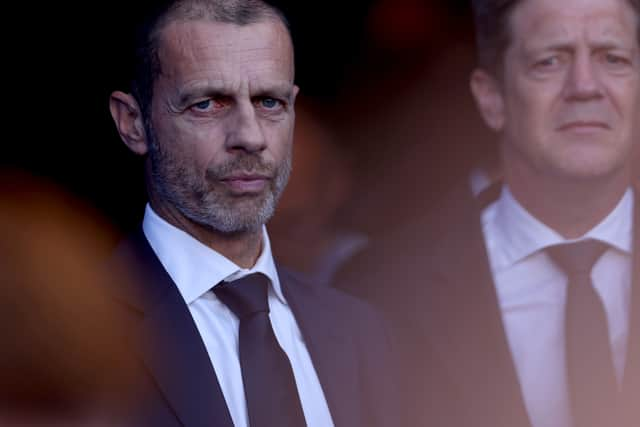 And while honest owners with strong business models and good financial backing may lead to success for all sides in such deals, the risks grow exponentially if the rug is pulled out from beneath them. By way of example, before Leeds United's former owner Andrea Radrizzani sold the club to 49ers Enterprises, he made an attempt to buy then Serie A club Sampdoria with a loan leveraged against Elland Road. Had Sampdoria, who have since been relegated, gone bankrupt – hardly unknown in Italian football – then Leeds' ground would have been at risk of repossession by Sampdoria's creditors. This would have been an entirely legal financial manoeuvre, similar to the one which allowed the Glazers to buy Manchester United with a loan leveraged against Old Trafford, but one can see how quickly a house of cards could collapse, flattening every constituent part. As more cards are added to ever-growing stacks, the greater the danger becomes.
And even in well-regulated groups, there will be jeopardy. City Group had the financial clout to shrug off Girona's relegation from La Liga in 2019 - but would 777, who appear to have had difficulties raising cash already, be able to weather the blow from another club being relegated as Hertha Berlin and Genoa were? Would the reduced income from one club jeopardise the financial situation of another, such as Everton? Would Everton dropping to the Championship, hardly an unlikely scenario given their poor start to the season, endanger several other teams through no fault of their own?
This model is only expanding, and as more such groups emerge, some will inevitably be run by owners who lack the expertise, football knowledge, integrity or simply the cash to keep all of their plates spinning at once in an honest and profitable fashion. If FIFA and UEFA continue to allow this model to flourish, the likelihood of a disaster striking an entire string of teams grows.
The strict rules Čeferin alluded to have yet to be put in place, and no protections exist for the teams involved. FIFA, or UEFA, or any of the continental bodies, need to start putting them in place now – they need to clamp down on clubs being bought with loans leveraged against their own stadiums and infrastructure, and they need to impose strict regulation on companies wishing to purchase more than one team. They need to protect clubs across the world, before it's too late. Because while it may be too late to do anything about the corporatisation of football, it isn't too late to make sure that the worst excesses and failings of venture capitalism don't burn institutions which have brought joy for generations to the ground that their stadiums once stood upon.