There is a scene in The Damned United in which the special effects artists tasked with making late '00s Scarborough look like mid '70s Brighton forgot to artificially remove a very conspicuously modern parking meter. It's not the kind of thing that ruins a film by any means, but once you notice it, you can't unsee it; it is out of place, incongruous, unbelonging.
Watching Leeds United crumble at the hands of Liverpool on Monday evening, you got the distinct impression that they might be this Premier League campaign's very own discordant pay-and-display machine. For one thing, they are certainly starting to look as damned as the movie that dramatises their yesteryear.
After a 5-1 humbling against Crystal Palace last weekend, Javi Gracia's side needed to put up some kind of serious response at Elland Road. And they did. For all of 35 minutes. After that, they may as well have sent out the pre-match mascots for a kickabout. By the break they were two behind, and while the ever-sparkling Luis Sinisterra may have wrenched forth the faintest glimmer of hope just after the interval, Liverpool took control to run amok in a manner akin to their rampant selves of old. It ended 6-1.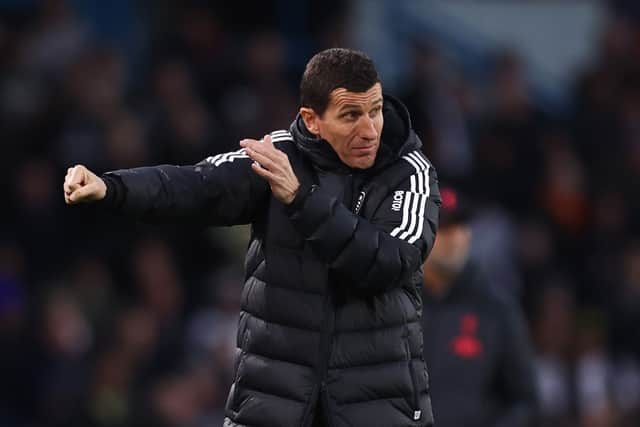 That's now eleven goals conceded in three halves of football for Leeds, and their footing in this spitting, lurching cockfight of a relegation scrap is perilous to say the least. They may be two points clear of the bottom three, but their run-in is daunting, and includes tussles with the likes of Manchester City, Newcastle United, and Tottenham. Even the quote-unquote 'winnable' games against Bournemouth, Leicester City, and West Ham feel like barbed wire-coated banana skins right now.
If there is a hope for the Whites, however, it is that there might be three teams worse than them in the division. As the adage goes, in a zombie apocalypse you don't have to be the fastest, just as long as you're not the slowest. Southampton appear doomed to such an extent that the undead horde may as well be chewing on their tibia as we speak. If you looked up the word 'despondent' in the dictionary, you would probably find it accompanied by a small, wood-etching style illustration of Leicester City's badge. And that leaves one spot up for the grabs in the same way that a thicket of nettles might be up for grabs. That is to say, nobody in their right mind actually wants to grab it.
Up until very recently, the common consensus seemed to be that Bournemouth were the third band of likely unfortunates, but four wins in six have catapulted them to the nosebleed-inducing heights of 14th. They are now six points clear of danger. In a grapple as tight and ugly as this one, that feels like a chasm. Likewise, West Ham are beginning to show the odd flash of spirited grit, while Everton - for all of their stink - have a gravel-throated secret weapon. Then again, said weapon didn't exactly work for Burnley last season.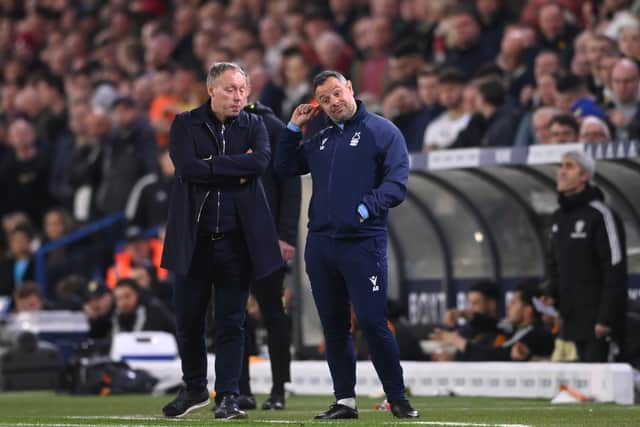 And that leaves Nottingham Forest - somewhat ironically, the great benefactors of The Damned United. Had Brian Clough last longer than his infamous 44 days in Yorkshire, he almost certainly would never have been available to take over at the City Ground in 1975 and win successive European Cups before the end of the decade. Forest's current aspirations are a lot less auspicious, and a lot a more pragmatic.
Since their promotion via the play-offs last summer, the club have signed approximately 3,186 players. Give or take. They are currently 18th in the table, and boast the worst goal difference in the league. To spend as much as they have and still be this useless is almost impressive in a perverse sort of way. I mean, we're nearly entering the realms of Tory party PPE purchasing in terms of the ratio of bang for bucks, or lack thereof. In fact, at this point it wouldn't be too much of surprise if, on the final day of campaign with relegation confirmed, Evangelos Marinakis tore off his latex mask to reveal that he has actually been Matt Hancock in a body suit this entire time. Like Scrappy-Doo controlling Rowan Atkinson in the first live action Scooby-Doo. Spoilers.
Forest are good fun. Credit where credit is due. They tend to make a good go of most matches that they find themselves in, and for all of their troubles, there is unquestionably the core of something decent in there somewhere, nestling timdly amongst the malaise. But at times, their defence is unforgivably shambolic, and for all of their endeavour, they are wanting for a consistently potent cutting edge in attack. In combination, the two issues are costing them big time.
Steve Cooper's side have not won a game since February 5th, a run of 10 fixtures, and they continue to sink like a grand piano in quicksand. To make matters worse, between now and the end of the season, the only other genuine relegation candidate they are still to face is Southampton. And you thought Leeds had it rough.
Barring some kind of epiphanic melding of their collective parts, this Frankenstein's monster of a squad are going to struggle to pick up the points they need to properly drag themselves clear of the yawning jaws of an immediate Championship return. What would happen next, with an exorbitant wage bill to consider and a squad list that reads like the Domesday Book, who can say? Chances are it wouldn't be pretty though.
Not that any of that will matter to Leeds United. All they need is for somebody, anybody, to plummet faster than they are. Nottingham Forest, bless them, might just oblige.