The reason why VAR's disastrous Liverpool error in Spurs clash won't be the last
Liverpool's disallowed goal against Spurs was a farce - but VAR will never prevent mistakes from happening, and only makes the game worse.
Watch more of our videos on Shots! 
and live on Freeview channel 276
Visit Shots! now
"Never attribute to malice that which is adequately explained by stupidity" – the words of Hanlon's Razor, a thought which was put to paper 40 years or so before the introduction of VAR but one which resonates more than ever after the tragicomic farce of Luis Díaz's wrongly disallowed goal for Liverpool against Tottenham Hotspur.
Because, as absurd and maddening as the decision to disallow a perfectly good goal was, it is not evidence of corruption, or bias, or of a refereeing deep state acting in the service of some crooked petrostate or other. It is nothing more than further evidence – if it were somehow still needed after thousands of years in which humanity has offered it on a regular basis – that even perfectly intelligent and reasonable people can be complete idiots sometimes. It's also evidence that there is no amount of technology which can be placed between a person and a cock-up. Humanity finds a way to mess it all up.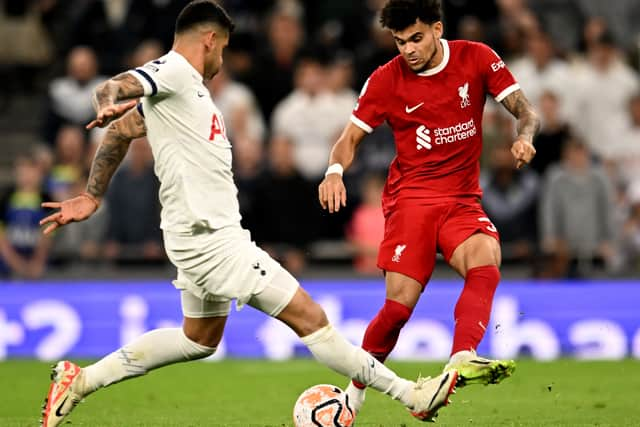 For anybody who missed all the drama on Saturday evening and has somehow remained blissfully ignorant of it since – Díaz was sent haring through on goal, slotted home to put Liverpool 1 -0 up, and quickly discovered that the flag had gone up to rule his effort offside. VAR did its thing, found that the Colombian was in fact onside by a small but unquestionable margin, and then told the referee that the "check was complete" because Darren England, the man in charge of the mess on this occasion, somehow thought that the original decision had in fact been that the goal was onside. Because the protocol did not allow VAR to intervene again once the decision had been made, the game carried on with a free-kick and, one imagines, an awful lot of panicked swearing in Stockley Park. It certainly generated an awful lot of angry swearing among Liverpool supporters.
Since then, there have largely been two strands of complaint – those that imply conspiracy and those that call for improvements to the technology or processes. The level of rationality across the two varies wildly, but both miss the underlying point, which is that VAR cannot ever succeed in being what we need or want it to be and is probably making things even worse than they were when we had to rely on a referee's god-given eyesight alone.
Let's start with the people carefully constructing their tin-foil hats. It's true that many referees, including England and his assistant VAR Dan Cook last week, earn some extra money by moonlighting in the United Arab Emirates and occasionally in other countries. This is, undeniably, 'not a good look' – last Thursday they were refereeing a game involving Al Ain, a city under the jurisdiction of Abu Dhabi, which owns Manchester City, and it isn't the largest leap of twisted logic to arrive at the notion that referees being paid by the UAE to officiate could be encouraged to hobble City's title rivals (or Arsenal's come to that, given that another Emirate, Dubai, has a pretty substantial sponsorship-based stake in the Gunners).
Of course, it's wildly unlikely that referees are being paid on the side to do anything other than officiate games as best they can, and if they were slyly keeping an eye out for either City or Arsenal then it's hard to imagine that they would be working too hard to give Spurs a leg up under current circumstances. Besides, any official worth his salt could surely have found a way to help City avoid a humbling defeat at the Molineux as well, and that might have been rather more helpful. As Hanlon's Razor would observe – chances are that they just screwed up. Human beings certainly don't need to be incentivised to do so. It happens quite naturally.
That said, there's certainly a point to be made that officials shouldn't be allowed to work a side hustle in a country which owns a Premier League club. Even if no malice is ever intended or indeed requested, it will only fuel the ever-present accusations of bias. If officials aren't being paid fairly for their labour in the Premier League, then the league should stump up - and that being done, referees can reasonably be banned from working in the UAE or Saudi Arabia. Should they wish to work in, say, Egypt, where British referees have been used in the past, that's probably fine up until the day that Cairo buys Brentford.
Then there are the processes which allowed the officials to arrive at their accidental offside call, which have incited plenty of fury this weekend as well. It is, of course, ludicrous that the Stockley Park bods weren't allowed to get on the microphone and yell at Simon Hooper (the on-field ref) to stop play and award the goal. In such an absurd and unforeseen situation, it would have represented some fairly simple common sense to ignore the protocols and do so, of course, but then we are talking about people whose entire job revolves around strict and unthinking obeisance to rules. Asking them to act out of line with the refereeing guidelines is probably akin to asking a gorilla to exercise self-restraint when a visitor to the zoo starts staring them down and beating their chest.
No doubt Howard Webb, who is now in charge of overseeing English refereeing, will make some swift adjustments to the protocols. Probably an extra step will be added in which both on-field referee and VAR ensure they are working from the same initial decision, and no doubt a caveat will be added for VAR to intervene again to prevent an obvious miscarriage of footballing justice. All of these changes will be perfectly sensible, but won't stop a completely different foul-up from happening somewhere down the road. No number of strictly-enforced protocols can possibly allow for every form of human stupidity, just as all the rules in place already couldn't prevent the ones which came before. The PGMOL's slightly grovelling apology to Liverpool was, after all, the sixth such occasion on which they've publicly apologised this year alone.
And no matter how much technology and automation you place between a human and their inevitable error, you can't weed the mistakes out entirely. It's still people who programme the computers in Stockley Park, who analyse the freeze-frames and slow-motion replays, and who build the hardware. Remember when Sheffield United were effectively relegated because goal-line technology, probably the least controversial element of the modern refereeing package, failed at a crucial moment? Whenever you hear someone call for semi-automated offside, which was in use at the men's World Cup and which is being trialled in several top leagues, remember that it will inevitably break down and screw up at some point. A computer is only as smart as its creators, and they're human beings too. Referees are not unique in occasionally getting their job completely wrong, after all - even journalists occasionally make errors. Granted, it's less common.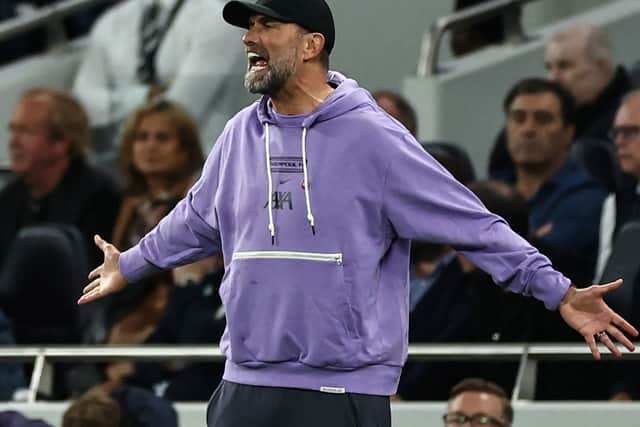 And most English referees really are very good at their jobs. There's a reason that English referees are so in-demand in countries like the UAE – they really have put in countless hours of training and practice to get where they are, have worked their way up a massively competitive ladder, and face weekly scrutiny and assessment to make them better, and it works. And yet they still make a ton of mistakes, often awful ones, because they're human beings and their job is extremely hard.
If you really don't believe that English referees are somewhere close to the apex of their profession, I can only encourage you to spend some time in another country and watch football matches there. The fans of every nation around the globe are convinced that their referees are the worst in the world, and they are provided with 'evidence' every week. You simply cannot have referees without mistakes, including very bad ones – and as this week has proven, you can't have VAR without errors either. All VAR has achieved is shunting mistakes, and the blame for them, to a darkened room filled with banks of monitors, and forcing us to wait several minutes for them to happen. There has been no meaningful benefit to football, and never will be.
It's time fans, FAs and federations to accept VAR's inevitable failings, accept that it will never provide perfect decision-making, and to simply throw it all in the bin. Mistakes will always be a part of football, but we could at least get them without several minutes of tedious hanging-around and without the additional layer of anger they induce when they appear alongside minute frame-by-frame analysis of how they came to be. Let's embrace the cock-ups at long last. The game will be all the better for it.