Erling Haaland - the cause of, and solution to, all of Man City's problems
Is the free-scoring Norwegian forward a blessing or a curse of Manchester City?
Watch more of our videos on Shots! 
and live on Freeview channel 276
Visit Shots! now
You'd think equalling a Champions League record by scoring five goals in just over an hour would put any arguments about Erling Haaland to bed. You'd think breaking his side's all-time single-season scoring record by March would make his contribution beyond question. But somehow he's still the centre of an ongoing debate - does he help or hinder Manchester City? For all his goals, does his lack of an all-round team game undercut his own side?
The germ of the debate presumably comes partly from Cristiano Ronaldo's controversial recent spell at Manchester United. There he was at the centre of an endless, ongoing row between fans – those who insisted his sheer quality meant that he elevated any team he played for, and those who saw his lack of pressing and movement as detrimental to the team as a whole. The Haaland question is the same, another spin cycle for an old argument. So let's look at some statistics and try to get everything out in the wash.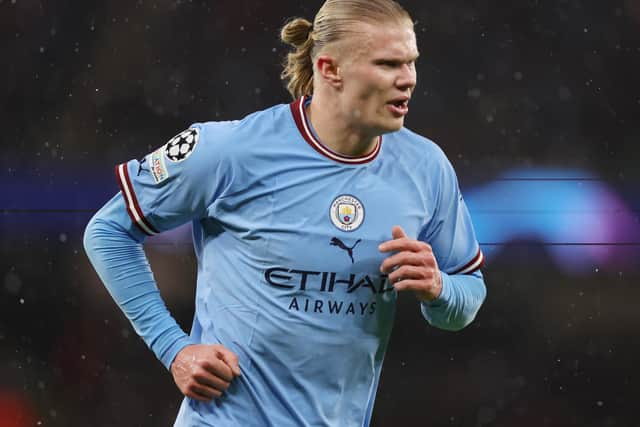 To start with, let's state the obvious truth – Haaland is not much of a team player. His reputation for failing to press or join in with defence is entirely deserved. He's right at the bottom of the class for defensive actions, not just compared to his team-mates but also to the league as a whole – his rate of blocks and interceptions are in the basement, and 98% of forwards in Europe's major leagues make more tackles than he does. In fact, he has attempted just six tackles all season, in all competitions. It's not really a question of hard yards, Haaland simply doesn't make any attempt to defend from the front at all.
He also isn't much of a passer – he attempts just under 17 passes per game for City, which is worse than more than 85% of equivalent players. Pep Guardiola's forwards have typically been more involved than this in Manchester - in recent years both Gabriel Jesus and Sergio Aguero comfortably outstripped Haaland's numbers in both defensive and passing stats, while playing the same position. Pressing as a unit has been a trademark of Guardiola's tactical style for years, and Haaland breaks that mould.
But the crunch questions is – what effect does this have on the team's overall performance? It's clear that Haaland brings goals by the boatload, so can he possibly strip enough of them away elsewhere for it come at too steep of a cost?
The answer is – probably not. City have scored slightly less frequently since they bought Haaland – FBRef stats show them cracking in 2.48 goals per game this term, compared with 2.61 last season. That's a drop-off, but within the kind of variation you'd expect to see when accounting for a team's overall form. Their xG has reduced by around 0.25 per game, which is a larger gap, and does lend credence to the idea that the team with Haaland is less threatening overall but can outscore its xG by a wider margin. City also concede more as well – 0.93 per game now compared 0.68. That's not an insignificant difference, but with City's ever-rotating rearguard it would be absurd to pin it on Haaland alone.
What about his team-mates? Riyad Mahrez has seen his xG drop by 0.14 per game, Phil Foden by 0.15, Bernardo Silva by 0.11. The slides are fairly consistent across the board. Haaland himself, of course, generates xG at 0.97 per game, and then outscores it. Those are colossal numbers.
To take off the anorak for a moment, the stats at least underline why there's a debate here. For all of Haaland's obscene scoring feats, this Manchester City side have been slightly worse overall this year than they were before he arrived, and the way the team plays in the final third has changed – with far more of the final chances going through Haaland, and the goals being spread around less evenly. That puts Manchester City at greater risk of struggling in a match if Haaland himself is off the boil – a rare but hardly entirely unheralded occurrence.
Guardiola will know all of this, of course. He will know his side haven't been as good as they were in the previous campaign, and will also know that there are other changes in personnel and style that can account for the drop-off. He will know that while he may have pioneered the false nine role with Lionel Messi and used previous City strikers as part of a more unified forward unit, he has played with more traditional number nines before at Bayern Munich, with Mario Mandzukic, Claudio Pizarro and Robert Lewandowski, and he didn't struggle then. This is a calculated change made by a manager who knows what he's doing – but that doesn't mean it's definitely correct, of course.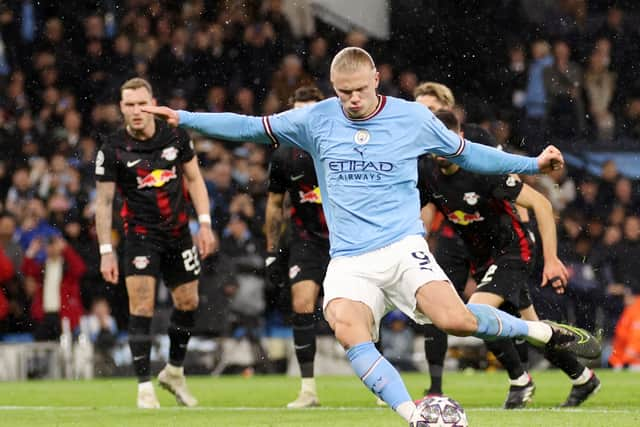 Going back to the Ronaldo comparison, the differences in the team's offensive threat before and after his return to Old Trafford are much starker than they are in the case of City and Haaland. Manchester United's goal output declined from 1.92 goals per game to 1.50 despite the 24 that Ronaldo scored himself. Ronaldo, still being pretty dangerous in front of goal even in his declining years, still outscored his xG, and like Haaland made defensive contributions that could largely be described as nominal.
The difference is that accommodating Ronaldo required a much larger systematic change for United. The season prior to Ronaldo's signing, United largely used Bruno Fernandes as their attacking focal point, yielding a total xG of 23.6 for Bruno himself, plus a combined 35.7 for the attacking trio of Marcus Rashford, Edison Cavani and Antony Martial.
When Ronaldo arrived his relative lack of mobility and positional fluidity meant that Bruno was relegated to a supporting role – so while Ronaldo provided 20.6 xG himself, Bruno was reduced to 10.2 and the other forwards to 12.0, using Mason Greenwood's numbers instead of Martial's. So their attacking combined xG fell from 59.3 to 42.8, a huge decline and one indicative of the truth – that while Ronaldo still had a huge amount to offer the right team as a number nine, he was a poor fit for United's system and made the team as a whole substantially worse.
We want your feedback on 3 Added Minutes - details here
Haaland's numbers at City do not tell that same story. They have incorporated him into a system more easily and without making the same sacrifices that were made at United – and without the same internal belligerence that Ronaldo's presence created when the authoritarian Ralf Rangnick arrived.
But Haaland's numbers still point to the truth that there has been a cost to his inclusion, and that as magnificent as he is, he may not actually have improved the team as a whole. Whether that is a fact of life for any future team that incorporates Haaland or a problem Guardiola can resolve remains to be seen – for now, unfortunately, the argument can't really be settled conclusively. Erling Haaland both makes his side better and worse. He's the problem and the solution. Perhaps we should just enjoy him and his goals and his great big Jagger lips while we've got him.