Newcastle United have a huge pile of Saudi money burning a hole in their back pocket and a Champions League campaign to look forward to – so it's pretty much par for the course that they're being linked with practically every mildly expensive player in Europe right now.
More than a few press outlets have linked them with a creative attacking midfielder of some stripe, with the likes of James Maddison regularly touted for a move to Tyneside. But there's one player who's been suggested as a possible new signing who could really take Newcastle to the next level – Mohammed Kudus.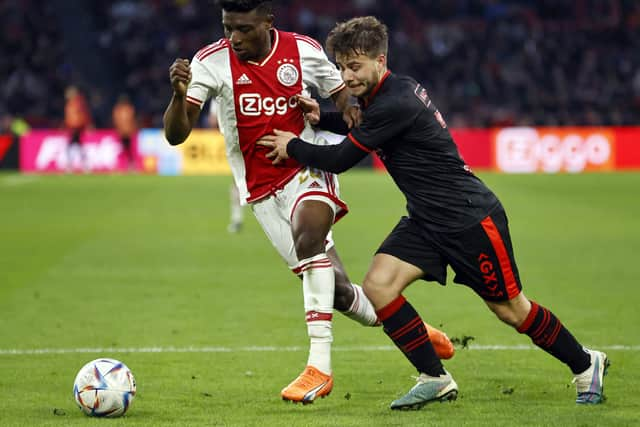 The Ajax attacker – who's equally comfortable playing as a number eight as he is as a right winger or as a deep-lying striker – has been lined up by for a £50m move to the Premier League, and his agent is clearly working overtime, with reports putting Arsenal and Manchester United firmly in the frame as well. But it's Newcastle who should push hardest to sign him – he's a potentially transformative player with a skillset that could redefine how Eddie Howe's side play. Let's take a look at who he is, what he could do, and why Newcastle should move heaven and earth to bring him to St. James' Park.
A dual threat in attack
What sets the 22-year-old Ghanaian apart from many similar players is that he's a genuine dual threat – an outstanding dribbler and a fine passer who can pick through defences any way he needs to. He's also an exceptional goal threat in his own right – meaning he can damage a defence any number of ways.
Short but strong, his first touch, close control and low centre of gravity mean getting the ball off him is a nightmare, one compounded by an exceptionally sharp burst of short-range acceleration that allows him to beat opponents at will. Get tight to him, and he can almost always go past you. Give him space and he's so comfortable will quick passing exchanges that he'll probably find a way through anyway.
He's also got a fantastic eye for goal, scoring 18 times in 41 games this season, including several ferocious strikes from around the edge of the area – he likes to finish with power into the corners and has the skill to pull it off. On top of all that, he's a great team player, a willing runner in a high press and with the solid tackling fundamentals to make sure he doesn't let too much get past him.
His slightly unconvincing crossing – he tends towards floaty, loopy balls which are easier for defenders to deal with – means that he's likely to end up as more of a depth option on the wing than he is a starter there, but he's more or less the complete package as a central attacking threat when deployed behind a main striker. A scorer and a creator, a dribbler and a creative passer, a good athlete with the brains to reach the top – in other words, a jack of all trades and master of most.
The tactical fit
A player is only a good signing if they fit in with your squad and tactical plan, of course – but he should be a really strong fit for Newcastle in their primary 4-3-3 system. One thing Newcastle lack is a central attacking midfielder who can link up the midfield and front line effectively – and Kudus would be perfect in that role.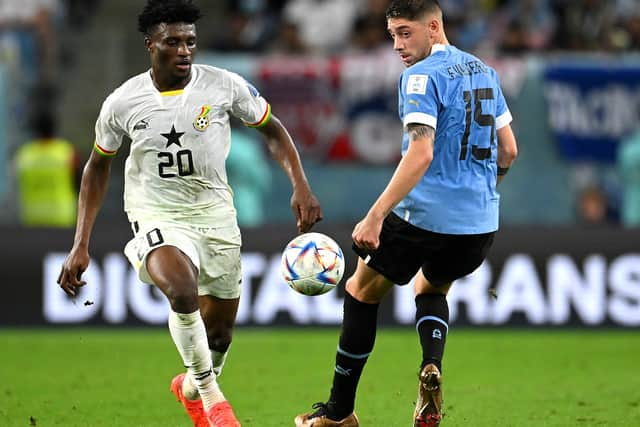 Newcastle have the right kinds of players – Bruno Guimarães especially – to set up a superb double-pivot behind a key creative midfield outlet who can take the ball forward, and Kudus couldn't suit that particular role better if he tried. He's got the dribbling skills to shuttle the ball quickly up to the front line, the knack for finding space to operate in pockets between attack and midfield, and the skill with quick interchanges to set up good passing chains with either wide forwards coming narrow, or Newcastle's ball-carrying deep midfielders – like Bruno and Joe Willock - if they come past him.
He's got the pace and willingness to work as part of a coherent pressing unit out of possession as well, and the eye for goal to allow him to carry on past the last man, offering Eddie Howe huge flexibility in puncturing opposing defences. Whether Newcastle need to get in behind a high press or play in front of a low block, Kudus has the right skills to make a huge difference.
It's that flexibility that makes him an even better buy than, say, a Maddison – not that the Leicester City playmaker wouldn't be a fine purchase, but Kudus has the broader range of skills, is better out of possession, and creates more tactical options for a coach. In other words – he's brilliant, he's available, and if Newcastle have a sniff of signing him, they'd be mad to turn it down.
We want your feedback on 3 Added Minutes - details here
From Kudus' perspective, Newcastle make perfect sense as well. Taking the rumoured options he has at face value – at Manchester United, he'd be linking up with former coach Erik ten Hag but would also be directly competing with Bruno Fernandes for a role they play very differently. At Arsenal, he'd be competing with Martin Ødegaard for a role the Norwegian has made his own. At Newcastle, he would be the first choice, and would have the chance to establish himself as being every bit as good as those players. Let's see what happens – but on paper, the stars seem keen to align themselves.