It's been a hell of a season for Leicester City, an unending hangover of a campaign, a Monday morning migraine from the first match to the last. They may or may not get unexpectedly relegated, but whether they survive or not, the Foxes will need to put the equivalent of a few Beroccas through their system this summer. That means a squad refit, and the direction that takes could depend on how much money they can get for James Maddison.
Four Premier League clubs have been linked with the England midfielder over recent months, and with his contract running out in 2024 and a renewal looking unlikely, there's a good chance he'll be off to pastures new by the end of August. If Leicester do indeed wind up in the Championship, it's effectively guaranteed.
The question this article hopes to answer isn't which club most needs Maddison – but which club Maddison most needs to go to. He's currently behind others in the England pecking order and will hope to build on the campaign of public pressure which put him on the plane to Qatar over the winter – but with form harder to come by and his team stumbles groggily down the home straight, he needs to put a fresh spring in his step.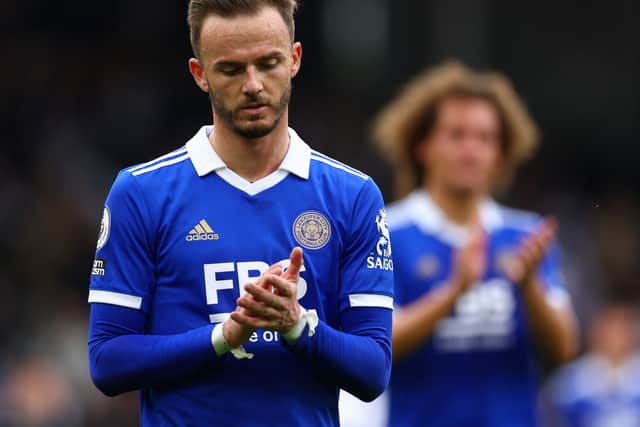 So where will he get the best kick-start to the next stage of his career? Let's take a look at those four clubs that the press have put in the frame, and see where we reckon he should make his next home…
Chelsea
Reports first emerged that Todd Boehly might be looking to add to his expensive collection of attacking midfielders in February, and with rumours swirling that Mason Mount may be on the way out, Maddison could be lined up as a replacement.
Maddison would probably get plenty of game time, with Chelsea rather oversubscribed in wide areas but less so in the number ten role – or he could end up competing directly with Kai Havertz if Chelsea finally sign a proper striker. There's also the minor concern that the Stamford Bridge outfit are currently a barely-functional garbage fire. A new manager – presumably Mauricio Pochettino – may sort things out and a better summer's business could set things right, but any player moving to West London would have to accept not only the lack of European football but also the risk that this season's disasterclass wasn't a one-off. If we were Maddison's agent, we wouldn't answer the phone.
Liverpool
The rumour mill has dropped Anfield in to the mix as a possible destination a few times, even if Alexis Mac Allister does seem like a more likely move for the Merseysiders to make at this point. Still, Maddison might intrigue the budget-conscious owners if Leicester go down and cut the price on their star asset.
Maddison is not, on paper, a natural fit for a Jürgen Klopp team. He's a willing enough runner, but Klopp's strategy of hard and high pressing doesn't play well into Maddison's physical traits, and he's the kind of player who wants to be the focal point of attack, and Klopp's strategy doesn't make room for a creative hub in a number ten role. Perhaps they would rejig things a bit – and the midfield is definitely in need of a refresh – but this feels like a square peg in a round hole situation, a case of the press adding two and two and getting five. Liverpool need a new midfielder or two, but not necessarily Maddison – and Maddison probably doesn't need them.
Manchester City
There is one question and prospective City player needs to ask themselves – are they willing to becoe a pawn in the endless game of Pep Roulette? Are they up for extended first-team runs followed by sudden demotions to the bench? Are they willing to be sacrificed seemingly at random in the name of the greater tactical plan?
Also, are they willing to directly compete with Kevin De Bruyne for a starting spot? Most City signings get a solid amount of time once Guardiola is satisfied that they're up to speed with the system, but you only need to look at Kalvin Phillips to see what happens if you fall behind a favourite in the pecking order. Maddison has a lot of the qualities City want but it's a hard sell to say that he should be excited to move to the Etihad. It would be a very big risk – albeit one with huge reward. If there's any club where you can be sure of trophies, it's Manchester City.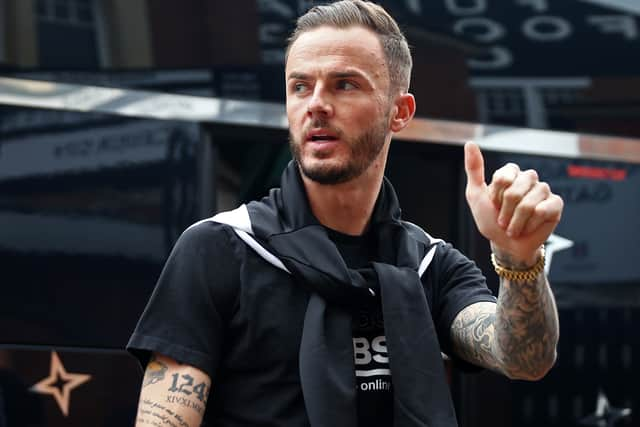 Newcastle United
Let's assume, for a moment, that Maddison is, like many players, sets his personal ambitions above the idea of winning medals as one cog in a larger machine. If he wants silverware, he should hope City make an offer. But if he wants to be the best version of the player he is now, and if he wants to dazzle Gareth Southgate into making him an England regular in time for Euro 2024, he should make the move to Tyneside.
Newcastle have been linked more heavily with Maddison than any other side, and the interest seems genuine. Their midfield set-up should suit him, and there's room in the way they play for someone to step up as the creative midfield nexus. They're a big team with fresh reserves of cash and lofty ambitions, and could easily challenge for silverware over the next few seasons. Best of all, if they do sign Maddison, it's with the intent of making him one of the stars of the show. No rotation systems, no tactical sacrifices for the greater good – this is a team early in an extensive rebuilding project, and if they want Maddison it's to build it all around him. The money would probably be decent too, let's be honest.
So there we are – if we were in charge of Maddison's career, we'd get the compass out and head due north. Well, that looks like it would take you to Hartlepool, actually, but you get the gist. The Pool would probably be keen too, mind you, and the National League is probably a pretty good laugh.