If reports are to be believed, no fewer than nine Premier League clubs sent scouts to watch Mouhamadou Habib Diarra against Troyes. They'll all have watched as he drilled a ferocious 20-yard strike into the goal having created the opening himself with a surging run from midfield – and they'll all have come away with the impression that the 19-year-old midfielder could be worth every penny of the £20m he's rumoured to be worth.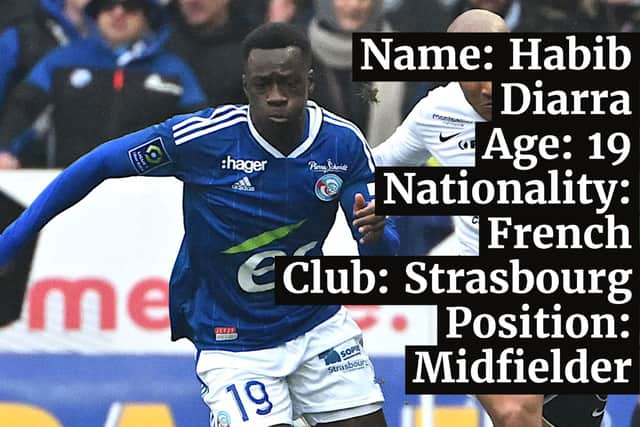 Aston Villa and Wolves are the latest teams to have their names added to the list of suitors – a list which supposedly includes both Leeds United, Leicester City, Spurs, West Ham United, Crystal Palace and both Manchester clubs. And that's just the English clubs who are keen, although Diarra has said publicly that he "dreams" of the Premier League. There is set to be a serious bidding war for Diarra's services this summer, and whoever wins the race will have landed a very promising young player indeed.
Born in Senegal in 2004, he moved to France at a young age and has represented his adopted homeland at Under-16 and Under-19 level, breaking into the Strasbourg first team in 2022 during a campaign in which they finish sixth in Ligue 1, well above all expectations. This season has been tougher for his team – they sit not so far above the drop zone – but it's been a strong personal campaign for Diarra, who has firmly established himself in the first team and gradually built up that lengthy list of admirers.
A versatile midfielder, Diarra has mostly played for Strasbourg as either a right-sided midfielder or a creative central player – but he's also played on the left and as a deep-lying playmaker as well. He doesn't push too far up the field, preferring to receive the ball in midfield and carry it forward from there rather than looking to get in behind defenders.
He's a fine dribbler with excellent close control and an easy, graceful running style that's easy on the eye and helps keep defenders off him as he advances – but he's not freakishly fast, which may explain why he likes to take the ball from deep positions. He's also a strong mid-range passer and spreads play quickly and effectively when he's playing in the centre of the park, and a wonderful crosser of the ball when he plays wide.
Physically, he's strong and has a great centre of gravity, but isn't especially imposing at 5'10" and can't be regarded as any kind of midfield destroyer – he doesn't tend to press ferociously and while he's decent enough in the tackle, he doesn't turn the ball over too much. He's a player you can give the ball to and expect something from, not someone who gets hold of the ball himself too often.
He's also not a prolific goalscorer, and while that long bomb against Troyes suggested a previously hidden talent, it was his first senior goal scored from outside the box – but having not scored for Strasbourg before April this year, he's since hit three goals in six games, so he may be learning to add a greater goal threat to his game as well.
He'll also need to develop his game awareness to cut it at the very top level – he has a habit of not scanning well enough when he picks up the ball and can give it away softly by failing to spot an opponent who can take it off him or cut out a pass. His short-range passing stats are somewhat concerning for a midfielder, and he gives the ball away with short passes almost one time in five. He's only 19, so a propensity towards cheap giveaways is understandable, but should serve as a warning that he is far from the finished article as it stands.
The finished article could be something special, though – he carries the ball supremely well, has an eye for a defence-splitting pass and could be a superb link-up player between midfield and attack, especially if he starts scoring on a consistent basis. It's easier to imagine him remaining in the centre of the field rather than playing on a right, simply because his preferred deep starting positions sit awkwardly with modern tactical orthodoxy, but with the right coaching he could end up being a hugely versatile player as well, one who can effectively cover multiple positions for a club.
We want your feedback on 3 Added Minutes - details here
It's hard to say who will win the race for Habib's signature at this stage – with so many sharks circling, a clear frontrunner is hard to discern – but he could be quite the player if he gets the right environment to work in, and gets the right advice to cover his current flaws. He's wonderful to watch, and we can't wait to find out where he winds up.
More from The Wonderkid Files