The 11 worst Blackburn Rovers players of the 21st century - including former Liverpool & Villa stars
A starting XI of the worst players to have played for Blackburn Rovers since the turn of the century - including one of worst strikers in Premier League history.
Watch more of our videos on Shots! 
and live on Freeview channel 276
Visit Shots! now
I'll be honest, I have a certain distaste for mocking the efforts of professional football players, even the ones who quite plainly didn't make the grade - but it is does hit a little different when you're talking about players who were really bad for the team you support.
I've had to endure quite a lot of bad football over my years as a Blackburn Rovers fan, but today I've put together a starting XI of the very worst players to turn out for the team, from expensive flops to veterans who had clearly lost the will. Some of them have excuses for the depths they plumbed in the blue and white halves, but a few certainly don't. These are the players that haunt my dreams, lined up onto a neat 4-3-3 teamsheet for my sleep paralysis demons to taunt me with.
Goalkeeper - Christian Walton
Blackburn have been fairly fortunate with goalkeepers over the years, and it would be harsh to be go in too hard on Walton, who was borrowed from Brighton & Hove Albion for the 2019/20 season after some very impressive performances for Wigan Athletic during a pair of loan spells in the preceding seasons. Unfortunately, he couldn't keep the standards he showed for the Latics up, and was a persistently frustrating figure, especially when asked to claim a cross - something he struggled with endlessly. Throw in a few straight-up clangers, and Rovers weren't in a rush to invite him back. Now at Ipswich Town, where he played rather well during their promotion campaign from League One.
Left-back - Hakan Ünsal
If the Turkish full-back's name rings a faint bell, it's probably not because of his performances at Ewood Park, where he managed one distinctly uninspiring season before heading back home to Galatasaray. His real claim to fame was as the unfortunate recipient of the most absurd red card in World Cup history. Trailing 2-1 to Brazil in a group stage game in 2002, Ünsal tried to hurry a corner up a bit by kicking the ball with mild firmness towards Rivaldo, a fantastic player but not one possessed with the Corinthian spirit. The ball hit Rivaldo's shins with minimal force, and the great man went down clutching his face and screaming in agony. Somehow, the referee bought the obvious con and sent poor Ünsal off.
Centre-back - Elliott Ward
Ward was a towering figure who used his impressive height to head anything aerial a mile away from the Blackburn box - sadly, he wasn't so adept with his feet. When asked to play the ball on the ground, he did so with all the grace and poise of a newborn foal on a surfboard. Never more than a back-up during his two-and-a-half years on the books, he left for Notts County in 2018 and is now working as an academy coach at West Ham United.
Centre-back - Myles Anderson
Anderson never actually played a senior game for Rovers after signing from Aberdeen, but mention of his transfer still makes many fans' blood boil. He was one of the first arrivals of the disastrous early Venky's era and while the purchase of a young defender who didn't make the grade might not seem especially problematic, the issue was that his father, Jerome, was the agent who advised Venky's through their purchase of their club and their early tenure. The deal reeked, and he is now playing for Heybridge Swifts, his 17th club since leaving Blackburn. Most of his career has was played out in the National League and, curiously, the lower tiers of the Italian pyramid. Probably closer to his level.
Right-back - Bradley Orr
Probably the worst player in the modern history of Blackburn, and that's up against some stiff competition. He was a member of the squad that got relegated from the Premier League and his consistently appalling attempts at defending were a pretty substantial part of the problem. Failed loan spells at Ipswich, Blackpool and Toronto followed before he put his career out of its considerable misery at the age of 32. Made the news again in 2021 when he was fined for refusing to close the soft play centre he runs in Merseyside during the coronavirus lockdown, after attempting to cite his non-existent rights under the Magna Carta. Which gives you the measure of the man, really.
Midfield - Dickson Etuhu
Probably the player who has annoyed me the most during our long stay in the Championship. We've had plenty of bad players, but few who were paid so much to move so little. Etuhu, who had spells at Norwich City, Sunderland and Fulham and somehow has 33 caps for Nigeria, was signed to be an immovable object in midfield but took that a bit too literally, often seeming to have his feet encased in concrete as he lumbered about near the centre circle. Now retired after a brief spell in the Swedish fifth division.
Midfield - Danny Murphy
Once a brilliant player with Fulham, then a half-decent one with Liverpool, and then an absolutely useless one for Blackburn. Murphy was simply some way past it by the time he rocked up at Ewood Park and no longer seemed to possess the pin-point delivery and accurate passing that had marked him out earlier in his career. Sadly, the Rovers version offered the same quality and entertainment value as his deeply irritating punditry. A rare player who was proven to not even be able to talk a good game.
Midfield - Hérold Goulon
A Frenchman who had a promising spell at Le Mans before arriving in Lancashire in 2010 - sadly, the promise was not fulfilled, and after four very bad league appearances he was off to Poland. He rather ironically claimed that he moved to the Ekstraklasa to play good football, something he hadn't appeared to be capable of. Still going in Malaysia, where he went moderately viral not so long ago when he scored a free-kick from his own half. He was also given an eight-month prison sentence while playing in France for assaulting his girlfriend. In other words, a player Rovers should never have signed for multiple reasons.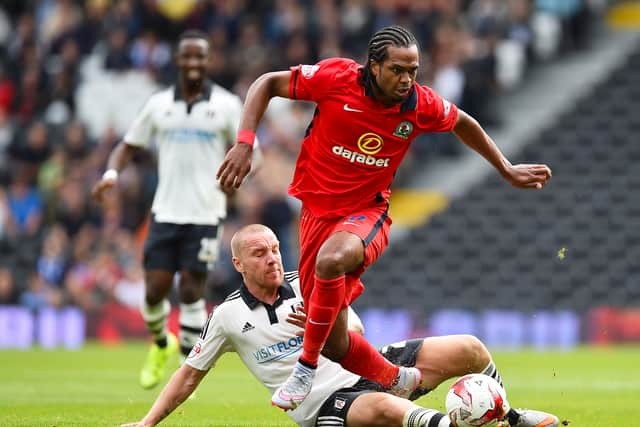 Forward - Nathan Delfouneso
Not all that long before joining Blackburn, a young Delfouneso had been tearing it up for Aston Villa and was regarded as one of the most promising strikers in the Premier League. Sadly, it didn't work out at all, and if you'd told most Rovers fans that the Delfouneso they saw play was drunk half of the time, they'd believe it. Managed just one goal in 15 league games before shuffling slowly down the leagues. Now plays for Chorley in the sixth tier of the English game.
Forward - Chris Brown
You have to feel for Brown. Not only does he have to share his name with the odious rapper who beat up Rihanna, but he had to endure having a Twitter account named "Has Chris Brown scored yet?" tracking his every move over two seasons at Blackburn. Sadly for the forward, who had respectable spells at Preston North End and Doncaster Rovers, the answer was still 'no' when he left the club, two years and 41 games after joining. 32 years old when he left the club, he never played again.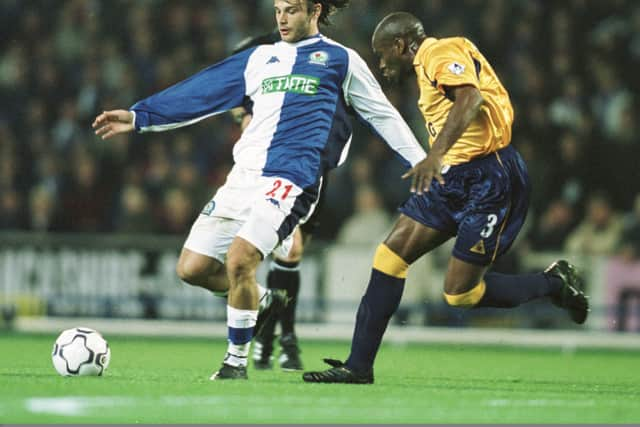 Forward - Corrado Grabbi
The logic behind the club record deal for Grabbi, who arrived for £6.75m in 2001, seemed sound if you didn't think about it too hard - given that Blackburn couldn't afford to buy the best striker in Serie A, why not see how the best striker in Serie B would do? He'd hit 20 league goals for Ternana the previous year, but managed just two for Blackburn over the next three years, and it was apparent from very early on that he simply wasn't good enough for the Premier League, and it didn't help that he had personal issues during his time in Lancashire. Still sort of beloved at Blackburn in a faintly patronising way.