Donkey lashers and nights of shame - the West Lancashire derby is back
Blackpool and Preston North End are set to resume hostilities
Watch more of our videos on Shots! 
and live on Freeview channel 276
Visit Shots! now
"The real rivalry started that night", reckoned Blackpool legend Jimmy Armfield. The night in question was Monday 13th April 1970, when the Tangerines beat Preston North End 3-0 in the old Second Division. Blackpool were promoted back to the top flight – and Preston were relegated to the third tier for the first time in their history.
In a 2007 interview with FourFourTwo Armfield, a one-club man who played over 600 times for Blackpool, recalled the team bus passing their fans singing and dancing by the side of the road as they made the 15-mile journey back home on foot. They would have made it home in the small hours. 15,000 Blackpool fans were reportedly inside Deepdale that night, with a few thousand more stuck outside.
Tomorrow, the two sides continue hostilities in the Championship. They haven't contested the West Lancashire Derby in the top flight since a 1-0 Preston win at Bloomfield Road in 1961 – but these matches so often seem to have high stakes at one end of the table or the other, whichever tier they're played in. This time around, Blackpool are deep in relegation trouble and a win for Preston would drive the nail a little further into their hated rivals' coffin.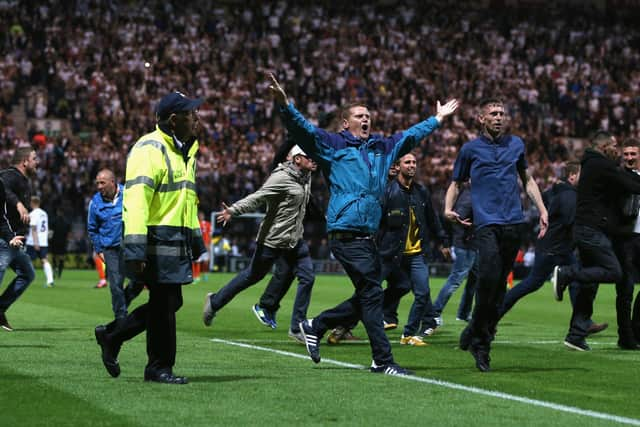 Up until that game in 1970, the rivalry between North End and the Seasiders had been relatively affable - a little bit of local needle and one-upmanship over whether Stanley Matthews or Tom Finney had been the better player - but nothing especially over the top. But the combination of such a significant result and the birth of hooligan culture in the seventies meant that would never be the case again, and the West Lancashire Derby is now one of the most bitter in British football, with a significant history of violence behind it.
Blackpool's hooligans, known as the 'muckers', were one of the most violent and feared of football's 'firms' in the seventies and eighties, drawing a special mention in a special BBC News report in 1985 for their aggressive antics. Blackpool fans twice tried to burn down the then-crumbling Town End stand at Deepdale in 1977, and in 1978 during a concert by punk band The Vibrators, disorder between the two sets of fans saw a young Preston supporter stabbed to death.
Which should not imply that the hatred and hooliganism that has scarred this fixture's past is an entirely one-sided affair. Running fights between the two sets of fans around a match at Deepdale in 1996 saw 78 arrests, pubs trashed in the town centre and multiple pitch invasions. Both the Lancashire Evening Post and Blackpool Gazette described it as a "night of shame". That match took place on a Friday night for TV coverage – not something the authorities are liable to permit again, and indeed Saturday's match will take place at 12.30 with a substantial policing operation in action.
There have been outbreaks of violence between Blackpool and Preston fans – puerilely known as 'Donkey lashers' and 'Nobbers' to each other – this century in the supposedly post-hooliganism era as well. In 2006 fans encountered each other at Preston station when travelling back from different matches, and two British Transport Police officers were injured in the ensuing ruckus. When they played the following year, their first league encounter for seven seasons, 19 people were arrested after Blackpool fans went on a minor rampage in Preston, smashing shop windows and ripping the seats out of the busses that had been chartered to take them to the stadium from the train station. About 30 Preston fans retaliated by attacking a pub in Blackpool, and in 2013 a pitch invasion by Preston fans saw a match steward trampled.
All of which is to say that the fans have ensured that the stakes are enormous in any derby game between these two teams – and they will be particularly high on Saturday. With eight games left in the season, Blackpool are four points from safety behind teams with a game in hand. They have won just two of their 11 league games since Mick McCarthy took over from Michael Appleton in March.
There are signs of late revival, however. One of those two wins, on March 14th, was a remarkable 6-1 thrashing of QPR, themselves being slowly and surprisingly sucked into the relegation battle. Their most recent result was a hard-fought 0-0 draw against a Burnley side that have dominated the division. We are not quite at the stage of snookers being required, and hope is not lost.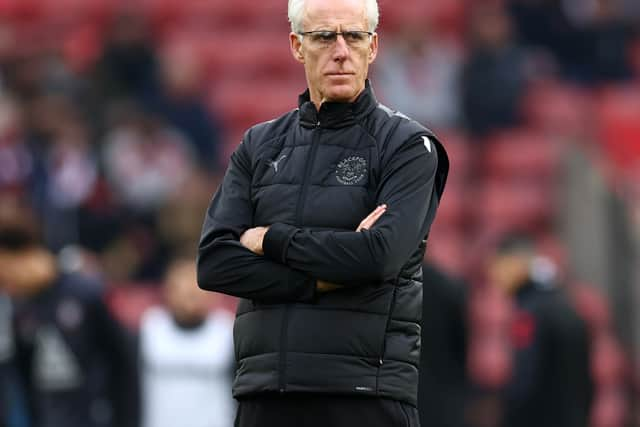 Preston, meanwhile, need a win to keep alive their own faint hopes of a play-off run. They are seven points shy of sixth-placed Millwall but have half a dozen teams between them and a chance to make the post-season. Mid-table is more likely, but if hope can be maintained at their expense of their hated rivals, it would be all the sweeter.
Whatever the result, this will not be the most significant derby between the two. Apart from the 1970 match that saw the sides spiralling in different directions, there was the game at Bloomfield Road in 2000, when David Moyes' Preston drew 0-0 to confirm their promotion to the second tier. To rub salt into Tangerine wounds, a member of the Blackpool staff was tasked by the EFL with handing Moyes's side a celebratory banner to mark the accomplishment – which was deliberately given to them upside-down.
That kind of pettiness has also been one of the hallmarks of West Lancashire showdowns – and a rather more entertaining hallmark than the violence that has permeated these matches through the years. Former Preston manager Gary Peters, who coached the Lilywhites in the mid-nineties, was a master of the art of juvenile needling and refused to say the word Blackpool out loud, preferring the phrase "that lot with the tower" - never minding that he was a southerner whose 15-year playing career never saw him live north of Reading. It nearly got him beaten up in Deepdale car park once, but he faced a bunch of Blackpool fans down and got out unscathed.
We want your feedback on 3 Added Minutes - details here
And that juvenile spirit came to national attention in 2012 when a producer on Channel 4's Countdown celebrated North End's relegation to League One by making sure the conundrum was 'PNECRISIS'. Presumably any Preston fans watching would not have seen the funny side, but if they're still with us then they have an ideal chance for a good giggle back if Blackpool are defeated at Deepdale this weekend. Whoever wins, and whatever divisions the two teams are in the next time they meet, one of England's fiercest rivalries will not be any less ferocious for it.
Oh and the answer to the condundrum was, by the way, 'priciness'. Yes, I had to look it up.