Fine margins. So often they are the fulcrums on which football hinges and lurches, the moments of fickle chance that represent the first dip of a quill into the inkwell of recognition. At two o'clock on Saturday afternoon, Arsenal's credentials as realistic title winners looked to by laying in tatters on the Villa Park turf. By five, they were back at the top of the table in possession of a slender points advantage, a game in hand, and a sudden surge in momentum.
Twice the Gunners fell behind against Aston Villa, managed so cannily by former custodian Unai Emery. Twice they grappled back to a state of parity, relieved by flashes of genius from Bukayo Saka and Oleksandr Zinchenko. But in truth, even a draw would have felt like a sledgehammer blow. Pep Guardiola's imperious Manchester City side have distorted the expectations of a title challenge so monstrously in recent years that anything other than near perfection is often rendered entirely defunct.
Mikel Arteta knows this better than most. He has, after all, spent as much of his coaching career as the stick as he has the pinata. The Spaniard's touchline antics have come in for criticism in weeks gone by - and he simmered and glowered for much of Saturday's encounter too - but ultimately his histrionics are underpinned by a refusal to accept defeat and a gritty tenacity that has been absent from Arsenal's character for far too long.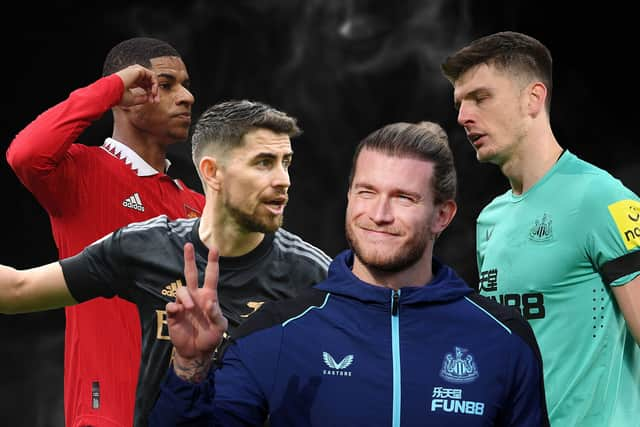 In the bitter end, it was a streak of fortune that would rescue the Gunners. Jorginho, maligned by many as a leaden-legged last resort upon his recent arrival from Chelsea, cannoned a speculative effort off the bar, off the back of Emi Martinez's head, and into the back of the net. Minutes later, Gabriel Martinelli would peel away from the Villa defence to tap into an empty goal after the Argentine stopper had sauntered into alien territory to contest an attacking corner - much to Emery's chagrin.
Saturday wasn't over yet, though. Manchester City have played 24 games in the Premier League this season.They have dropped points in exactly one third of them. For a team who have redefined the standards of modern English football, that feels almost unthinkable. This time it was an 84th minute tap-in from Nottingham Forest's satisfyingly-named Chris Wood that deprived the champions of all three points and preserved Arsenal's precarious position at the summit of the table. The Kiwi's goal was checked over by VAR for a potential offside before being officially awarded. Again with those fine margins...
Less fine was the margin by which Nick Pope committed one of the most tragicomic red card offences in recent memory later in the evening. The Newcastle United number one, such a pillar of dependability this term, was dismissed after he got himself into quite the pickle at St. James' Park. With the Magpies trailing against Liverpool, Pope came charging well out of his penalty area to deal with a looping pass over the top, only to emphatically stumble and faceplant, overtly handling the ball in the process. Seriously, he was so far from home that he may as well have been paddling in the Tyne.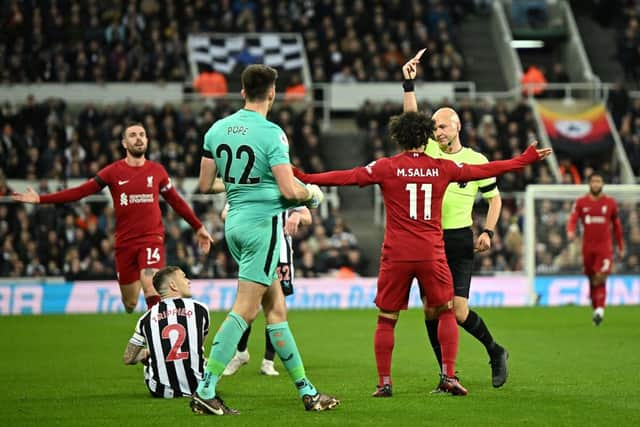 In the short term, the ramifications for Newcastle were painful. Despite having looked like the better side for large swathes of the opening exchanges, any lingering hopes of overturning their 2-0 deficit evaporated as rapidly as the look of realisation dawned across Pope's anguished face. Casting an eye ahead to next weekend, things get worse still.
The Toon stopper will now be ineligible to play in the Carabao Cup final against Manchester United, as will understudy Martin Dubravka, who is cup-tied having featured for the Red Devils earlier in the campaign. Enter stage left, Loris Karius.
Few careers have imploded quite as suddenly or completely as the German's did in the wake of the 2018 Champions League final. It was he who gifted Real Madrid two goals in a 3-1 Liverpool defeat, he who became a figure of widespread mockery and derision, and who saw his career in England disintegrate like a tissue in a washing machine. Indeed, Karius has not played a competitive match for a Premier League club since that fateful night in Kyiv.
And now, in all probability, he will be thrust back into the limelight next Sunday at Wembley, the weight of nearly 80 trophyless Toon years on his shoulders. Idle observers often make glib and rote comments about how you couldn't make this kind of thing up. Of course, that is nonsense. If David Foster Wallace can write Infinite Jest then I'm pretty sure somebody somewhere could just about manage to bash out a tale in which a third choice keeper has to unexpectedly play a game of football. Nonetheless, Karius' subplot - and the potential shot at personal redemption that it offers - will make for fascinating viewing.
In the immortal, slightly bastardised words of '70s rock darlings Kansas: "Karius, my wayward son, there'll be peace when you are done. Lay your weary head to rest, don't you cry no more".
If Karius is to bring joy and harmony to the Geordie nation, however, he will first have to quell the looming threat of Marcus Rashford. The Manchester United forward's brace against Leicester City on Sunday took him to 24 goals for the season, and under Erik ten Hag, there is a strong, strong argument for him having hit upon the best form of his career to date.
At the time of writing, Rashford looks simply unstoppable. His movement, his predatory instinct, his composure; all of them have reached new heights since his return from the World Cup. To ponder on the reasons why seems almost futile. The fact of the matter is that the player Rashford always promised to be has fully arrived, and there are no signs whatsoever that this is some kind of freakish blip. Newcastle should be very, very scared.