Ivan Toney is not blameless, but football needs to take a long look at itself over gambling habits
Ivan Toney has admitted to breaching the FA's gambling regulations on several occasions.
Watch more of our videos on Shots!
and live on Freeview channel 276
Visit Shots! now
Hello, and welcome to yet another edition of 'Football is doomed and all we can do is passively watch on as the flames of greed and hypocrisy envelope everything we hold dear'. I'm your host, The Ghost of Decency Past, and this week we'll be sinking our chipped incisors into another juicy, hulking slab of doublethink. So buckle up, submissive dunces one and all, because the men in suits are at it again, and there's absolutely nothing - NOT A DARNED THING - that you, or I, or anybody can do about it. Muhahaha!
Ivan Toney, in case you haven't heard, is in a bit of trouble. The Brentford striker has pleaded guilty to many, many breaches of the FA's rules on betting regulations, and is expected to serve a lengthy playing ban as a consequence. The relevant authorities will now assess Toney's response to their charges before issuing a hearing date, after which the Independent Regulatory Commission will reach a verdict and issue a subsequent punishment. Those are the bones of the palaver, the sinewy gristle of the scandal.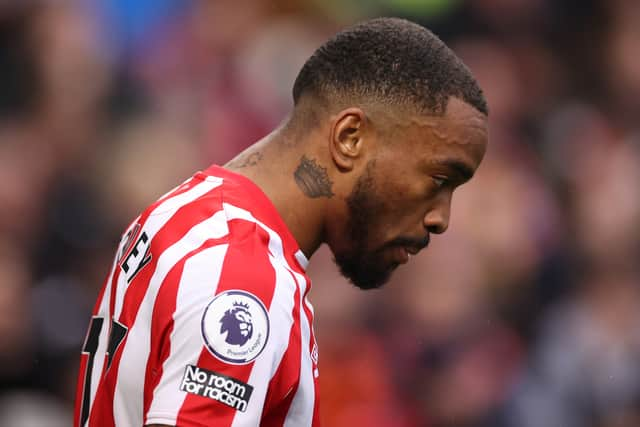 Now, by his own admission, Toney has done wrong. The FA has rules, and he has broken them. Beyond that, none of us currently know the circumstances of his repeated transgression; was it arrogance, addiction, or something else entirely? In truth, it's relatively immaterial, and speculation does little good for anybody - not that it will stop the idlers of the Twittersphere from gathering like fishwives outside the paper shop to flap their billowing, clueless tongues.
But while nobody is suggesting that Toney is blameless, his case does once again provoke uncomfortable questions about football's relationship with the gambling industry. Here we have a 26-year-old who has spent the vast majority of his career playing in a Football League system that is principally sponsored by a betting company. He has represented several clubs, including his current employers, who have borne the names of bookmakers on the front of their matchday kits. He is, through no choice of his own, a poster boy for a parasitic racket, and now he will be punished for using the exact services that he has been forcibly made to hawk.
In the United Kingdom alone, it is estimated that some 430,000 people are suffering from compulsive gambling habits. Of that figure, some 95% do not seek help for their problem. Gambling can, and does, ruin lives, and its detrimental effects, both financial and mental, are a draining and dangerous burden to shoulder. In times of economic downturn, like the one stretching before us in crushing bleakness, an increased number of people turn to gambling as a desperate means of escape. The advent of technology has made the industry more accessible than ever before, and the predatory approach of persistent advertising campaigns only serves as a further enabler for the downcast and the vulnerable. And that's without getting into any kind of discussion on the effects that such marketing has on younger audiences.
Addiction is an illness, and should be treated as such. Anything that preys on or encourages the proliferation of that illness is, to put it simply, morally bankrupt. There have been realisations of this nature in the past. It's why clubs are no longer sponsored by lager brands, and why Formula One cars don't bomb about with Marlboro's logo plastered across their spoilers any more. In line with this precedent, the right, proper, and logical thing to do, therefore, would be to ban, or at least substantially limit, the amount of gambling iconography visible in football.
But you know just as well as I do that the people with the authority to sanction any kind of meaningful change won't bother because the status quo stands to make them too much money. They can peddle their empty platitudes about responsibility and knowing when the fun has stopped as much as they like, but they don't care, and it's hard to imagine they ever truly will.
None of this is to say that Toney has a recognisable gambling addiction; again, to reiterate, speculating on such things is just not necessary. May anybody who is suffering get the help they need and deserve. But his ongoing case reminds us that while football's most influential bodies are eager to reprimand those who do bet, they are also very, very happy to revel in the spoils of the industry. No matter which way you look at it, that's pretty lousy.