Catching up with all the latest news from the Budget – by which I mean catching up with all the doom-mongering and general fiscal gloom that surrounds these impecunious isles – got me thinking… why doesn't football have a budget?
I mean, there are many very sensible reasons, obviously, but wouldn't it be fun if clubs had to host an annual press conference where the manager hoists a big red box aloft and tells us how much money they'll be spending? You could have Pep Guardiola explaining why a remarkable injection of billions raised entirely from merchandise sales has provided Manchester City with a transfer budget of £700m for the coming year. Sean Dyche sent in front of the press to tell us that, due to a challenging financial climate on Merseyside, the cost of a tikka pie from the concession stand will be increasing by 20p in the coming season.
We could even borrow from another page of the political playbook by having the opposition ask questions – have the other 19 managers in the room shouting obscenities and querying their numbers. One way to reduce the financial input of Asian betting firms of questionable legality would surely be to have Jurgen Klopp bellowing probing questions at everyone else.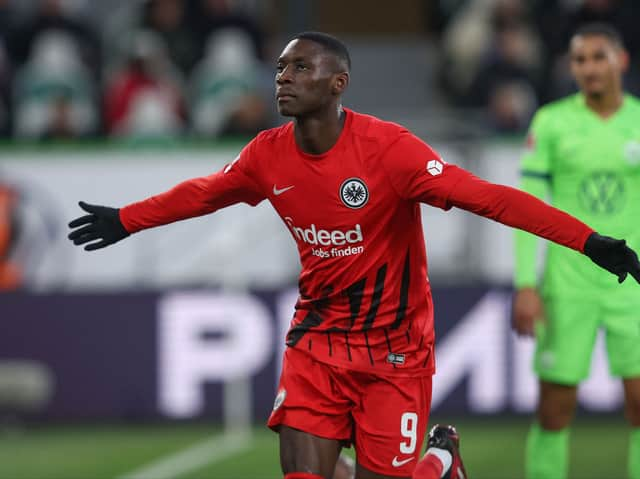 Anyway, I digress. You're here for transfer rumours, and having covered the many potential incomings at Newcastle United yesterday, let's dust off the ledgers and see who else has got some cash to splash this summer.
Here's a shock for you – Manchester United want a striker! We've been reporting on their fervid pursuits of Harry Kane, Victor Osimhen and everyone else who has stood inside a penalty box in their life, and now the Glazers have run the numbers and found another forward they can afford. Eintracht Frankfurt's Randal Kolo Muani, the French national team's World Cup super-sub, may be on his way for a princely £105m, according to German tabloid Bild. The price of half-time M&Ms will go up by 5p in response.
Another team who absolutely love some financial finagling are Barcelona, who are believed to have started greasing up another economic lever so that they can pay Ilkay Gundogan's wages. The German midfielder's contract at the Etihad expires this summer, but I'm sure his wage packet will be very reasonable – Spanish outlet AS had the scoop on that one.
Chelsea's budget would make truly spectacular viewing, likely less a dry statement of financial affairs than the spectacle of a sunglasses-clad American dancing on the table, throwing dollar bills at everyone like a sort of reverse stripper. They're up for throwing some Benjamins in the direction of Borussia Moenchengladbach midielder Manu Kone, according to The Sun – but in a nod to the very real need to actually balance the books at some point they are ushering Ruben Loftus-Cheek towards the fire escape, with AC Milan and Roma joining several Premier League clubs in keeping tabs on the one-time England international, per Football Insider.
We want your feedback on 3 Added Minutes - details here
Finally, over to a country where the idea of a publicly-scrutinised sporting budget is less likely to wash. Red boxes in Saudi Arabian soccer would probably just contain enormous wads of high-denomination notes, and Al Hilal have found a few in a garage somewhere, so they fancy signing no less a luminary than Lionel Messi himself. Marca reckon that Saudi tourist agent Messi would get a contract of a mere €220m. Tax free, which is one of the Argentine's favourite phrases.