We live in an age of head-spinning transfer fees, chequebooks flapping in the wind as the world's largest clubs play an extended game of Numberwang with each other. £86m for an Antony? No problem. Nine digits for a Mykhaylo Mudryk? Par for the course.
So it's been a pleasant diversion to go back and revisit some of the finest pieces of bargain hunting in Premier League history. It's not easy to nail down what qualifies as a bargain, but I've tried to veer in the direction of the very cheapest – Eric Cantona's seemingly miniscule £1.2m transfer tag was a decent whack for the time, and while Vincent Kompany represented some incredible value for money at £6m, we're still talking about numbers that are several times more than most of our combined lifetime earnings. Well, mine anyway.
Here, then, are ten cut-priced deals that would have David Dickinson salivating like Pavlov's dogs in a campanology class.
10. Tugay Kerimoglu – Blackburn Rovers, £1.3m
Any number of Valentine's day cards and Mastercard adverts will tell you that love is priceless. It isn't, it costs £1.3m from Rangers. That's how Blackburn Rovers fans feel about their creaky, chain-smoking midfield conductor, whose sublime passing and knack for pinging it into the top corner from thirty yards made him the cult hero's cult hero at Ewood Park. Had he paid any attention to something called "health and fitness" he probably would have finished his career draped in medals, but he made do with a 0-0 draw against West Brom and the undying love of everyone in the small portion of East Lancashire he made his own.
9. Jay-Jay Okocha – Bolton Wanderers, free
It's hard to imagine it now, but there was a time when Sam Allardyce was the hottest and most progressive manager on the block. Long before he earned his stripes as a relegation-thwarting long ball merchant, he was spicing things up at the old Reebok Stadium with a string of glamorous flair players persuaded to swap Europe's biggest clubs for a gig on the outskirts of Greater Manchester. Youri Djorkaeff and Ivan Campo will always have a place in Boltonian hearts, but Okocha was the biggest and best, signed from PSG and providing a four-year stint of flair, fun and mazy dribbling. A wonderful player who changed his club forever.
8. Nicolas Anelka – Arsenal, £500k
This is the first time Arsene Wenger pops up in this list. It won't be the last. Anelka seemed like a bit of a leap of faith when he arrived from Paris – an unproven teenager with talent to burn but no track record to speak of. This was a largely unknown manager rolling the dice on a largely unknown player – but over the course of two years any dissenters in Highbury found themselves made to look pretty foolish as Anelka racked up 23 goals in 65 games before moving on to Real Madrid for £22.3m. A pretty tasty profit, and a pretty handy starting price for a player who would go on to become the most expensive in the world over the course of his career.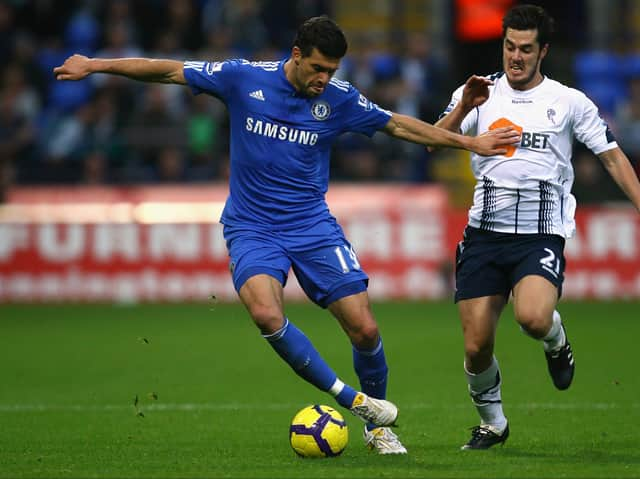 7. Michael Ballack – Chelsea, free
It's perfectly possible that Chelsea would have won the three FA Cups and one league title that they picked up during Ballack's tenure without him – but adding one of the very best midfielders in the world to your team without paying a brass penny was probably what sealed the deal. Every big club in Europe wanted Ballack when his contract ran down at Bayern Munich, but it was Chelsea who won the race and got to enjoy four years of technical mastery, pinpoint passing and that cannon of a right boot. He ended up playing 105 league matches for Chelsea, and lost just 10 – a record, unsurprisingly.
6. Lucas Radebe – Leeds United, £300k
Leeds didn't even really want Radebe when they first signed him – they wanted Phil Masinga, with his compatriot and friend packaged into the deal to keep Masinga happy. Two years later, Masinga was gone with just five league goals to his name and Radebe was on his way to becoming one of his club's most legendary players. A colossal figure at the back and an inspirational figure in the dressing room, Radebe spent 11 glorious and unforgettable years at Elland Road, making him surely the game's greatest makeweight.
5. Jamie Vardy – Leicester City, £1m
The whippet-thin and greyhound-fast striker ran a long and winding road towards the top flight, starting at Stockbridge Park Steels and gradually wending his way up the ladder. For most of his early career, even commanding a million would have seemed pretty unlikely. But for that million, Leicester got an effervescent goal machine whose steady stream of strikes earned them the most unlikely and extraordinary title win in English history. It was a team built on a budget and brilliant scouting, and Vardy was the best buy of the lot. Just don't ask about his wife's Instagram account.
4. Kolo Toure – Arsenal, £150k
It takes a pretty impressive and worldly scouting network to pick out a 21 year-old playing for ASEC Mimosas, the Ivorian club who are also one of the few sides in the world to be named after one of my fiancee's drinks orders. But Wenger had the team to spot the talents others missed, and Toure would go on to make well over 200 league appearances for Arsenal, winning the league and two FA Cups before picking up another Premier League title with Manchester City. A brilliant piece of business, even if perhaps not such a brilliant manager. Sorry, Wigan. It's also worth mentioning that Wenger had Yaya on trial as well, describing him as "completely average". Can't win them all, I suppose.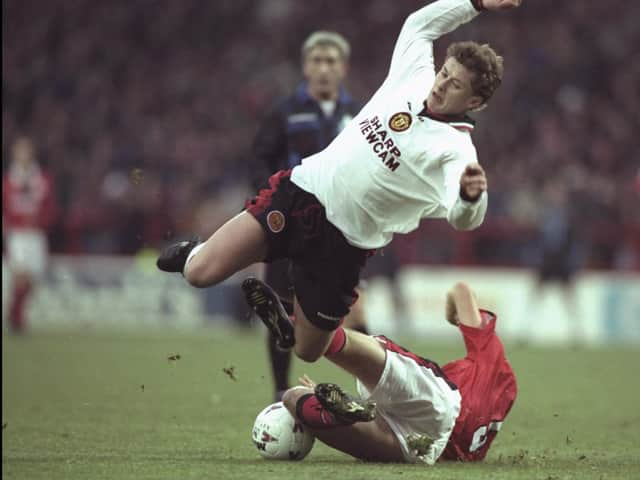 3. Ole Gunnar Solskjaer – Manchester United, £1.5m
Solskjaer would have been worth the money for that late goal in the Nou Camp alone – but as well as giving Manchester United arguably the greatest moment in their history, this son of a Greco-Roman wrestling champion would make 235 league appearances for the Red Devils and net 91 goals, becoming one of the Premier League's greatest super-subs in the process. He went from outrageous goalscoring exploits in Norway to the Champions League final to beloved manager at Old Trafford, helping United out at their highest points and lowest ebbs. A baby-faced bargain.
2. Joe Hart – Manchester City, £100k
There's some dispute about how much Hart actually cost the club where he won five major trophies, including those two first titles of the Premier League era – but I'm inclined to believe former City chairman John Wardle that it was a paltry £100k. Even if it was a hundred times that, it would have been good value – Hart spent nearly a decade as one of the sharpest and most reliable goalkeepers in England, with no less a judge than Gianluigi Buffon declaring him to be one of the very best in the world. He may have tailed off by the time Pep Guardiola came around, but for all the megabucks deals that Manchester City made on their way to becoming one of the best clubs in the country, it was this little change-down-the-back-of-the-sofa signing that was one of the most important purchases of the lot.
We want your feedback on 3 Added Minutes - details here
1. Sol Campbell – Arsenal, free
One of the most explosive transfers of all time, and one of the very best. Sol Campbell went from future Spurs legend to their ultimate pantomime villain, making the unthinkable switch to the other side of North London and going onto become one of the foundational pieces of the Invincibles, perhaps the greatest Premier League team of them all.
It's tough to explain now just how cataclysmic Campbell's move was – nobody knew it was coming, nobody expected it and nobody could explain it. But for Campbell and for Arsenal it was an inspired decision, one of the very best defenders in the country switching allegiances at a crucial time and helping an already strong team take everything up a gear. Any all-time Premier League XI should at least consider Sol Campbell – and his prime years didn't even cost his club a penny. Now that's a bargain.