Bruno Fernandes – captain, key player and now, thanks to a histrionic breakdown in one of Manchester United's biggest fixtures of the season, the scapegoat for a catastrophic defeat, chastised and berated from all corners following one of the lowest moments of his thus-far stellar career.
There are many ways to have a meltdown in this sport. You can lash out at an opponent, like Moise Kean did 40 second after coming on as a sub for Juventus yesterday. You can lash out at the officials, like Didier Drogba after Chelsea got dumped out of the Champions League by Barcelona. You can even lash out at the fans like Eric Cantona, although that isn't necessarily recommended unless you're really keen on the idea of community service. And unless Misfits was secretly based on true events, I personally struggle to see the upside.
This weekend, as United found themselves on the receiving end of a proper paddling from their bitter rivals Liverpool, Bruno chose to meltdown in the most childish way he possibly could. He dived about. Gave the assistant referee a little shove. He even allegedly begged to be subbed off, which is a new one, and for that at least he deserves some credit for an original contribution to the genre.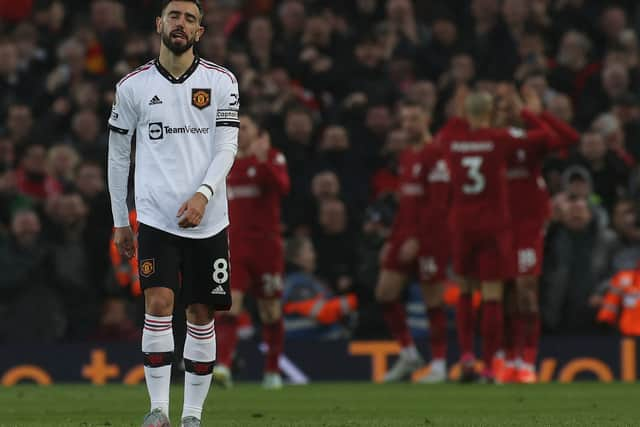 The backlash to his antics has been swift and cold-blooded. Gary Neville, whose claim it was that he saw Bruno asking to be taken off, branded the midfielder a "disgrace" and "embarrassing" on Sky. Twitter has been less generous still. Bruno's petulance has made him a temporary pariah, a Portuguese pinata to be beaten with all the brickbats being waved about by United fans following their record pasting at Anfield.
The worst offence – aside, perhaps, from his apparent frustration at not being allowed to take a long, hot shower before the queue formed – was slowing down to a somnolent walking pace after being sent for a loop by Stefan Bajcetic. It was a moment that seemed to sum up everything that was wrong with Bruno's attitude, a downing of tools at the moment his side needed him most.
That moment, in the 80th minute and shortly after Darwin Nunez had scored Liverpool's fifth, will certainly mark a personal nadir for Bruno when he looks back at the game. But was it a fair reflection of his contribution to the match as a whole – or to the effort he exerts for his team on a weekly basis?
Perhaps not. At 3-0 down, virtually every player in a white shirt seemed to slow to a crawl. At 5-0, they were all wandering about in a daze, chasing shadows as Nunez and Cody Gakpo switched positions with dizzying fluidity and doing little more than looking on shellshocked as Mo Salah waltzed his way through the defence time and again.
When the third goal had gone in and things were spiralling rapidly out of control, Bruno seemed to be the only United player still chasing lost causes and trying to right the ship. He did so while pouting, whinging and diving, but at least he appeared to be trying something.
Yes, he was maybe a little desperate when he went begging for a penalty after Alisson briefly lost his bearings and the ball. He was certainly too desperate when he tried to turn Ibrahima Konate's innocent hand across the chest into a brutal elbow to the jaw. But he was also the only player looking to chase down that lost cause when Alisson wobbled, the only player trying to persuade the referee to somehow do anything to give his side a break. He might not have displayed much sportsmanship or self-governance in the process, but at least he wasn't standing around just yet.
Last season, Fernandes ran a sum total of 263km for his team – not only the most by a United player, but more than all but five players in the entire league. To suggest that he lacks energy and the willingness to work for the team is to go up against the raw facts of the matter. None of this excuses his giving up after being beaten by Bajcetic, nor his pathetic shove on the assistant ref – it was hardly Paolo Di Canio on Paul Alcock, but still worthy of censure – and it doesn't give him carte blanche to make such a scene once things had gone irretrievably wrong at 5-0 down.
To pin the whole horror show on Bruno is to miss the point. This was a United side who have shown they can occasionally be bullied and dazzled, and who sometimes go home when the going gets tough. It was there in the 4-0 defeat to Brentford, which can be excused as early doors for a team in transition, but it was also there in the 6-3 defeat to Manchester City, the loss to Arsenal, and the humbling 3-1 reversal at Villa Park. Yes, they'd been on good form since the World Cup, but this devastating defeat demonstrates that the soft underbelly remains, despite all the progress made under Erik ten Hag.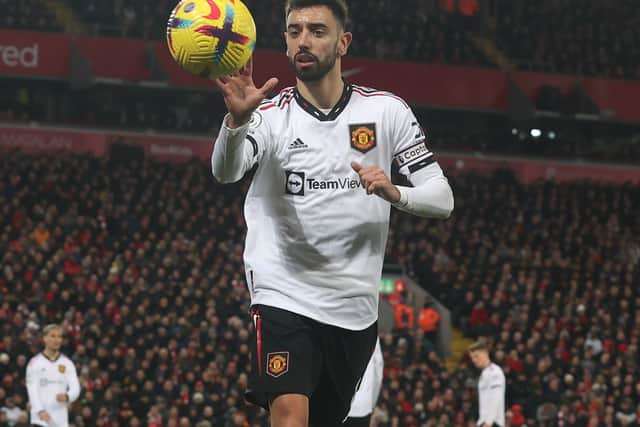 Bruno deserves most of the criticism he's getting for his immaturity, but judging by the effort levels elsewhere in his half of the field the only real difference between him and his team-mates was the inability to separate inside thoughts from outside ones. He wears his heart on his sleeve, and when things are going wrong, that amounts to behaving like a toddler who can't blow out his birthday candles. When they're going better, that amounts to ostensibly working harder than anyone else in the United squad – and that's why he was wearing the captain's armband that so many believe he disgraced yesterday evening.
Bruno needs to learn the lessons from this humiliation – but the key lesson will be one about self-control, not one about failing to find his mojo when his team is taking a hiding. Human nature means that players who can continue operating at 100% when they're in the process of being thoroughly humbled are few and far between, and there was little evidence that anyone else in a United shirt was managing that yesterday. Did Casemiro or Shaw keep covering every blade of grass as though it was still 0-0? Did anyone? In Antony's case it's hard to know whether or not he downed tools, because it isn't always clear when he's picked them up from B&Q in the first place.
Still, there is a line, and Bruno didn't so much cross it as parade over it with a marching band. Fans will never tolerate a visible loss of control in situations like that, even if they know deep down that they'd probably take it no better themselves. For Bruno's sake, let's hope he learns the value of keeping those nasty inner thoughts where they belong before United take another thumping – because on current evidence, that may not be the last beating they take before the end of the season.