Premier League predictions: Chelsea vs Everton, Arsenal vs Crystal Palace, and more - according to my dog
All of this weekend's Premier League predictions, including Chelsea vs Everton and Arsenal vs Crystal Palace.
Watch more of our videos on Shots! 
and live on Freeview channel 276
Visit Shots! now
I know a racket when I see one, and I am most certainly not above scraping together the requisite fee to purchase a ticket for the bandwagon. You see, I think I've been going about this prediction malarkey all wrong. Over a period of several weeks now I have been dabbling with clairvoyance to a series of ever-diminishing returns. I've tried Ouija boards and whispering sweet nothings into crystal balls, I've tried donning robes and peering into tea leaves. Last week, I even tried deploying Matt Gregory in my stead, but alas, the quest for perfect foresight drags on and on.
And then it hit me; animals. Ever since Paul the Octopus wrapped his suckered appendages around the world's imagination back in 2010, sport has been obsessed with the concept of the mystic critter. We've had parakeets, we've had pigs, we've had meerkats - we've even had a second octopus, Rabio, who fared considerably worse than Paul, and who was turned into seafood long before the end of the Russian World Cup in 2018.
All of these creatures have two things in common: they are all - irrefutably - not human, and not a single one of them has the foggiest idea as to what the hell is going on. This got me thinking. I have a dog. Her name is Suki, she is a Husky/German Shepherd hybrid (with, according to a recent DNA test we did on her, 2% Chihuahua heritage, somewhat inexplicably), and for the most part, she is entirely oblivious to the world around her. I also have a weekly predictions column in need of a hot new angle that will get the clammering naysayers off my back. Maybe, just maybe, this could work.
And so, armed with three bowls marked home win, away win, and draw, as well as some crabsticks that Suki holds in the highest of culinary regards (aforementioned DNA test seemingly omitted that she is also at least 20% dolphin) I got to work. As such, without further ado, may I present to you, the Mystic Sook's Premier League predictions for this weekend. My DMs are open for all press enquiries and potential commercial partnerships.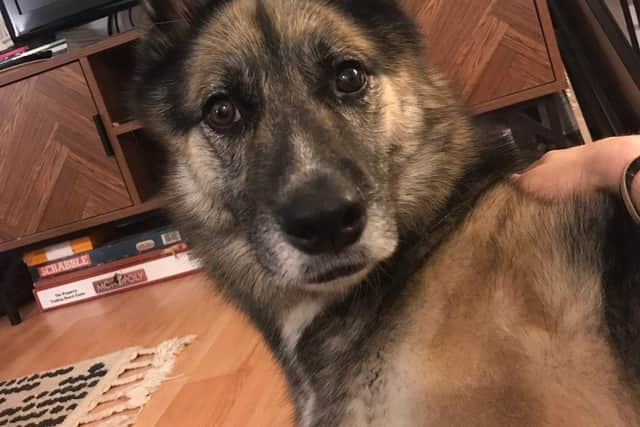 Nottingham Forest vs Newcastle United
Interesting fact about Suki, before we adopted her, she used to live with a family of devout Newcastle fans. I'm happy to report that she appears to have overcome that particular affliction, however, and opted decisively for a Nottingham Forest win in this one. Controversial, yes, but the dog (and her crabsticks) has spoken.
Brentford vs Leicester City
Another interesting fact about Suki is that she likes to play with bees. Or rather, she likes to try and pat them on the head or nibble at them in mid-air, but usually ends up inadvertently delivering a lethal blow in the process. It is a wonder that she has not been severely stung at any point.
Once again, she has stayed true to herself here, and opted for the Bees of Brentford without a moment's hesitation. I have to say, I agree with her.
Southampton vs Tottenham
Proving that she isn't just conditioned to take food from one preferred bowl, Suki switched things up by forecasting an away victory in this one. Apparently even a living thing whose only contact with the outside world comes through a baffled fascination for David Attenborough documentaries and a daily trip to the local dog park knows that Southampton are doomed. Spurs to win this one.
Aston Villa vs Bournemouth
Suki went with Bournemouth in this one, but reneged on any kind of explanation as to why.
Wolves vs Leeds United
Given her ancestry, I expected Suki to have something of a lupine vested interest here. Instead, she opted for a Leeds United win. Maybe that DNA test failed to pick up on a latent strand of Yorkshire Terrier heritage too.
Chelsea vs Everton
At this point, I had to explain to Suki that this weekend's FA Cup quarter-finals mean that there are only seven Premier League fixtures scheduled instead of the usual 10. This meant fewer predictions, and less crabstick. She was not happy. Nonetheless, like the model professional she is, she still proceeded to predict a Chelsea win.
Arsenal vs Crystal Palace
Last but not least, Suki predicted that Arsenal will beat Crystal Palace on Sunday afternoon. She then turned to me and said: "Wouldn't there be a deliciously painful irony to Patrick Vieira, embattled veteran of the Gunners' heroic Invincibles campaign, finally coming undone at the hands of his once enamoured former brethren? I foresee dark clouds and P45s in his future." Unfortunately she lacked the forsight to predict his sacking, less than 24 hours later.