It's going to be hard to pin this one on Harry Maguire... Seven days ago I sat here and waxed lyrical about a Manchester United side that looked as resplendent as they did rejuvenated. I was particularly nice about Casemiro, extolling his virtues and even taking the time to give him a fantastic new nickname; the 'Pillsbury Escobar', I christened him. Just one week later, however, and here I am hammering away at my keyboard once more, flicking between this article and a tab labelled 'collapse synonym'.
The nature of Manchester United's breakdown/failure/disintegration against Liverpool on Sunday afternoon was as shocking as it was total. Seven goals without reply, and only the smallest mercy that the scoreboard didn't tick over into double figures; Erik ten Nil is not the kind of nickname one shakes off easily.
The post-mortem will last for weeks, the humiliation for years, probably. This is a result and a degradation that will reverberate through United's recent history like the nauseating flurry of a jackhammer in an underground tunnel. In the grand scheme of things, perhaps it won't matter too greatly. It is hard to envisage Ten Hag's side putting in a performance as bad as that again this season, for instance. Indeed, futures may depend on that. But nonetheless, the fact remains that teams with genuine aspirations of lifting the Premier League title do not get beaten 7-0.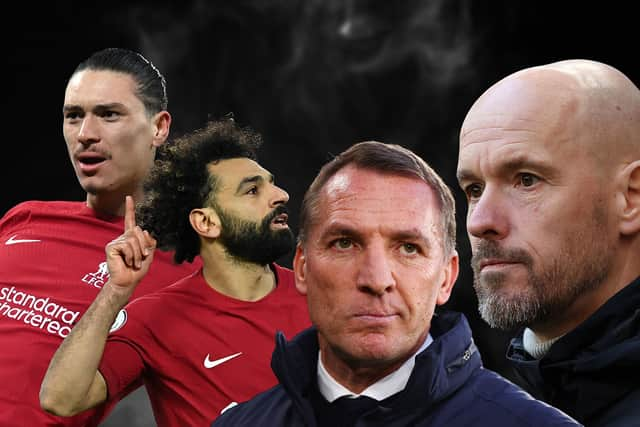 Football is a fickle serpent, and heavy defeats can happen from time to time, but to capitulate in the manner that United did on Sunday speaks to a naivety that many, myself included, believed was on the wane. The Red Devils have some serious soul-searching to do.
Let's not take too much away from their hosts, though. Yes, United were abysmal, and yes, on another day perhaps the scoreline would have been less auspicious, but this was an exhibition of ruthless lethal force that brought to mind the Liverpool of old. Jurgen Klopp's men were absolutely ravenous, mauling away at their bitter rivals with all the malice and evasiveness of a greased up saltwater crocodile.
Perhaps most satiating of all was the way in which that front three, Mo Salah, Darwin Nunez, and Cody Gakpo - still in it's relative puppyhood as an attacking Cerberus - found its bite as well as its bark. Between them they struck six times, but it was the fluidity and easy synchronicity with which they bandied about that quickened pulses most readily.
Liverpool stand on the brink of an uncertain precipice. This season has been too inconsistent to be deemed a success, and reinforcements are needed this summer, particularly in midfield, but much of their future prosperity or frustration will hinge on the dynamic that Salah, Nunez, and Gakpo can cultivate. One game does not a front three maketh, but Sunday's firestorm was undeniable evidence that there is potential here - and plenty of it.
And finally, a word on Leicester City. Only once before has a Premier League champion been relegated after lifting the title; if the Foxes are not careful, they will join Blackburn Rovers in sharing that ignoble honour. A small upturn in fortunes flattered to deceive around the start of February, but if Saturday evening's 1-0 defeat to Southampton was a sure signifier of anything, it's that Leicester are in a world of trouble.
Sometimes in football things stagnate, sometimes they regress, and sometimes they go all green and gammy before rotting away and dropping off entirely. You fear that the latter fate might await Brendan Rodgers' tenure at the King Power - if he hasn't succumbed to the worst of the infection already.
There is a version of events where the B-Rodge lasts the rest of the season and Leicester just about scrape their way to survival - and there's no arguing that a change in the dugout at this specific moment in time would be a considerable gamble - but it's hard not to feel as if this thing, whatever it has become, might have run its course.