Todd Boehly's big brilliant Chelsea transfer binder as Newcastle United prepare surprise swoop
All the latest Premier League transfer news. Kind of.
Watch more of our videos on Shots! 
and live on Freeview channel 276
Visit Shots! now
It must be a rare privilege to be present and the moment of a genuine breakthrough. Imagine witnessing the apple bouncing off Isaac Newton's head, or being in the room when Archimedes hopped into the bath. Perhaps the closest we'll get to seeing such an epochal turning point up close is Chelsea beating Borussia Dortmund 2-0, as Graham Potter finally figured out how to get his squad to play like a team who'd met each other before.
Of course, the main reason they've played like they'd barely met is that they hadn't, having been thrown together seemingly without warning, planning or strategy by Former Interim Sporting Director Todd Boehly and his magical never-ending chequebook. Quite how Potter finally got through to his team remains a mystery, but knowing the former Brighton manager's methods, it likely involved sending his team to a pilates retreat in New Mexico or having them do improvisational modern dance classes after being introduced to the benefits of ayahuasca.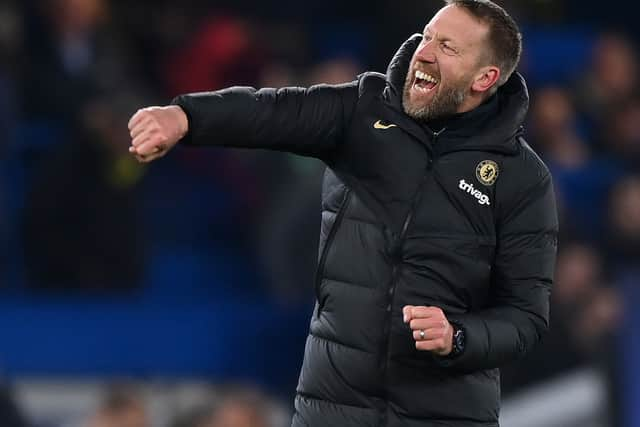 Whatever he did, it worked, and Potter has at last had an entire evening to enjoy bathing in the warm glow of success - but now it's the morning and Mr Boehly has just turned up at the training ground with a great big binder covered in glitter and gold stars and pictures of his favourite players cut out from issues of Shoot magazine. This is Boehly's Big Brilliant Transfer Planner so let's step into Potter's shoes, sigh deeply, feel our once-fresh and taut facial skin sag a little further, and see who's in it.
The first page features a picture of Barcelona's midfield marshal Frenkie de Jong, as his club prepare to spend another summer desperately trying to force him out. Spanish newshounds Fichajes think Chelsea are keen on an €80m swoop, although it's hard to imagine that De Jong himself is. He's made it abundantly clear that he likes his life at the Nou Camp and if he does move to London, it's as likely to be as part of a hostage situation as it is to be a voluntary transfer arrangement.
Overleaf, we have a face Potter knows well, because Mr Boehly has mentioned him about 50 times before at these endless daily meetings. It's RB Leipzig attacking mid Dominik Szoboszlai, who Caught Offside reckon will be winging his way to Stamford Bridge very soon. Just below Szoboszlai's photo is a scrawled note saying CAICEDO?!?! with a big ring drawn around it, and indeed Football Insider do claim that Moises Caicedo is still a Chelsea target despite having signed a new four-year contract with Brighton just last week.
One more page to go, as poor Potter pinches the bridge of his nose wearily and wonders why he has to put up with this nonsense. Who will this be? Yet another wide forward probably. But no – this page really does make Potter sit up with shock, because it contains an artist's impression of Mason Mount with crosses for eyes and a dagger drawn through his neck. This turns out to be a rudimentary way of suggesting that the England international leave and go to Newcastle United instead, with The Daily Mail under the impression that Mount could be heading for the exit.
So who knows who will be lining up at Stamford Bridge next year? Well, not Graham Potter, presumably. I suppose we could just find out who everyone else wants to buy - apparently Manchester United had some ideas yesterday - and wait for Chelsea to stick an extra zero on the price tag instead.