It has come to my attention that I have been the victim of a travesty. Last week, I took a few days off work. Did I do anything nice? No, thanks for asking. Ever the devoted mystic, however, I still set aside some time to peer into my crystal ball so that I may share with you the gift of my foresight. Here are the Premier League results that I not only forecast, but also submitted as copy by my preferred means of communication, carrier seagull:
Aston Villa 2-4 Arsenal
Brentford 1-1 Crystal Palace
Wolves 0-1 Bournemouth
Brighton 0-1 Fulham
Everton 1-0 Leeds United
Chelsea 0-1 Southampton (I was particularly proud of this inspired streak of divination)
Nottingham Forest 1-1 Manchester City
Newcastle 0-2 Liverpool
Manchester United 3-0 Leicester City
Tottenham 2-0 West Ham
Imagine, then, my horror - nay, my indignation - when I discovered that my predictions not only went unpublished, but as far as I can tell, never even arrived in the first place. Perhaps there are lessons to be learnt here about entrusting important documents to untamed sea birds, but if there are, I will almost certainly not heed them. And now it is just my word against the crushing weight of universal doubt.
Nevertheless, undeterred, I'm back at it, sprig of rosemary in one hand, deck of tarot cards in the other, ready to prove that when it comes to matters of clairvoyance, I make Nostradamus look like Cint Baptiste. So, without further ado, I'm getting the word: 'SPOILERS!!!'.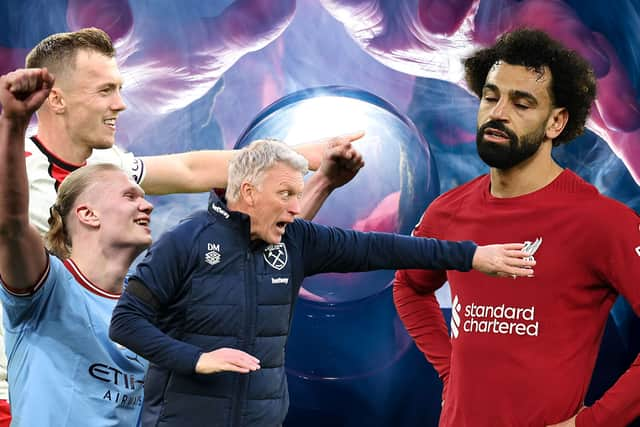 Fulham vs Wolves
This season's surprise package against the only team in the division with a badge that can naturally self-tessellate. If the tale of the three little pigs taught us anything, it's that when wolves arrive at cottages, preparation is key. Once upon a time, you would have expected Wanderers to huff and puff and blow their hosts away, but Marco Silva has traded the straw for bricks of late, and his side should have enough to withstand the home-invading exploits of their lupine visitors. 2-1 to Fulham.
Everton vs Aston Villa
Stone Cold Sean Dyche vs Unai 'The Count from Sesame Street' Emery. If you ever wondered what it would be like to see the Texas Rattlesnake deliver a textbook stunner to a Muppet, then get yourself down to Goodison Park on Saturday afternoon. The Toffees, whisper it, look like a football team again, and while Villa always have a decent amount in the locker, this has all the hallmarks of a clash that could be decided by a dose of Dyche's elemental bastardry. Everton to win 1-0, but Villa to come good writ large under Emery next term.
Leicester City vs Arsenal
The common blip. Nipped in the proverbial bud it need be nothing more than an inconvenient footnote. Allowed to run rampant, however, and it can become the petard on which many an ambition has been hoisted, the untied shoelace on which many an aspiration has come a cropper. Arsenal left it late to rescue all three points against Aston Villa last weekend in a win that just about dragged them back to the top of the Premier League table after a couple of less than flattering results.
But given the white knuckle nature of that success in the Midlands, it remains to be seen whether they have indeed turned a corner, or whether their recent hiccup will linger a little longer. For their part, Leicester have looked vastly improved of late, but they did lose to Manchester United last time out, and on balance, you would expect them to do so again here. 3-1 to the Gunners, but they will have to come from behind. Mark my words.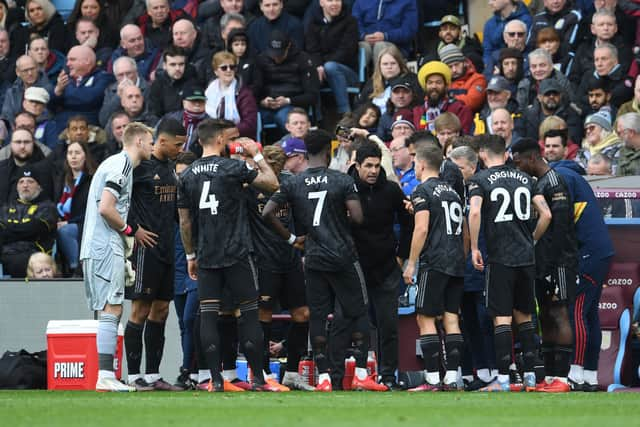 West Ham vs Nottingham Forest
A penny for David Moyes' thoughts right now. The spirits tell me that the ashen-faced Scot has taken up residence in a disused janitor's closet at the London Stadium, and spends his waking hours stood before a cluttered whiteboard staring at a tangled lattice of polaroids, yarn, and drawing pins, all the while hopped up on a self-brewed broth consisting of Irn-Bru and porridge oats.
How can he turn this West Ham team around? Nottingham Forest are looking good, after all, and this season has been one hell of a slog thus far. But wait, Moyesy asks himself, didn't things get a little bit better when he made the move to a five-man defence? What if...
I'm going with a 1-1 draw, and the Hammers to play a never-before-seen flat back seven.
Leeds United vs Southampton
Two teams who have approached this season like marbles in a run, each tumbling and careering downwards with an almost awe-inspiring disregard for their own self-preservatory instincts. Both appointed new managers this week in the form of Javi Gracia and Ruben Selles respectively, but if either think that it'll make the slightest difference to their dwindling survival prospects, they are sorely mistaken. A 1-1 draw at Elland Road, but really, everybody loses.
Bournemouth vs Manchester City
I'm afraid that after two successive 1-1 draws, Manchester City are more than overdue a performance in which they handsomely maul somebody. Rather fortuitously for the champions, their next match is against a team who have traditionally put up as much resistance against them as a fishnet parachute. The Cherries have never beaten City, and they haven't taken a point from them since 1999, when both clubs were languishing in Division Two. 5-0 to Pep's boys.
Crystal Palace vs Liverpool
Saturday night, under the lights, with Liverpool desperately needing to bounce back from a demoralising continental thrashing at the hands of Real Madrid and Crystal Palace winless in 2023. You know what that means... That's right; 3-0 to the Eagles, and a post-match press conference in which Jurgen Klopp somehow manages to blame his side's defeat on the Iran-Contra Scandal.
Tottenham vs Chelsea
Surely, surely, surely Graham Potter's luck has to change at some point. Like, which vengeful gods has the Chelsea manager irked to justify such a brutally Sisyphean run of fortune since he arrived in West London? How can things have gone so profoundly wrong so shockingly quickly? Did he trade his actual soul for a half-decent skin fade and a cashmere turtleneck?
The unrelenting nature of his soured honeymoon defies belief and yet here we are, Chelsea languishing in the most middling of mid-table spots, and currently winless in their last four. I don't see that changing against Spurs either. 2-0 to the hosts, and another speckling of grey in Potter's satanically sculpted coiffure.
Manchester United vs Newcastle United - Carabao Cup Final
I'll keep this one brief because we only deal in Premier League rumours in this here column, and I am fundamentally and ideologically opposed to unpaid overtime as a concept. Manchester United 3-1 Newcastle United, but the Geordies will edge the Red Devils in terms of police horses lamped, so who's the real winner? Still Manchester United.