Scotland made history against Spain - but a nation was robbed by television profiteering
Scotland beat Spain 2-0 on Tuesday evening - but that match was not on free-to-air television.
Watch more of our videos on Shots! 
and live on Freeview channel 276
Visit Shots! now
You have to feel for Scotland. On Tuesday evening, against all sensible odds and in spite of the overwhelming heft of conventional wisdom, they beat former world champions Spain at Hampden Park. Yet due to the ludicrous obscurity of the national team's current broadcasting arrangement, this historic upset, this once in a lifetime thrill, was reduced to the footballing equivalent of chucking a 180 in an empty room, or witnessing a fox and a badger playing chess and smoking Cuban cigars from the kitchen window as you pour yourself a glass of water in the dead of night. What's that, Scotland, you scudded the Spanish 2-0 in Glasgow? And Scott McTominay scored both goals? Aye, sure you did, pal...
Of course, this was no tall tale, nor was it any kind of fluke. Steve Clarke's men may have gone into their Euro 2024 qualifier as notable underdogs, but they showed little consideration for their apparent inferiorities in front of a buzzing home crowd. After seven minutes, they were ahead; captain Andy Robertson seizing on an inexplicable slip from Tottenham full-back Pedro Porro to square for a waiting McTominay to sweep home - albeit with the slight succour of a deflection.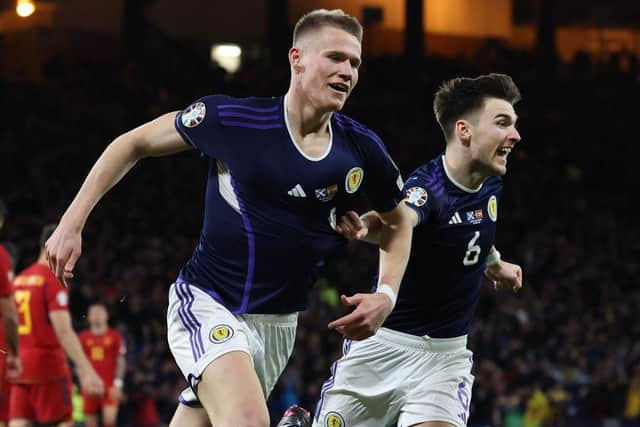 Shortly after the interval, the Tartan Army were trebucheted into delirium once more. This time, it was Kieran Tierney who stormed down the left flank, brushing off the meek contestations of Dani Carvajal like an articulated lorry making soup of a dune bug's innards. He got to the byline, he cut a hopeful pass back across the face, and McTominay came steaming in from nowhere to lash the rebound past a sprawling Kepa Arrizabalaga.
Spain, bless them, did put up a bit of a fight; they had 75% possession, and they even hit the bar at one stage in the first half, but this was no smash and grab from Scotland. The home side were fearless and efficient, and on another night, they might have won by more. They went toe-to-toe with one of the traditional, hulking superpowers of world football, and they humbled them soundly. And yet, with the exception of those in attendance at Hampden, very, very few people got to watch it live.
Last night's match was broadcast by Viaplay, a service that requires a £14.99 monthly subscription fee, and that, ethically-speaking, feels as if it falls somewhere between a travelling snake oil salesman and a sentient middle finger directed greedily at the Scottish public. At the crippling height of a cost of living crisis - where the combined price of Sky and BT Sports' monthly packages comes in at around £65, and where the prospect of having either is an opulent pipe dream for many - it's just not justifiable.
At a club level, things are bad enough, with British football flagging sorely behind the vast majority of its continental counterparts, as we have previously discussed.
But the national team in particular should be a team for everyone, and that means that where possible, matches should be broadcast on free-to-air television. In England and Wales, viewers can watch qualifiers for no extra cost, and in the case of the latter, where tournament football has not always been a given, that might represent the only opportunity many get to cheer on a side that is supposed to be emblematic of an entire country.
To rub salt into the wound, Scotland fans have also had to suffer the indignity of having the matches of fierce rivals England televised on STV, while their own games remained behind the paywall. To hear the TV announcer segue into the Three Lions' latest friendly against Belarus through gritted teeth is an experience you'll never forget.
Tuesday's game at Hampden was the kind of spectacle that properly inspires. Imagine the fizz and the hum across schoolyards and classrooms this morning, the epiphanic chatter of the newly converted, the cacophonous roars of 'MCTOMINAYYYYYY!!!' as enough pennyfloaters to block out the sun are booted willy-nilly - transforming the enraptured, endangering the innocent.
That is what football, and especially international football, should be about. Instead, Scotland are being robbed of these fleeting, precious moments by the relentless, uncaring squeeze of profiteering. Somebody, somewhere, has to do something to change that.